Julius Caesar, Noël Coward Theatre |

reviews, news & interviews
Julius Caesar, Noël Coward Theatre
Julius Caesar, Noël Coward Theatre
More blast than subtlety in Gregory Doran's African rethink of Shakepeare's play about political intrigue
Theo Ogundipe's Soothsayer leaps to the sound of the mbira and kora
It's brave to take Shakespeare into the West End in midsummer – and in this of all summers. Greg Doran's all-black, African Caesar certainly doesn't lack for impact, colour, zest, urgency. It takes the audience by the scruff of the neck and rams the play down our throats. The concept is impressive.
The set, half Roman amphitheatre, half Nazi bunker dominated by a giant effigy, its back towards us with arm raised in totemic salute, summons up TV images of dictators who eventually come crashing down, from Stalin to Mubarak and who knows how many more to come.
Though a stark warning from history, Shakespeare's Caesar is not necessarily a tyrant – except in the eyes of the conspirators. And therein lies the play's greatness. Instead, as with Macbeth and even Richard III (both featuring victims of Tudor propagandist re-writing of history), his eyes are set on the consequences of actions, on assassins and conspirators subsequently riddled with guilt falling on their own swords.
Doran, drawing on contemporary parallels, sets this Julius Caesar in Africa, though sometimes the geographical terrain also seems to embrace the Caribbean as well as east of the Tiber, so much do accents waver. What we get here in this much acclaimed RSC transfer from Stratford is a highly charged account, wreathed in the black togas that again suggest both ancient Rome while recognisably in the world of African political coups.
Here is the soothsayer – a tall whey-faced figure with grass skirt and dreadlocks leaping to the sound of the mbira and kora; Jeffrey Kissoon's Caesar, an ultra-smooth politician in cream suit and hand held switch; Ray Fearon's Mark Antony something of an acolyte, following closely behind his master whilst Cyril Nri's Cassius and Paterson Joseph's Brutus (pictured above right) arm themselves early in modern battle dress.
The detail of this world is extraordinary, every gesture marked, urgent. But what goes missing here is the cut and thrust of argument. A programme note reminds us that a play exploring themes of democracy, freedom, mob mentality, loyalty and male friendship does so through a sophisticated progression of rhetoric and oratorical flourishes. Without steady access to those arguments, you're only going to get half the picture of forensic debate, so resonant yet ambivalent in its discussion of liberation politics.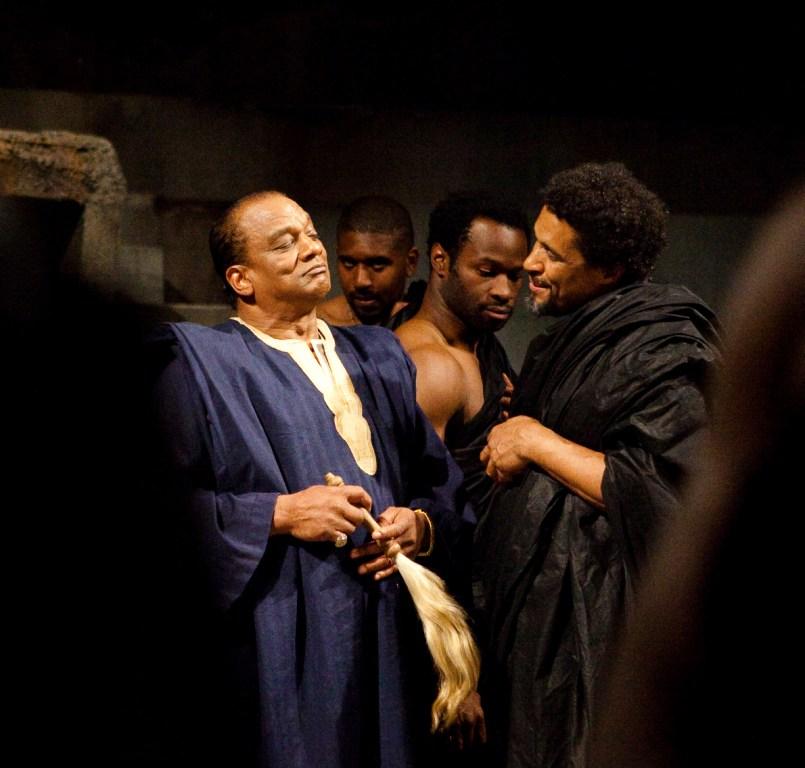 Doran's vision is so timely, so visually compelling and conceptually consistent, and yet time and again it disappoints. Here are some of our finest black actors – Kissoon (pictured far left) commanding, Joseph's eyes darting, reluctant then impassioned, Fearon seducing his audience with seemingly authentic emotion (too much so on occasion) before emerging as a hard-faced warrior making common cause with Octavius Caesar and giving us the flip side of political guile. Within this, the women – Caesar's wife Calphurnia and Brutus's self-harming Portia (this production fails to make sense of that odd personality twist) – emerge, as so often, as one-speech domestic Cassandras, emotional contrasts to hot-headed husbands with just one chance to get their message out before they are snuffed out offstage.
The sad and surprising fact is this production's default position is blast more than subtlety: characters don't so much go on a journey as present one-dimensional archetypes. Perhaps this was always Doran's intention – his own comment on the nihilism of rebellion. But here is little catharsis in an underwhelming climax. Just blackout.
Julius Caesar at the Noël Coward Theatre until 15 September
The detail of this world is extraordinary, every gesture marked, urgent. But what goes missing here is the cut and thrust of argument
rating
Explore topics
Share this article