Macbeth, Chichester Festival Theatre review - cosmic yet closely crafted |

reviews, news & interviews
Macbeth, Chichester Festival Theatre review - cosmic yet closely crafted
Macbeth, Chichester Festival Theatre review - cosmic yet closely crafted
John Simm is a strikingly intelligent Thane in an expansively designed production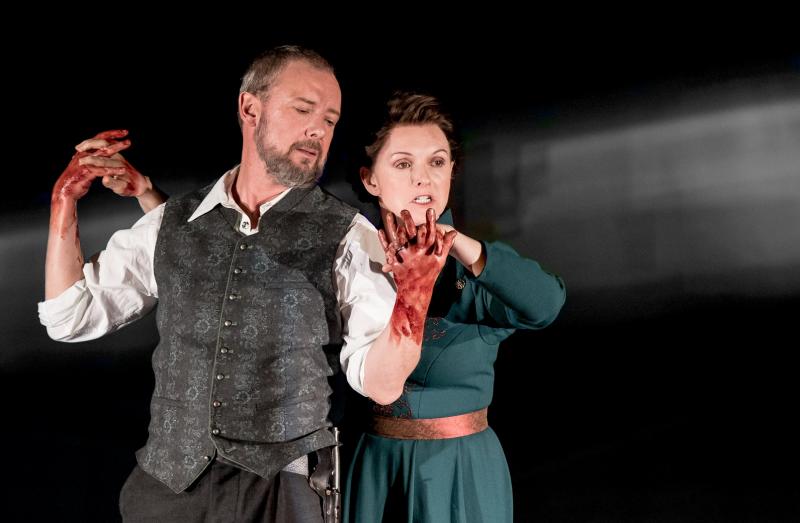 Clasped in blood: John Simm and Dervla Kirwan
There's a fine balance between the cosmic and the closely crafted in director Paul Miller's Macbeth, his first production in the expansive space that is Chichester's main stage.
It comes across as a drama unravelling in the wide open spaces of nature, with a design approach that feels operatic in style
–
generous use of projections accentuate the big stage picture, backed up with a complex sound palette
–
set against playing, John Simm's Macbeth especially, that feels finely wrought. Simm offers a strikingly intelligent interpretation of the role, more considered than instinctual, a hero who's no tragic grandstander but tends instead towards a clipped interior intensity.
There's restraint in the pairing with Dervla Kirwan as Lady Macbeth, too, no overstressing of passion between these two. Bloodying her own hands in his, Kirwan is certainly his partner in crime, though at other times they could be a troubled couple out of Bergman as much as the impulsive wreckers of the nation's peace; her key moments, "Unsex me here" among them, are also accomplished with a degree of holding back. Macbeth's "O, full of scorpions is my mind" catches his sharp, occasionally sarcastic power, the sense of poise remaining even as his world careens later towards chaos. There's a striking last-act stage picture created by designer Simon Daw, Simm solitary on his throne, a tilted crown of lights framing him from above, the festering inexorability of the moment palpable.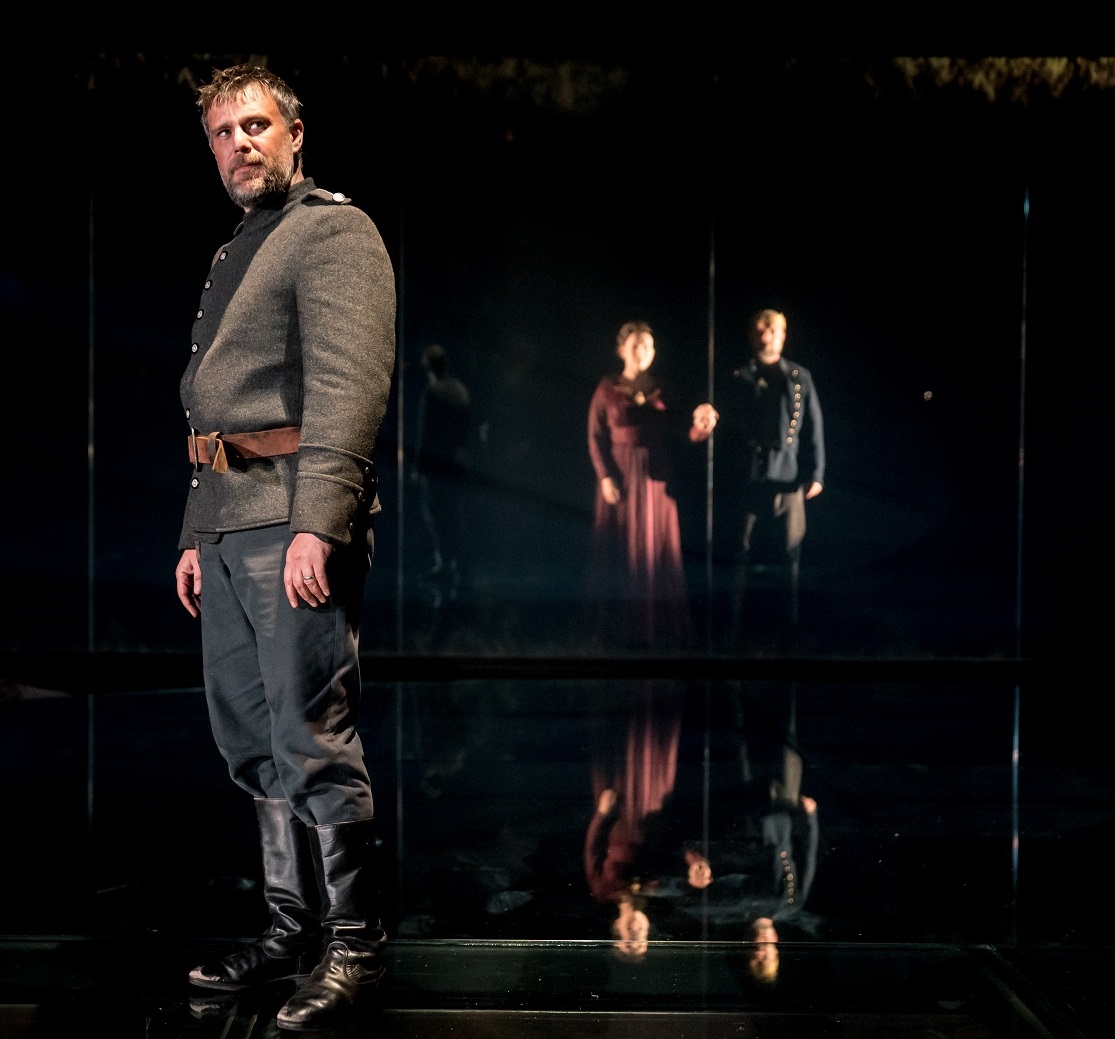 Daw relishes the possibilities of his circular glass stage from the start, with the witches gyring crazily around it in expanding spirals (they later linger around the edge of the action, too). The decisive moment when Macbeth has them conjure the future is especially effective, when the surface divides to accommodate the flames of their cauldron (pictured below). That's a high point for Tim Reid's video projections, which revel in the images of mania and destiny that prove so mortifying to Macbeth; his lack of legacy seems especially to trouble him, brought home by the line of Banquo's descendants stretching out into the future that the visual effect crystallises so memorably. When such visual effects align with the action, the result is spectacular, though occasionally they feel overused (as when Lady Macbeth's words accompany her in script form). With its looming brass and distressed percussion, there are virtually Wagnerian touches to Max Pappenheim's score, the production edifice completed by a busy sound design that rumbles away beneath everything. (Pictured above, Stuart Laing as Banquo)
There are satisfying visual moments with banqueting tables laid out, the tableau that welcomes Duncan seen behind the screen while the Macbeths plot in front of it; the interplay of space and projection works beautifully for the uneasy follow-up dinner scene, as Macbeth's mania sets in ("Then comes my fit again") and he is haunted by Banquo's ghost and other images (a huge empty eye is especially strong). In a general, out-of-time military style of costuming – with some subtly beautiful greens and dark reds for Kirwan as Lady Macbeth – only Daw's choice of homburg headwear for assorted courtiers doesn't convince, giving them the look of seedy 20th century detectives, particularly bizarre when preparations for the final battle are underway.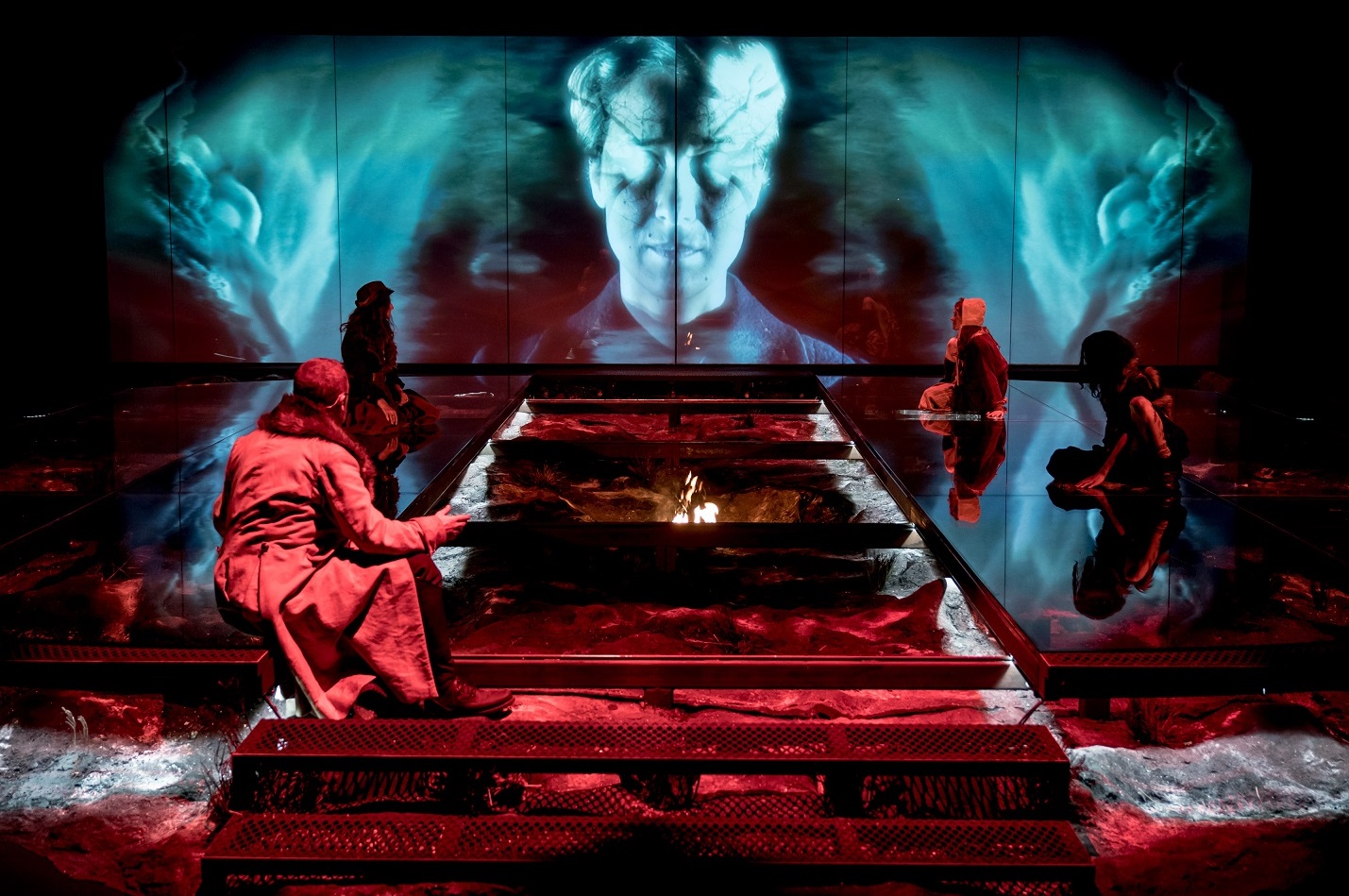 Does such weighty technical accompaniment risk dominating the text and performances themselves? That may be a matter of taste, but for me the varying visual interplay between isolated figures and back projections gave a distinct insight, while verse speaking is excellent. Stuart Laing's Banquo has a martial directness that contrasts with Simm's calculation, while the deep graciousness of Christopher Ravenscroft's Duncan is nicely accentuated by the naivety of Beatriz Romilly's notably youthful (cross-cast) Malcolm, who in turn plays well with Michael Balogun's Macduff in their scene in English exile, the sky blues of its projections counterpointing the troubled darkness of Scotland (the allusions to "swift blessing/May soon return to this our suffering country" and "milk of concord" surely ring with particular resonance today). On the bathetic side, the humour of Harry's Peacock's Porter is refreshing, while Macbeth's sardonic acknowledgement of the two murderers, "Aye, in the catalogue ye go for men", raises a welcome laugh. (Pictured below, Michael Balogun as Macduff, John Simm as Macbeth)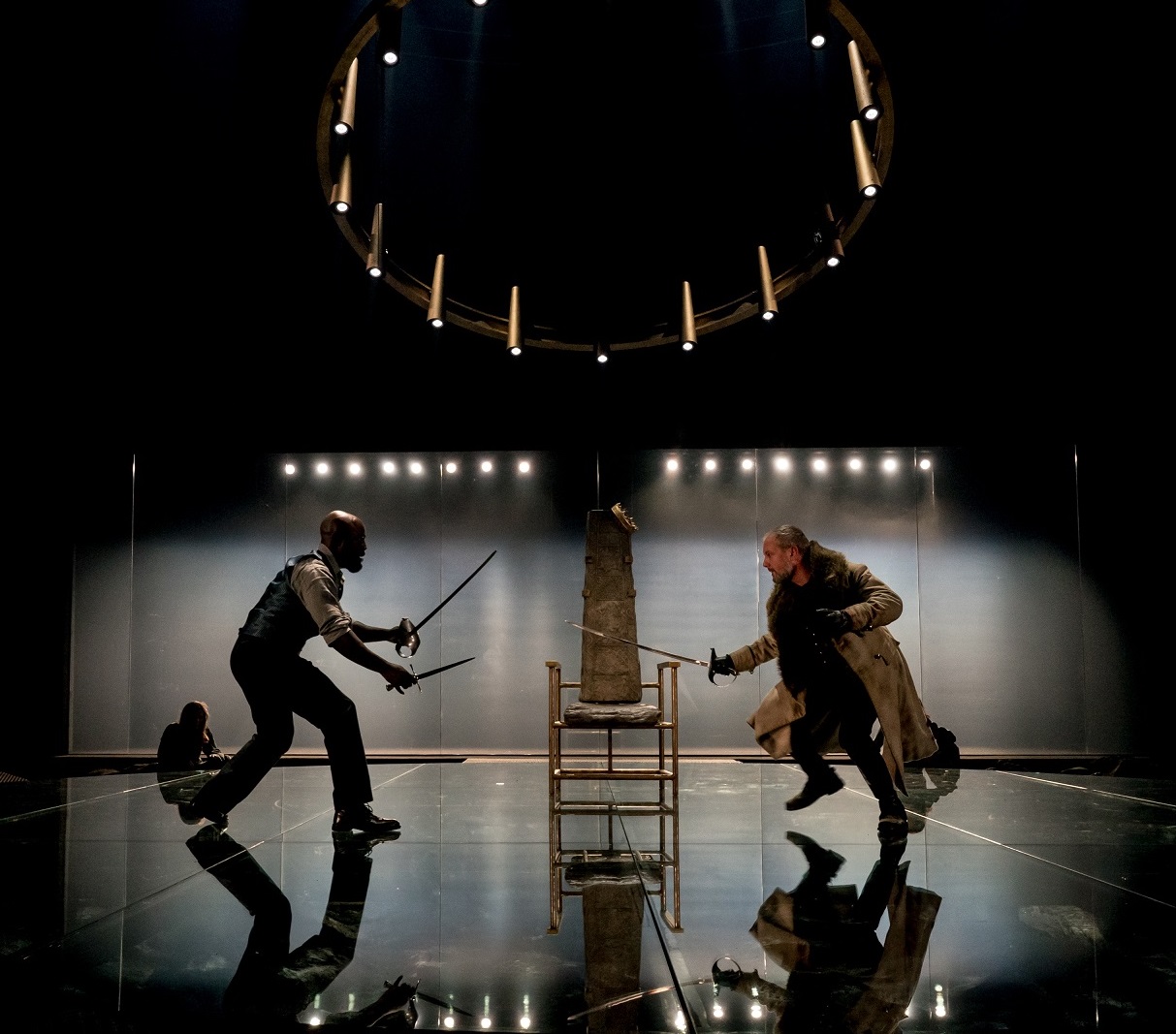 But it's the moments of sheer silence that follow some of Simm's soliloquies, resounding as they do over and above any supporting effects, which stay in the mind. Simm certainly gives us a sense of his character developing as the action proceeds, even if the antecedent forces that follow the witches' predictions and impel him towards murder seem less clear. Simm and Miller are following the course of Shakespeare's tragic heroes, their Hamlet already in the bag from the director's time at Sheffield. We'll have to wait a decade or so before Lear beckons, but the spare visual style and wide perspectives that Miller has crafted here should work a treat for that one, too.
It's the moments of sheer silence that follow some of Simm's soliloquies, resounding as they do over and above any supporting effects, which stay in the mind
rating
Explore topics
Share this article