Lot and His God, The Print Room |

reviews, news & interviews
Lot and His God, The Print Room
Lot and His God, The Print Room
Suffering becomes a work of art in Howard Barker's reworking of his biblical source
Saturday, 10 November 2012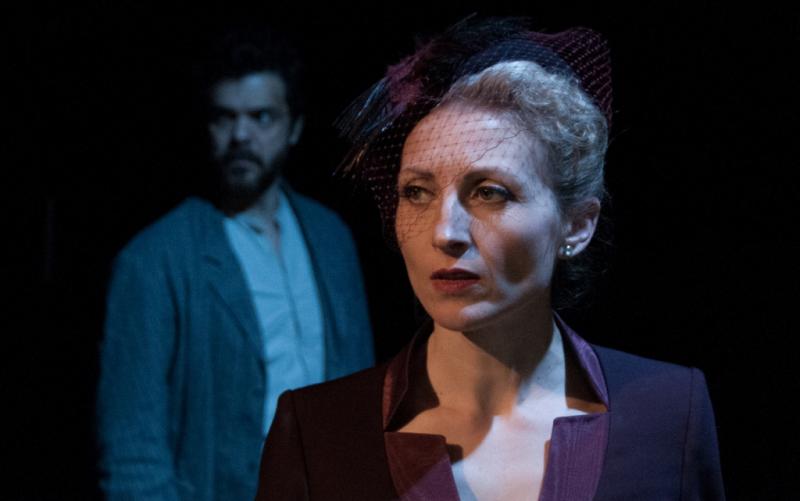 Hermione Gulliford as Lot's wife, with Justin Avoth as Drogheda
Howard Barker is hardly known for light entertainment. In The Europeans, a raped woman gives birth on stage. In Scenes from an Execution, currently at the National, a Renaissance artist is at war with her patrons. In Lot and His God, based on the Genesis story set in the wicked city of Sodom, Lot's wife betrays her husband with an angel. Complex might be putting it nicely.
Yet, this sensational production is as seductive as its female lead. The play is tough and knotty and brutal, but it is also compelling and intelligent and eloquent. A cast of four deliver lyrical, rhythmic lines with lacerating precision and insight, while the set of peeling walls and cafe tables caked with dust in the half-light is imaginative and sensual. This powerful staging makes pain and suffering beautiful, terrifyingly so (pictured below: Vincent Enderby in foreground, Justin Avoth, Mark Tandy).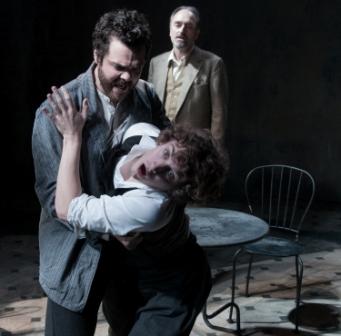 Barker homes in on the day before God destroys Sodom for its sinfulness. It is a bold retelling of the biblical story, both delving into and straying from its base. Lot's wife – practically invisible in the biblical tale until God turns her into a pillar of salt as the family flees the city – is a temptress in Barker's play. When an angel visits the couple to warn them to leave, she doesn't just refuse ("Do I look like a woman who packs her bags?"), she seduces him. For Barker, there are no local men threatening to rape angels, as in the Bible, nor innocent daughters being offered by Lot in the angels' place. His focus is Lot's wife. In Lot and His God, she pulses with passion.
Barker tussles with the big theological issues, the Bible providing a narrative framework. Pulling the story on is the sense that the city is about to go up in flames. In lengthy monologues, Lot – played with understanding and compassion by Mark Tandy – and the angel offer explanations for God's apparently capricious nature. Barker also addresses details: Lot's wife is conscious – and resentful – here of being seen as just "the wife of Lot", as in Genesis. The playwright names her Sverdlosk.
But if this makes the play sound unfathomably difficult, it is not. Robyn Winfield-Smith's tight direction weaves these challenging musings with a passionate, if tormented, love story. Lot and His God is a perceptive and provocative exploration of human relationships. Barker explores the motivations and desires of characters in a love triangle. Why does a man like Lot allow his wife to go off with other men? What kind of love does Lot's wife have for her husband if she torments him with affairs?
Hermione Gulliford as Lot's wife conveys the complexity of love brilliantly, showing both her desire for power and independence, and her need for security and love. From a flick of a gloved finger to the clipped enunciation of repeated phrases, she portrays Sverdlosk's pitiless and knowing exterior, allowing just a glimpse of vulnerability to flicker underneath. Tandy, as her husband, has a different, internal strength: he is scholarly, patient and compassionate.
Humour darts through this play from unexpected directions and at unexpected moments. Vincent Enderby's disdainful glares and slovenly shuffle as the begrudging waiter are particularly brilliant. He puts in a terrifically moving performance later in the play when he becomes deaf and dumb, writhing on the floor, his every muscle expressing his torment. Justin Avoth as the angel Drogheda is a commanding, amoral presence throughout. It is a measure of this cast's skill that the production is so gripping. It is an intense hour, but what a rewarding hour it is.