Llanelliad: Greeks bear gifts to Wales |

reviews, news & interviews
Llanelliad: Greeks bear gifts to Wales
Llanelliad: Greeks bear gifts to Wales
Epic theatre-makers on taking Logue and Homer to Carmarthenshire for NTW
Thursday, 17 September 2015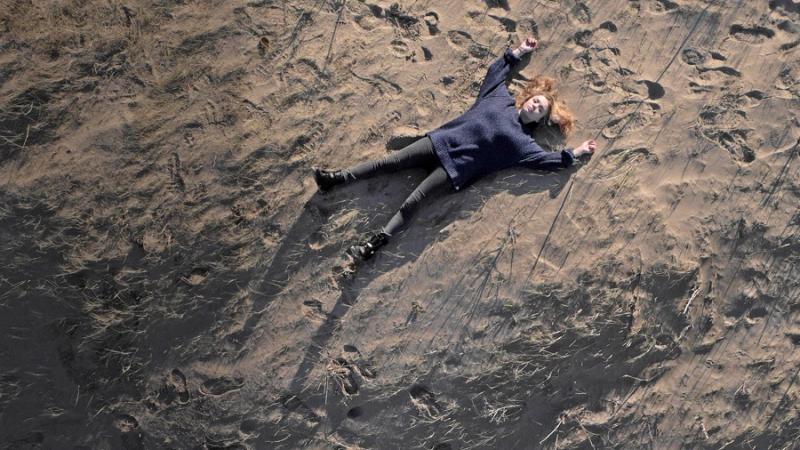 'The gods are played by local teenagers'
The Trojan War has been going on for nine years when Homer's account begins in The Iliad. Mike Pearson and Mike Brookes have been developing their version of the story, using Christopher Logue's War Music, for nearly half as long.
True, when they staged
The Persians
by Aeschylus for National Theatre Wales in 2010,
The Iliad
was not yet on the agenda, but now they say that a through-line is clear from that production to their present National Theatre Wales project.
"We couldn't have done Coriolan/us in 2012 without The Persians or this one without Coriolan/us," says Pearson. The link is their innovative, multimedia approach to classic texts, which will set it apart from that other memorable Iliad marathon recently mounted by the Almeida and the British Library.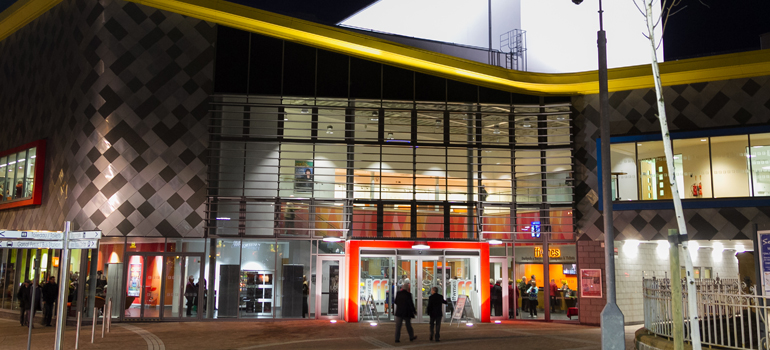 Iliad may surprise Pearson/Brookes fans. For a start, this time their six actors and four "constructors" will unfold the complex narrative - Agamemnon's intransigence, the death of Patroclus, Achilles' fury, his duel with Hector, the meddling of the gods, the battles between Greeks and Trojans - within the confines of a conventional theatre. This is the gleaming new Y Ffwrnes in Llanelli, Carmarthenshire (pictured). The Persians was performed in a village mocked up for military training purposes in the Brecon Beacons, and Coriolan/us (a combination of Shakespeare and Brecht) in an aircraft hangar in the Vale of Glamorgan. Both were visually arresting. Iliad, all eight hours of it, will take place mainly in the heads of the audience, poetry, sound and light ensuring an immersive experience.
Pearson and Brookes are both billed as directors and have worked together on the concept for at least a year. What first struck them was the "filmic" quality of the text, Logue's use of modern terms such as "cut to" and the shift from scene to scene as if seen through the eye of a camera. Pearson takes the lead in guiding the actors while Brookes oversees design. In the light, airy rehearsal room at Y Ffwrnes, Mike B's multiple sheets of paper covered in precise drawings occupy an entire tabletop. These indicate different installations built out of tyres, timber and plastic chairs which the "constructors" - actors with experience in physical theatre - will put together as the action unfolds. The Greeks' territory and Troy will be established and platforms built for the narrators out of tyres with planks of wood on top of them. Pearson says he has been much influenced by Adam Nicolson's The Mighty Dead: "Although the Greeks endlessly talk of home, Troy is the seat of civilisation; the Greeks are the thugs on the beach."
When we meet, just after the August Bank Holiday weekend, actors and constructors are getting together for the first time. "Have you built a ship yet?" calls Pearson (pictured with Brookes). "Yes two - and an altar", comes the cheerful reply. So far this is conjectural. The building materials are in the theatre below. Logistics are still being worked out: "We'll never get anything done if we have to stop every time the gods speak," muses one of the altar-builders.
Downstairs in the auditorium, where the seating has already been removed, Brookes explains that 300 people at a time will engage with each of the four sections of Logue's epic. An enormous screen will fill an entire wall of the theatre showing a Welsh landscape changing in real time over each two-hour segment. Above us there are five monitors from which the gods will look down on events. Planks of wood, 400 tyres and 250 white plastic chairs await transformation into Troy, the Greek camp, battlefields and shipwrecks, the deconstruction of which may also express violence.
Upstairs, the actors take turns, as narrators or in character, each handed a microphone to read Logue's words off one of the four screens around the room. Not a word has been dropped, not a line edited. During performances actors will go to one of 10 microphones hanging from the theatre ceiling, almost to the floor, each with a bank of speakers above it. A whispered word, a conversational line will be heard throughout the space.
This is a very particular kind of acting job. The performers, four men and two women, must each adopt a character - Achilles, Agamemnon, Priam, Andromache and the rest - on picking up a microphone and drop the characterisation again just as quickly on relinquishing it. The lead narrator in the first section, "Kings", is Melanie Walters (pictured below), best known as the omelette-making mum from Gavin and Stacey, here finding a different kind of energy as she invokes the Greek camp before Troy. The actors do not have to learn their lines - these will be visible to cast and audience throughout - but they must make the spoken pictures live in the minds of the spectators.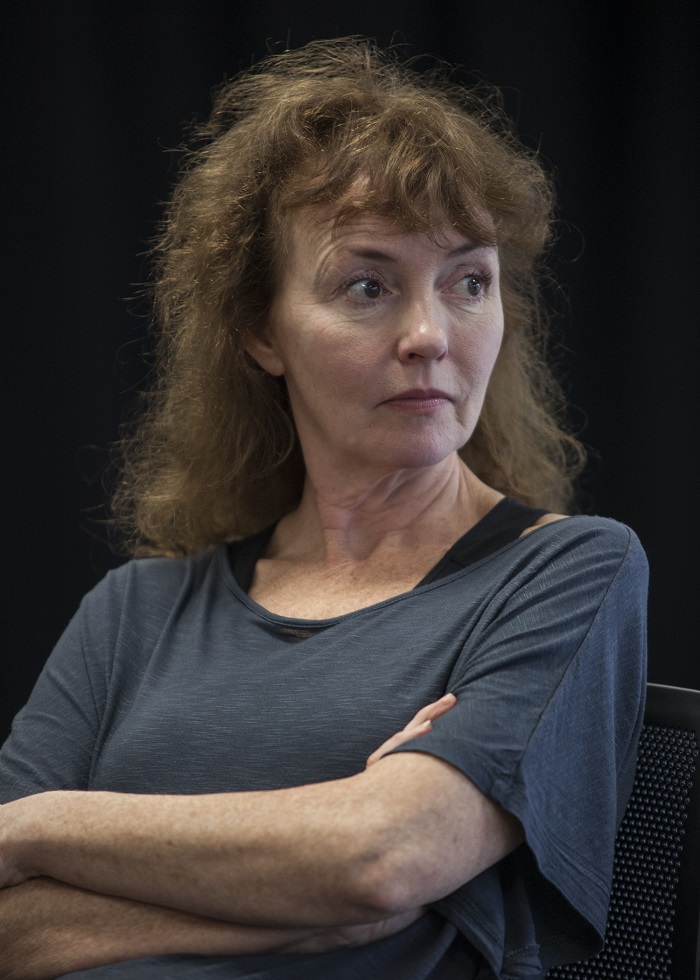 Pearson describes the audition process to find actors who can do this and who have sufficient stamina to deliver the very long text. "We did one exercise which everyone appreciated. We showed the auditionees a piece of a feature film - Jaws or Apocalypse Now - which we couldn't see and asked them to tell us what was going on to reveal their skill in bringing to life for someone else what they were seeing." All the actors, as in every NTW production, are either Welsh, based or trained in Wales.
The gods are played by local teenagers, a notion which came early. Pearson points out that in Logue's text, "the gods are the most colloquial speakers, not given to blocks of exposition, but needling each other and complaining". Julia Thomas, assistant director, invited some 40 young people who had expressed an interest to take part in two group workshops, the second of which was the audition. They were all aged 14 to 19, still at school and from Llanelli or elsewhere in the county. Ten were chosen despite, as Thomas says, not always wanting to reveal just those moody teen characteristics the directors wanted. The gods were filmed in May - to great effect, by all accounts. Brookes then spent "about 100 hours" painstakingly cutting their contributions into the whole. Sometimes a god will appear to be in dialogue with a live actor.
As for lighting, Brookes describes "trying to give each of the sections a particular architecture, but it's about making a space in which things can happen, not about chasing the text. The whole area will be flooded with sodium light, which has an intensity, but on its own makes everything peculiarly monochrome", so he will cut across this with other elements, including a couple of huge follow spots which can act like searchlights.
Direct illustration is never the objective. Likewise, the sound, by John Hardy composer and frequent collaborator with Pearson and Brookes, is designed to subtly complement and underscore the narrative. An ambient soundtrack will accompany the landscape film and further sound will be built in in layers to provide "a sonic atmosphere in which the text sits".
All this will aim to capture Logue's vigorous mixture of Homeric grandeur, his irony, anachronisms, satire and rudery, adding up to what Claude Rawson described as an Iliad "as if rewritten by [the angry, scurrilous Greek soldier] Thersites".
Shakespeare's Prologue in Henry V invoked the power of theatre when he urged the audience to imagine "the vasty fields of France". Pearson and Brookes similarly hope that their audience, drawn to one location or another with the help of sound and light, will enter another world. Anyone buying a ticket for just one section will be able to plug into an audio streaming of the others.
A by-product of this method, however, is that in an age when theatre is frequently watched on screen, a production in which screens play a significant role can only be fully appreciated in person. The hardy will be able to immerse themselves for a whole day or night in an eight-hour Homeric marathon.
Iliad is Y Ffwrnes, Llanelli, from 21 September to 3 October
Iliad, all eight hours of it, will take place mainly in the heads of the audience
Explore topics
Share this article