Lighthearted Intercourse, Octagon Theatre, Bolton |

reviews, news & interviews
Lighthearted Intercourse, Octagon Theatre, Bolton
Lighthearted Intercourse, Octagon Theatre, Bolton
Neglected Bill Naughton play gets home-town revival
Nicholas Shaw as Joe and Fiona Hampton as Madge in 'Lighthearted Intercourse'
Like several of Bill Naughton's plays, Lighthearted Intercourse started life as a BBC Third Programme drama. When it was broadcast, in 1963, its title was, less provocatively, November Day. Subsequently, it was rejected for the stage by producer Binkie Beaumont, who apparently tried to get Michael Caine or Albert Finney for the lead role of Joe, considered an "Alfie-size" part by the author.
"The setting might be poor, but the characters are rich, at least, so I think," he wrote to Binkie. "A sort of high comedy in low places, yes, genuine kitchen mink." Even Sir Bernard Miles, who was instrumental in transferring
Alfie
from radio to stage and setting it on its way to glory, turned it down.
So although this is being billed as a "world premiere", the play has a long history. In one version, it was staged at the Liverpool Playhouse with William Roache (yes, he of Corrie fame) in the lead. Nothing further was heard of it, but Naughton continued to rewrite it, producing 10 drafts between 1969 and 1975.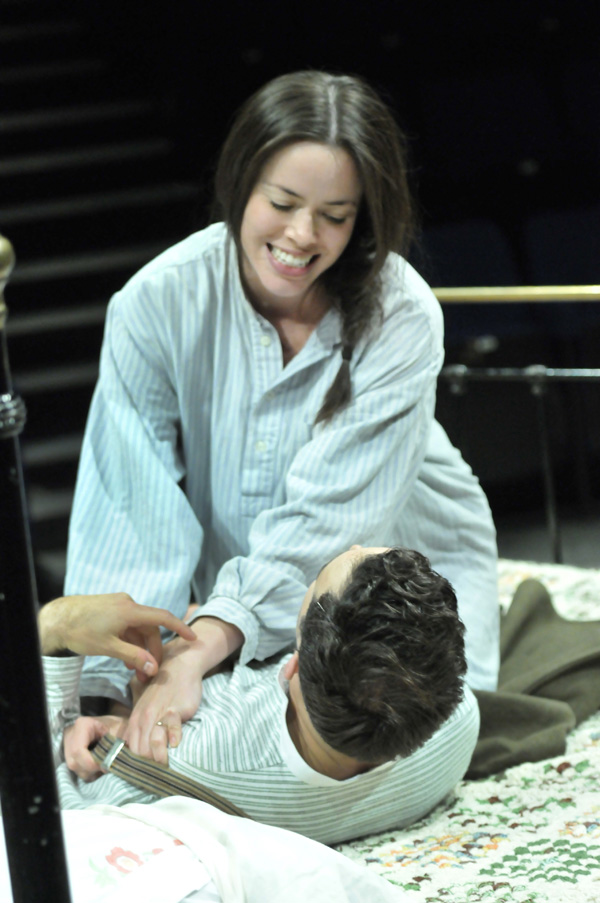 Now, the Octagon's artistic director, David Thacker, has painstakingly worked through those drafts and some hand-written notes about the play. In a labour of love, he has edited and reassembled the texts to produce his definitive version. A bit like Eric Morecambe playing the piano, here we have Naughton's words, but not necessarily in the original order.
The story is well-worn Naughton territory, hewed from his own background in Bolton, where he left school at 14 to work in the mill and then became a coal bagger, a dirty back-breaking job.
When we meet young poetry-loving Joe (Nicholas Shaw), he is in bed with his wife, Madge. (Fiona Hampton), whilst their baby son sleeps in an orange box. We're in 1920s back-street Bolton. Joe is not only jobless, but has a wife he had to marry because of a one-night stand in a quarry after leaving a dance hall. ("They said it's almost impossible for a woman to conceive if you do it standing up," he moans). He still loves another, but like a good Catholic boy – his Catholicism and prayers matter to him, a sort of antidote to Alfie - he faces up to his responsibilities, faithfully going out to seek work in the coal yard every morning.
This in-the-round production focuses on the old iron bedstead, the only prop on the set, in the first hour. Joe delivers a long – far too long - monologue about his life, addressing the audience like a ringmaster. (This was a radio play after all). He and Madge squirm on the bed (pictured above) whilst trying to ignore his priapism (little Joe-Joe will keep standing up). Again, the joke is overdone. Half-way through the hour, there appears a mysterious third character, The Visitor, who manifests himself to Joe, albeit in the substantial form of David Fleeshman (pictured below), besuited and avuncular. He turns out, in subsequent appearances, to be the harbinger of the wisdom of hindsight, actually being Joe as an old man. And he brings the message that what matters is love. Even at the end, Madge is still pleading "Joe, do you love me?"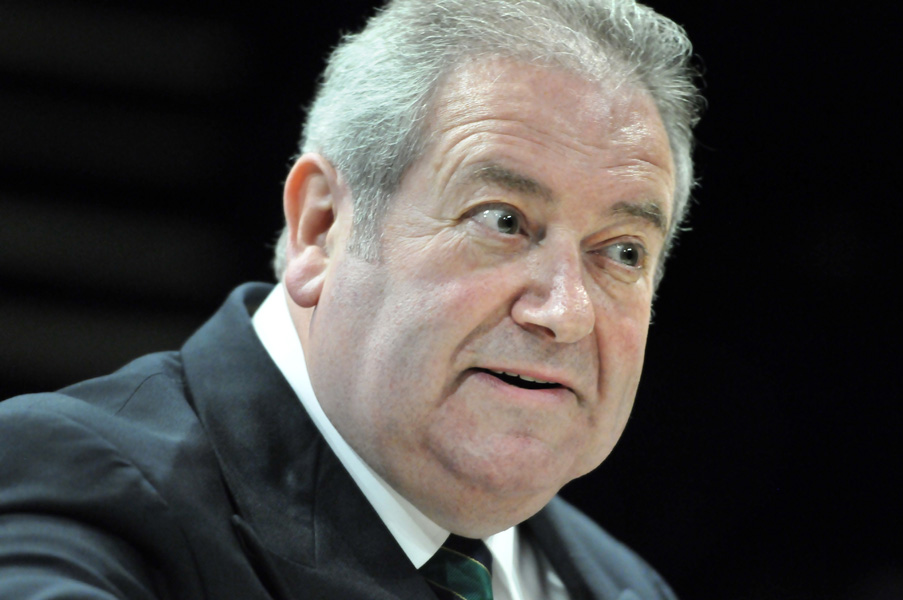 Although flawed, the play has the treasured Naughton hallmarks of tenderness, warmth, domestic rows (over previous lovers), humour and hardship. However, in this production I didn't get a sense of grinding poverty or anxiety. It's all relatively genteel, not least the accents. Joe eventually finds work as a coal-bagger (nine bob an hour). He comes home exhausted and covered in coal dust. This produces a tender moment in the play as Madge kneels and bathes his feet – almost biblical. Shaw and Hampton, never off stage, play their demanding roles with stamina, sensitivity and, where necessary, passion.
This is very much a local celebration. For instance, the knowing mention of different districts raises many a laugh. And there's the class distinction, epitomised by those who have outside tippler closets and the posh folk with inside bathrooms. Maxine Peake, whose first professional appearance was here, and Peter Kay, who used to work in the Octagon box office, have pre-recorded off-stage roles. She voices Clara, the knocker-up; he Albert, the muck-miser.
As a Catholic, Joe believes that lighthearted intercourse is sinful, but as a priapic youth he didn't mind having a bit, albeit not in Alfie style.
A bit like Eric Morecambe playing the piano, here we have Naughton's words, but not necessarily in the original order
rating
Explore topics
Share this article