Jane Eyre, National Theatre at Home review - a fiery feminist adaptation |

reviews, news & interviews
Jane Eyre, National Theatre at Home review - a fiery feminist adaptation
Jane Eyre, National Theatre at Home review - a fiery feminist adaptation
Sally Cookson's take on Brontë is innately theatrical and ferociously resonant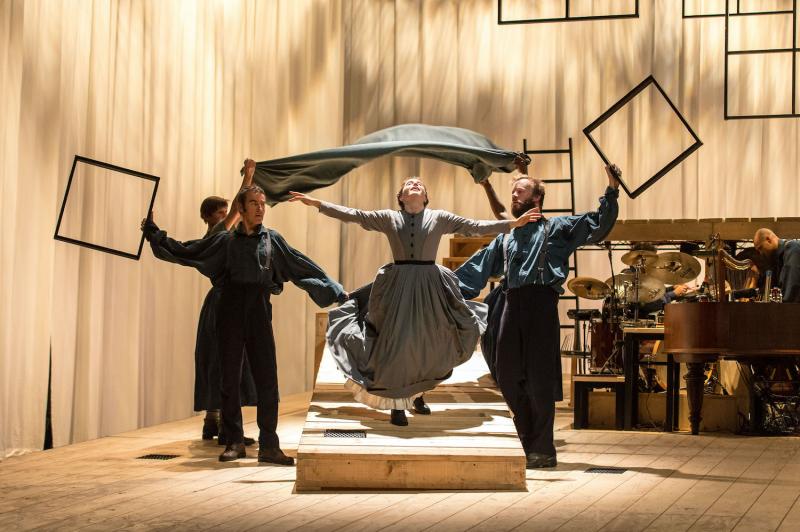 Window on the world: Jane Eyre (Madeleine Worrall) longs to escape
The National Theatre's online broadcasts got off to a storming start with One Man, Two Guvnors – watched by over 2.5 million people, either on the night or in the week since its live streaming, and raising around £66,000 in donations.
Let's hope that engagement continues with their next
offering
: Sally Cookson's dynamic
adaptation
of Charlotte Brontë's novel, a Bristol Old Vic and National Theatre co-production which also toured the UK.
Cookson's devised work blows past the problems associated with transferring literature to stage. There is nothing stuffy or static about her version; on the contrary, this is an intensely physical and multisensory piece. Throughout, we feel Jane Eyre's (the terrific Madeleine Worrall) fervent wish for stimulation, for adventure. "I must have liberty, and if I can't have liberty then I must have change," she gasps, her flinging open a window (main picture) a radical act.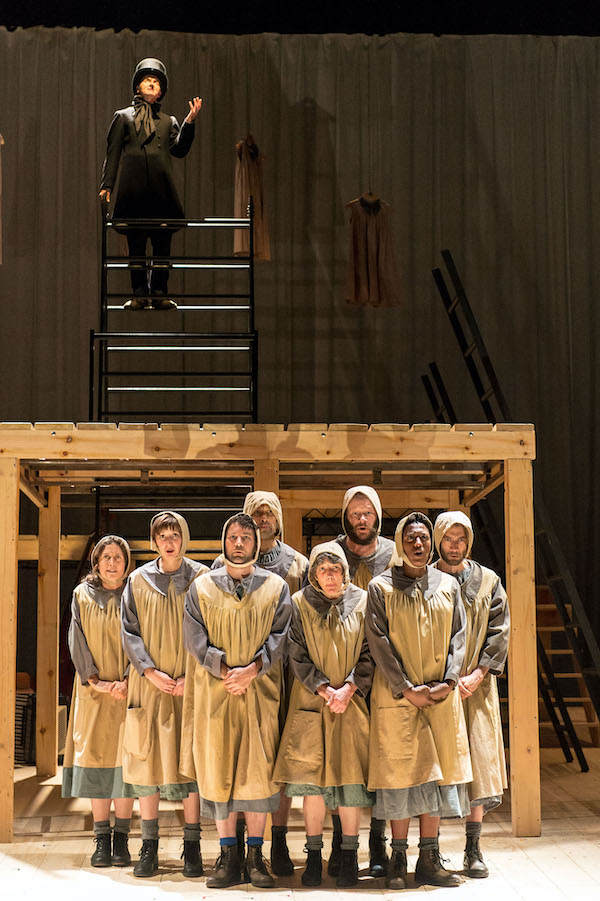 While other adaptations centre the romance, Cookson makes clear that this is Jane's life story, in which she, and other women, chafe against the restrictions placed on their sex. Notably, the production is bookended by the defining phrase "It's a girl". Jane is constantly forced into a too-small space, whether locked in the Red Room by her cruel aunt, made to stand on a tiny stool by the bullying proprietor of Lowood School, Mr Brocklehurst (pictured above right), or simply fenced in by traditional female pursuits like quiet sewing when she longs to be challenged, to shout and run and grow. Worrall puts real ferocity into the words "Women feel just as men feel".
Of course, everyone right now can relate to Jane's yearning to escape her physical imprisonment, but it's the spiritual and psychological containment that this production so vividly communicates. Her riposte to Mr Rochester is a mighty roar: "I am no bird; and no net ensnares me. I am a free human being with an independent will." Cookson gives the story fiery resonance by stressing the terrible deprivation visited on those who have less money or are otherwise disadvantaged in society, and who are told to be grateful if they receive the bare necessities. Jane will not: she demands kindness, opportunity, love and respect, and she rails against inequality and injustice.
Her arduous journey to seek fulfilment is visually conveyed by Michael Vale's playground-like set, in which Worrall is constantly struggling up ladders, hampered by her skirts and corset. It's an effective spine for this stripped-back piece, which ditches period drama trappings and instead asks the audience to envision this world, although the actors' athletic conquering of their obstacle course sometimes distracts. But the set gains another dimension from Aideen Malone's expressionistic lighting, with bold colour washes that reflect Jane's emotional state, and handheld lamps to leave secrets lurking in the shadows of Thornfield Hall.
Cookson also gives constant voice to the 'madwoman in the attic', Bertha Mason, with Melanie Marshall's soulful singing (pictured left) the centrepiece of Benji Bower's heart-pounding score. It binds Bertha to Jane in a grim kinship: two women who are mistreated, misunderstood, trapped and brutalised, and who in turn lash out, albeit to different degrees. Yet we only learn of Bertha's violent state from an external source, while we, the audience, still hear her song – her palpable desire for affection.
The excellent company multi-roles and acts as chorus for Jane, amplifying her thoughts and dilemmas. Among them, Felix Hayes is a bitter, seething Rochester, tormented by his failings, who sees in Jane not just love but some kind of solace. Laura Elphinstone gives us a hyperactive young Adele, and makes the saintly Helen bearable by portraying her as an empathetic, perceptive pragmatist. Craig Edwards' Mr Brocklehurst embodies the repressive, status-obsessed church, and Edwards is also thoroughly delightful scrambling about the stage as Pilot the dog. Simone Saunders is a kindly Bessie and snooty Blanche Ingram, while Maggie Tagney provides a cheerily bustling Mrs Fairfax, but imbues Jane's aunt with real venom.
Although Cookson makes every narrative element engaging, including the energetic journeying, this three-hour-plus production (originally a two-part adaptation) does feel overlong – and the book's structure means there's an inevitable Act II lag when Jane departs Thornfield. It's lacking, too, Brontë's vivid sense of place. But it's beautifully presented in NT Live's filming, and, with its emphasis on valuing everyone, and on the power of the imagination to help us transcend our enclosures, it's another clever choice for shutdown viewing – plus a bold, creative production to share with a wide audience.
Jane Eyre on the National Theatre's YouTube channel until 16 April
Notably, the production is bookended by the defining phrase 'It's a girl'
rating
Explore topics
Share this article