Hotel, National Theatre |

reviews, news & interviews
Hotel, National Theatre
Hotel, National Theatre
Polly Stenham's brilliant new play is a terrifying thriller set in a luxury tropical resort
Luxury lifestyle: Hermione Gulliford in 'Hotel'
Posh hotels are good settings for drama. They look cool, feel alien and can rapidly acquire a sense of claustrophobic intensity. Most importantly, in real life they feel like stage sets. Playwrights from Noël Coward (Private Lives) to Sarah Kane (Blasted) have set their work in luxury hotels, so Polly Stenham's latest play, her first for the National Theatre (and performed in the small studio space), follows in some large footsteps.
But she brings her very own in-yer-face style to the party.
From the first, there's a tense atmosphere. An upper-middle-class English family is staying at a luxury resort — a tropical island no less — just off the coast of East Africa. It soon emerges that they are on the run from the tabloids: fiftysomething Robert, husband of Vivienne, his older wife and the ex-Minister for Trade and Investment, has been caught with his pants down. The scandal has rocked her career so this is no ordinary holiday.
Nice middle-class kids can turn into terrors
But, while the parents try to patch up their marriage, the children have problems of their own: at the start of the play, 14-year-old Frankie and 17-year-old Ralph are having a bet on who can run fastest. If Ralph loses, he has to tell their father his secret. And this turns out to be a moral and ethical hand grenade which threatens to blown the family apart. Then, suddenly, something totally shocking happens — which is even more explosive.
Like Sarah Kane's Blasted, Stenham's Hotel takes a sudden leap into a much more metaphorical story, one where the relationship between the privileged West and the impoverished South takes centre stage. And I mean takes. Shocking brutality ensues; the world's poor invade the stage and they are howling for vengeance, and for justice. The point at issue, the dumping of pesticides from the West onto a privatised flower-growing economy, is symbolic of a whole world of exploitation.
Like some slimy tropical plant, Stenham's plot twists and sticks and warps and almost suffocates her characters. One moment everything is bright and wickedly funny, with the playwright deftly borrowing a device from Patrick Marber's Closer, the next all hell breaks loose. And I mean hell. Watching the last part of this 75-minute play feels like being in a nightmare you just can't escape. Like some contemporary version of The Lord of the Flies, the audience finds itself in a place of monsters.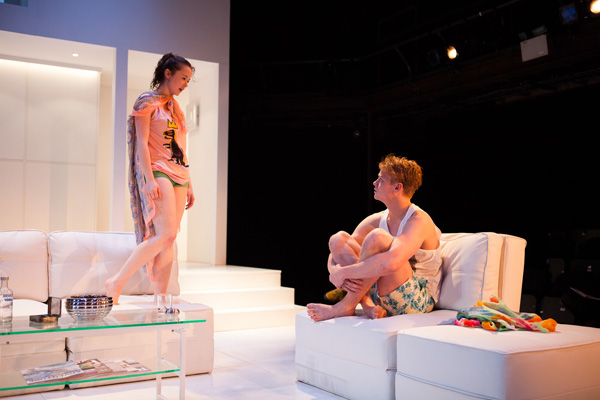 Stenham shows how issues of complicity in the exploitation of poor countries can go beyond liberal guilt when the exploited suddenly bite back, and how nice middle-class kids can turn into terrors. The violence is appalling; the sadism is revolting. By the end, I was beginning to resent being forced to endure these horrors. But then the penny dropped: how can we understand our new contemporary colonialism without feeling the pain of others? And boy is there pain.
Yet this short play, before the descent into violence, is packed with many delights. From Ralph and Frankie dancing to Destiny's Child, to Vivienne giving us the lowdown on how useless her hubbie is and him complaining about how powerful women emasculate men, there are plenty of zippy one-liners and humorous observations. Stenham shows both how kids can betray their parents and how parents can fear their offspring.
Sharply directed by Maria Aberg, on Naomi Dawson's elegant and minimalist set, the play can boast an excellent cast: Tom Beard's morose Robert is matched by Hermoine Gulliford's icily sarcastic Vivienne, while Shannon Tabert's spirited Frankie outsmarts her brother Ralph, played by Tom Rhys Harries (both pictured above). There's also a strong showing by Susan Wokoma as Nala, the hotel maid. At the end of a short evening, you leave the theatre with the acrid smell of burning in your nostrils, a bit shaken, a bit shocked. Great stuff.
Shocking brutality ensues — and the world's poor invade the stage
rating
Explore topics
Share this article