From Here to Eternity, Charing Cross Theatre review - Pearl Harbour musical fails to fly |

reviews, news & interviews
From Here to Eternity, Charing Cross Theatre review - Pearl Harbour musical fails to fly
From Here to Eternity, Charing Cross Theatre review - Pearl Harbour musical fails to fly
Super songs can't quite rescue an ill-focused story and sparse staging
Wednesday, 09 November 2022
From Here to Eternity's Boys of '41 spoiling for a fight - as usual
Whorehouses, gay prostitution and suicide – you can see why James Jones' bestselling 1951 novel was bowdlerised by the publishers and sanitised into subtext by Hollywood for the Oscar-laden movie released a couple of years later. As the extensive list of trigger warnings at the box office suggests, we're very much in the world of the unexpurgated original text (eventually published in 2011) for this West End revival of Stuart Brayson's and Sir Tim Rice's musical.
A fortnight before Pearl Harbour, the army boys are kicking their heels, thousands of miles from action, in the apparent backwater of Hawaii. With sufficient testosterone swilling about to fill the harbour itself, all that pent-up energy is displaced into events like regimental boxing tournaments, which have taken on an almost fetishistic importance for the top brass – rather like Colonel Cathcart's tight bombing patterns in Catch 22.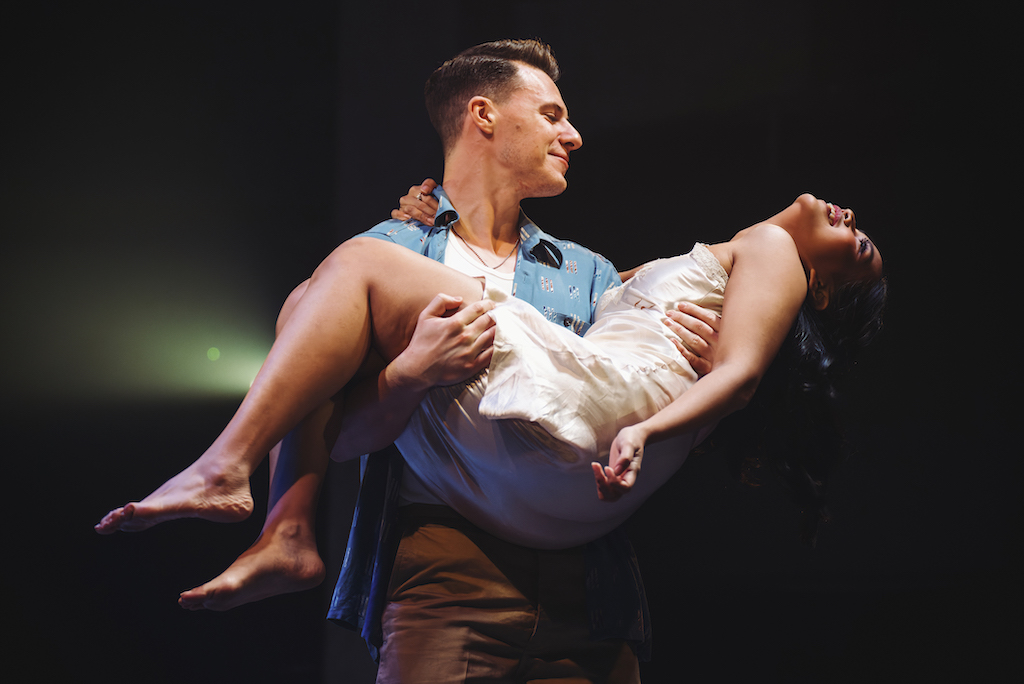 Private Prewitt (Jonathon Bentley, pictured above with Desmonda Cathabel), a hotshot pugilist, is drafted into this seething cauldron by Captain Holmes to deliver G Company the win he believes will gain him the promotion he wants – but Prewitt won't fight after blinding an opponent in the ring. Meanwhile, Holmes' wife, Karen, is conducting an affair with his aide-de-camp, First Sergeant Warden, and Prewitt is besotted by local sex worker, Lorene. Kamikaze decisions are made as actual kamikazes prepare for the infamous sneak attack.
The excellent score (played, a little too loudly, by Nick Barstow's five-piece band), comprises melodies inflected by rock, pop, blues and swing, and is beautifully sung by the cast. Adam Rhys-Charles is a standout as Warden, soulful and distraught with his second act opener, "Ain't Where I Want To Be Blues". Recent graduate Desmonda Cathabel captures the sex worker's nihilistic worldview with Lorene's "Run Along, Joe", contrasting with Eve Polycarpou's hard-nosed madame's "I Know What You Came For". Best of the lot is Jonny Amies' bittersweet, heart-wrenching "I Love the Army", showing that, for all the creeping danger, the appalling treatment meted out by officers and the stultifying boredom, military life offers a sense of belonging that Civvy Street could not match, even for Maggio, a hustling queer (as the script has it) relentlessly bullied.
But the show has its problems. Donald Rice and Bill Oakes have reworked the book for this new production, but it still doesn't quite work. The parallel love stories never spark – Karen appears to be settling for Warden as the best of a bad bunch, more driven away by her hideous husband, Captain Holmes, than attracted to his assistant. With no rolling around in the surf, it's all a bit half-hearted. Likewise, Prewitt and Lorene are not given enough time to develop the passion that leads to their life-or-death dilemma – you can't reach the chemistry if you barely heat the mixture.
Director Brett Smock also prioritises the frustration of men not quite at war and the sadism over the romances. With most of the action taking place inside the dark and dingy barracks on a largely bare stage set in the round, we could be anywhere really. There is little evocation of The Exotic, The Tropical, The Other (so brilliantly done in South Pacific, for example), neither as a location for transgression nor as an engine of tedium – we might as well have been in Passchendaele as Pearl Harbour. And I haven't seen so many white cotton Y-fronts since last I darkened the doors of Marks and Spencer!
There's a better musical to be built on these songs, one less about generic squaddies kicking their heels and more about how temptations can be heightened in the theatre of war. As it is, From Here to Eternity never makes up its mind – it's not an anti-war statement, not a tale of forbidden romances and not an operatic tragedy of epic proportions. It really only finds its feet in a sensational evocation of the tumultuous attack itself – but, by then, it's all over bar the dying.
Kamikaze decisions are made as actual kamikazes prepare for the infamous sneak attack
rating
Share this article