Hamlet, Windsor Theatre Royal review - the age is out of joint |

reviews, news & interviews
Hamlet, Windsor Theatre Royal review - the age is out of joint
Hamlet, Windsor Theatre Royal review - the age is out of joint
Leaping out of time from Gandalf to Hamlet - athletic thespianism from Sir Ian McKellen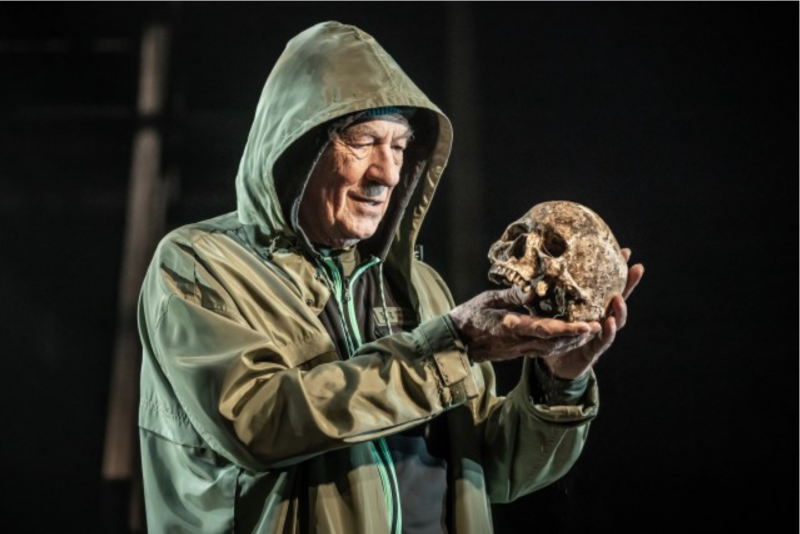 'To be or not to be (82)': McKellen plays Hamlet for the first time for 50 years
So it wasn't Cinderella but Hamlet who was first out of the post-lockdown starting blocks – Andrew Lloyd Webber's much trumpeted musical premiere being foiled by a ping at the weekend.
Instead the historic first curtain-up was 20 miles up the River Thames in Windsor, on a
Shakespeare
production that itself has been disrupted over and over during the past 16 months – possibly with even more urgent, unspoken worries, as the star is Ian McKellen, who was 80 when rehearsal began, and Covid began devastating the older generation, and is now 82.
Pingless so far, Sean Mathias's production, on a plain scaffolding set with clumps of masked audience members seated under it, looks rather like a Meccano set that's been thrown onto the table for you to try to connect the bits and the concept. It is the perfect representation of this dislocating, interrogatory era.
The time really is out of joint, and ages, genders, races and nationalities too. Expectations, relationships, identities, cast members, nothing can be taken as read. Hamlet is 82, his mother (Jenny Seagrove) is 64. Ophelia's brother was going to be a girl, but due to last-minute cast changes, the Polonius we see is no longer a ferocious Steven Berkoff but a woman, Frances Barber, and his son is no longer a girl but a boy. With me, so far?
Of these disjointings and ructions, the most striking is not the aged Prince of Denmark but the black hole created by the exit of the even older Berkoff, 84 next month, whom I happen to have seen in last month's previews. His departure (for disputed reasons) has dealt the production's psychological effectiveness a grievous blow – not to mention its black comedy – and most of the weaknesses of what we now see are down to it.
What was on stage last month was a trio of extremely macho, politically manipulative men – the dead king Hamlet (the formidable, crossdressing Francesca Annis), Claudius his treacherous brother (Jonathan Hyde, as smooth as Macron), and Berkoff's terrifying Polonius, a monstrous, limping, militaristic tyrant of nuclear intemperateness straight out of Dr Strangelove.
This triumvirate of action-men offered a barbed context for McKellen's actionless Hamlet, loafing around either in a Lord of the Universe costume or in hoodie and trackies, gabbling voluminously about revenge, eternally procrastinating with just a hint of spoiled brat. "To be or not to be" is the question, he tells Horatio. And then takes a wordy path through a number of options, cursing spiteful fate for demanding that he make a decision.
The production clearly poses that same question about whether Hamlet should be, or not be, as old as McKellen is. But he is beguilingly and indeed pointedly transparent, playing off a natural link between adolescent apathy and the habit of inactivity that grows with old age, even if you have a Peloton subscription. And when his speaking is so clear and freshly minted - and his stamina and athleticism so amazing (he shins up ladders and leaps up staircases) - every thought, every question, is being redefined as it is articulated. Just what does it take to stir one into revenge? A reminder to oneself in a notebook? An oath in blood? Pretence? A piece of theatre publicly enacting the crime? Is Hamlet right to resist such dubious action or is he just a verbose hypocrite? This certainly isn't a portrait of a noble depressive, and I didn't feel emotionally greatly engaged. But mentally, yes - it's an education in human weakness. If it be not now, then when? There's the very question Boris Johnson has posed.
Epic this isn't, which is okay, and the verse-speaking is often unclear, which is not
As a spectator, is it possible to forget all the pre-curtain disjoints and disrupts? No - or at least, not yet. Even without a Polonius to bounce off, McKellen charismatically rises to the challenge of carving out Hamlet's motivational search for a reason to be. But worse damage to the play's careful conceit is that Berkoff's loss has rendered the playing of Ophelia ludicrous. With a father as dementedly bullying as he was, her loud descent into unhinged grief and dreadful hippy guitar-strumming at painful length at least conveyed the ugly overdependence of a victimised child on her monster father. Now, with the diagonally opposite substitution of the small, neat Frances Barber as a perky, servile Polonius, Alis Wyn Davies's Ophelia simply sounds overblown and misdirected.
Hyde (above, with Jenny Seagrove's Gertrude) has the straightest path to take as Claudius, and he occupies it with full authority and a hint of a wider tragedy of our times, a dapper, eloquent, but quite ordinary bureaucrat who has opportunistically seized a crown without regret.
Seagrove is a rather Pre-Raphaelite vision of insubstantial elegance, a beautiful, stately Gertrude with a guttural, slightly obstructive Scandi accent. The crossdressing Annis as the Ghost, meanwhile, unleashes her full baritonal boom, electronically enhanced, to fierce effect, and the player troupe is full of liveliness.
Epic this isn't, which is okay, and the verse-speaking is often unclear, which is not. The time is out of joint, and theatre is creeping back onto the stage, cowed by recent experiences. Reassembly and re-selection is what's going on. Be prepared here for shreds, patches, and touring motley, but also for the deep and timely questions, clarified by the age of the Hamlet - and most particularly right now this week. McKellen hasn't played Hamlet for a full half century, and the Prime Minister reportedly felt that over-80s were the wrong priorities in Covid policy-making, for instance. Let us think about that. To be 82, or not to be. Discuss.
The production turns out to be the perfect representation of this dislocating, interrogatory time
rating
Explore topics
Share this article