Hamlet, Park Theatre |

reviews, news & interviews
Hamlet, Park Theatre
Hamlet, Park Theatre
The great Dane returns, this time with a fairground-style flavour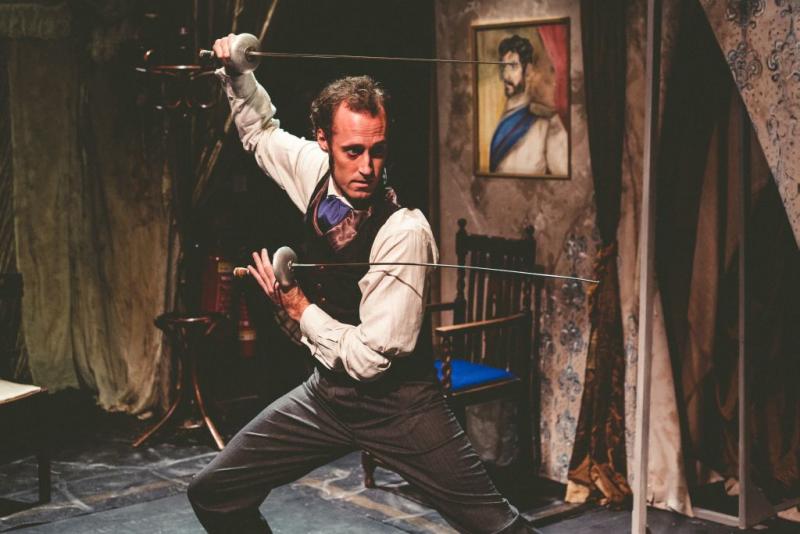 En garde! Jack Baldwin is London's latest tortured prince
A chalky-faced man stands in the shadows and his limbs jolt about, as if battling for position beneath his skin. This is the ghost of Hamlet's father and he is a fearful sight in ACS Random's Victorian and spectral take on Shakespeare's tragedy. When Hamlet senior's spirit croaks "Remember me!", it seems superfluous. This is a creature impossible to forget, even if this production's real-life characters aren't as vibrant as its figures from beyond the grave.
Andrew Shepherd's production kicks off with a ferocious seance, involving Horatio (wearing a Victorian-era bowler hat) and some lace-clad ladies. It's an intense opening that brings stark new meaning to those well-worn early exchanges: "Stand, ho!! Who is there?" The cast moan and judder as if gripped by some terrible waking nightmare, and the audience bristles with excitement. As the evening continues, there are further spooky shocks in store but character, feeling and poetry are sacrificed in the process. Think of this as Hamlet the Victorian Ghost Ride: a fun fairground attraction, to be sure, whose impact is fleeting.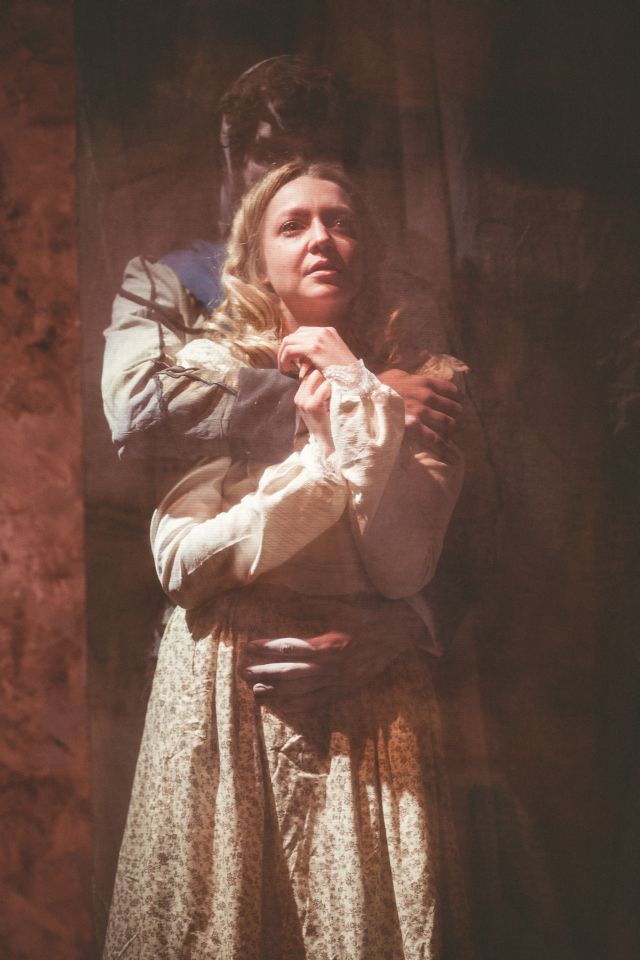 Zahra Mansouri's set has plenty of tricks up its sleeve. The stage is crammed with screens that are draped in sheets and decorated with family portraits. The result makes for an ideal playground for the ghosts that haunt the production. Hamlet senior's spectre pops up behind softly lit gauze and, in one highly effective scene, Ophelia's ghost is slowly dragged into the underworld. As the paintings flare up with neon lights, tortured groans blast through the theatre. It's all jolly good fun (much like this company's previous take on Much Ado About Nothing, at the Park Theatre last year) but the ghostly diversions take away from the performances.
Jack Baldwin is a perfectly respectable Hamlet but the pace of a production running just two hours means that his "blunted purpose" feels really rather sharp. His Hamlet is also a bit of a flirt, an interpretation emphasized by the decision to make Rosencrantz and Guldenstern women. This Hamlet doesn't seem hugely troubled by life, and his halting and thoughtful monologues sound somewhat out of place.
The play has been filleted with relish if not always consistently. Fortinbras is referenced at the beginning and then later dropped. Many of the peripheral and even some rather substantial characters have been edited out and a lot of Shakespeare's suspense and emotional nuance are gone as a result. Scarlett Clifford's Ophelia (pictured above) barely has time to speak before she succumbs to her watery grave. Pensive philosopher Horatio (Andrew Venning) has no place amid the stridency, and Polonius (Paul Easom) isn't on stage long enough to really get under our skin.
There are lots of entertaining embellishments here but it's rather odd to watch a production of Hamlet that has so little time for delayed action or self-doubt. This is a geefuly spooky staging but those looking for profundity or persuasive poetry should look elsewhere.
It's rather odd to watch a production of Hamlet that has so little time for introspection or doubt
rating
Explore topics
Share this article