Hamlet, Young Vic Theatre |

reviews, news & interviews
Hamlet, Young Vic Theatre
Hamlet, Young Vic Theatre
Michael Sheen is riveting as the crazed Danish Prince in Ian Rickson's terrifying psychiatric-hospital staging
Thursday, 10 November 2011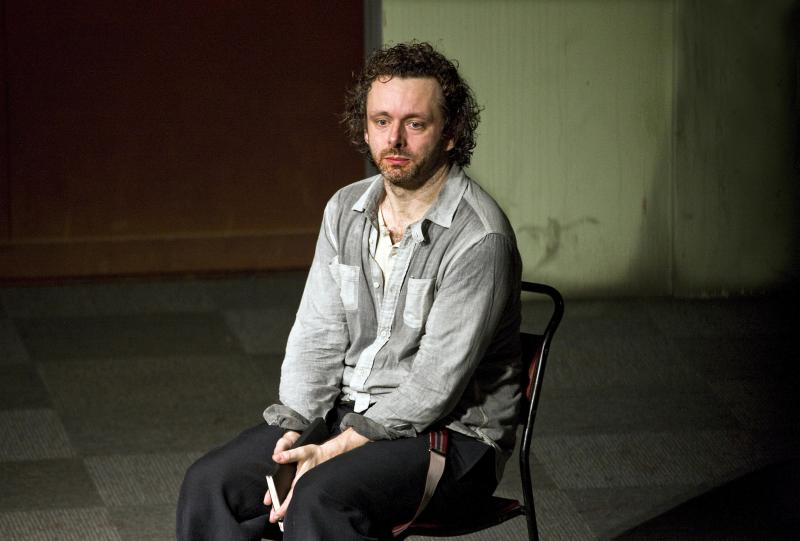 A suitable case for treatment: Michael Sheen as Hamlet
First come the strip-lit corridors, the stained breeze blocks, the locked doors; later there are restraints, drugs, needles. The time is out of joint, and we are all imprisoned in a nightmare of confusion, paranoia, guilt and despair. Who are the mad? Who the sane? In Ian Rickson's thrilling production of Shakespeare's great tragedy, it's often frighteningly unclear.
This is the director's first Shakespearean staging and, electrifyingly, he approaches the text without careful reverence, but with the energy and inventive flair he has habitually brought to new plays. It is a distinctly personal, rather than a political, reading, its focus sharply upon the psychological. The result is a drama that, if it neglects other dimensions of the text, has an arresting immediacy: it is about families, and the way their members can damage and destroy one another; it is about the devastation of acute grief, and the terror of mental instability. It views the world through the wild eyes of the Danish Prince – and when that role is given such a sensational performance by Michael Sheen, the vision it presents is riveting.
There is humour, too, in his cunning, his hair-trigger impatience with those around him; and there is great, moving tenderness
Designed by Jeremy Herbert, the production plunges its audience into its disturbing world before we even take our seats. Walking by dead-eyed orderlies, we file through the bowels of the Young Vic building, past cupboards of pills and hospital signage. Finally, we step through a glass-walled office, between two enormous steel doors, and into what appears to be a grim gymnasium. A forlorn basketball hoop hangs on the wall; plastic chairs are arranged as if for a group therapy session. The air is filled with the sound of static and a faint antiseptic smell. Standing over the coffin of his father, atop which rest an earth-smeared greatcoat and a dagger, is Sheen's stricken Hamlet. He gathers up the coat, inhales its fragrance – the scent, we imagine, of the dead man. Soon, out of thick darkness, King Hamlet will walk again; yet the lights will flicker back into life to reveal the apparition to be not the deceased monarch, but his crazed son himself.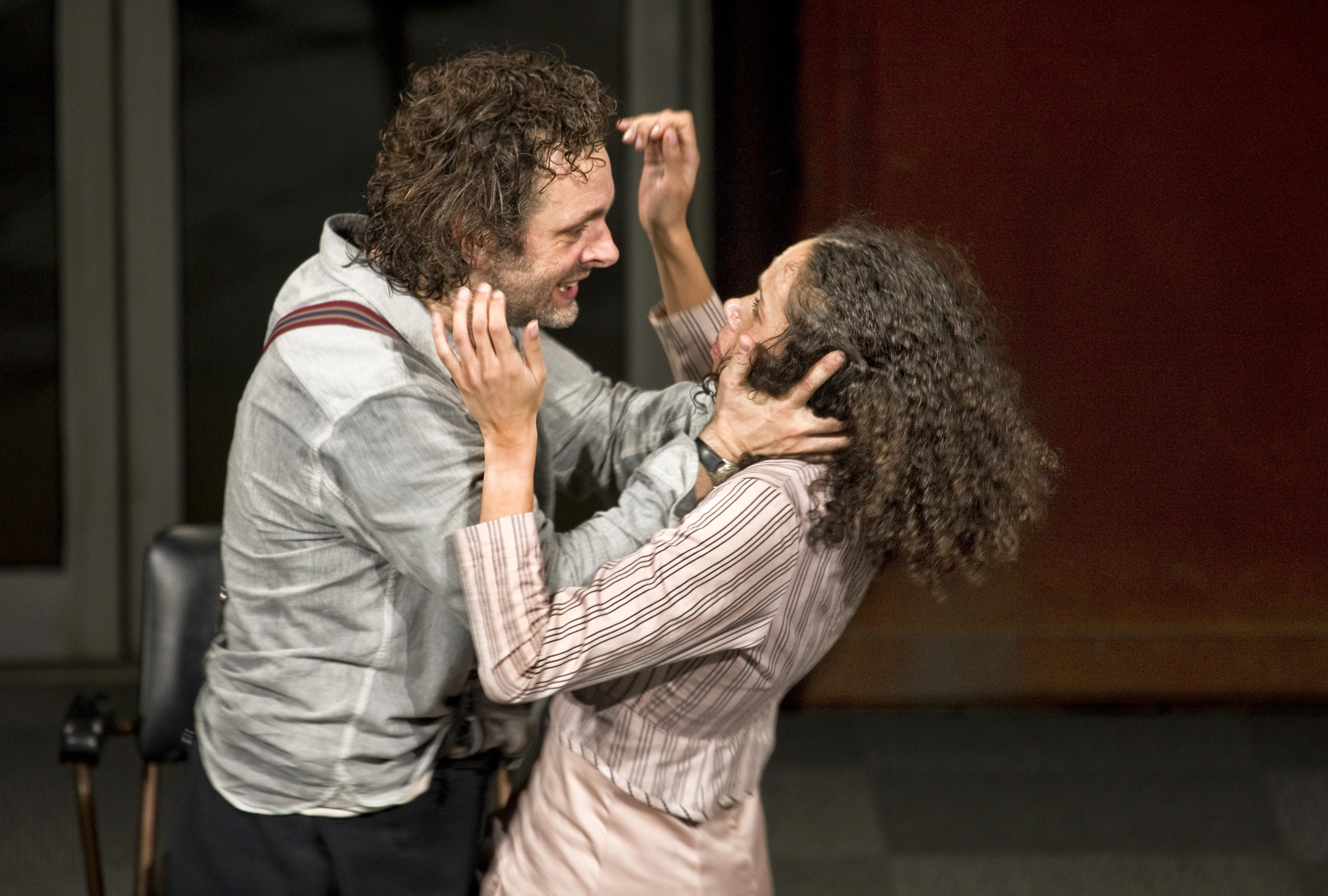 Nothing here can be relied upon. James Clyde's oily Claudius, and his worryingly perma-smiling new bride, Sally Dexter's Gertrude, exert a wobbly control over the secure psychiatric hospital Hamlet inhabits. But what of Michael Gould's Polonius? Tracking Sheen's Hamlet armed with a dictaphone, on to which he records his observations of the Prince's behaviour, he seems to be an insensitive medic. But when he loses his train of thought, Gould looks so heartbreakingly bewildered that the thought occurs: is he, perhaps, not a doctor at all, but a fantasist inmate?
In this queasy unreality, Sheen is fascinating: vulnerable, scary, his gaze darting restlessly about, his body taut with anticipation. In the Players scene, his tension overflows into grotesque cruelty, as he taunts Vinette Robinson's Ophelia (pictured above, with Sheen), before dragging his mother, blindfolded, into a lewd dance in which the hose of a vacuum cleaner becomes a monstrous phallus. There is humour, too, in his cunning, his hair-trigger impatience with those around him; and there is great, moving tenderness, both in his grief for his lost parent and in his relationship to Hayley Carmichael's distressed, compassionate Horatio.
Even his connection with Rosencrantz and Guildenstern – played by Eileen Walsh and Adeel Akhtar – is made to count, his former friends recoiling from a man they see as dangerously unhinged, Walsh all goofy over-compensating grins as she flinches from his touch. And Ophelia's mental disintegration – for which her eerie songs are written by PJ Harvey – is a devastating parallel for Hamlet's torment. This is a psychodrama seen through the sockets of a skull; other interpretations may offer a more complete picture, but rarely one more vivid.
GREAT DANES
Alan Mahon, Tobacco Factory, Bristol. Hamlet as wayward teen spirit
Andrius Mamontovas, Globe to Globe. Lithuanian take on the Danish play puts on a frantic disposition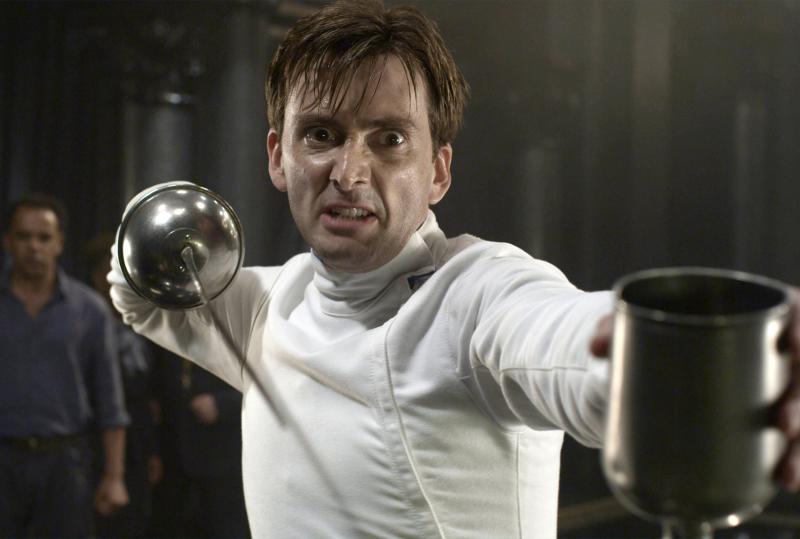 Benedict Cumberbatch, Barbican. Visuals threaten to swamp Shakespeare – and, yes, Sherlock
David Tennant, RSC/BBC. Star looks for life in an infinite space beyond the Tardis
Lars Eidinger, Schaubühne Berlin. Acrobatic Hamlet, outshone by the earth and the rain
Maxine Peake, Royal Exchange, Manchester. An underwhelming production, but Peake is gripping as the young Prince
Rory Kinnear, National Theatre. Kinnear isn't a romantic Prince, but an unsettled, battling one in Nicholas Hytner's staging which is modern, militaristic and unfussy
Andrew Scott, Almeida Theatre Predictably unpredictable performance subject to Robert Icke's slow-burn clarity