The Guid Sisters, Royal Lyceum, Edinburgh |

reviews, news & interviews
The Guid Sisters, Royal Lyceum, Edinburgh
The Guid Sisters, Royal Lyceum, Edinburgh
Terrific revival of Michel Tremblay's Les Belles-Soeurs by the National Theatre of Scotland
Wednesday, 26 September 2012
'The Guid Sisters': thought-provoking theatre which never forgets to entertain
The 1989 production at the Tron in Glasgow of Bill Findlay and Martin Bowman's translation of Les Belles-Soeurs, the 1965 play by Québécois writer Michel Tremblay, has become a landmark event in Scottish theatre.
This new co-production between the Royal Lyceum Theatre Company and the National Theatre of Scotland marks a major and very welcome revival of a work which, although initially written to challenge the prevailing cultural constraints of Canada in the 1960s, retains a real contemporary kick.
The themes of The Guid Sisters – economic desperation, the politics of language, religion, the complexity of female relationships – remain universal, and its sheer zest and vibrancy is undimmed. At its centre is Germaine Lauzon (Kathryn Howden, pictured below right), who in these pre-Lottery days has won a windfall of a million Green Shield stamps. These will enable her to order the entire catalogue and transform not only her house – she wants "every-bloody-thing": a colonial style bedroom suite, artificial nylon carpet, the works – but her life. In order to claim the prizes she first has to stick all the stamps into their books, a Herculean task for which she enlists the help of her two sisters, sundry friends and neighbours.
The women – eight to start with, though they are joined by several more as the evening unfolds – sit around Germaine's kitchen table and start sticking. And talking. As the night draws on we learn of the bonds and simmering resentments which both unite and divide them. We also learn of the wider cultural and religious forces which - outside these four walls - keep each one of them firmly in their place. Some yearn for love while others, such as Germaine, lust for acquisition, but all are frustrated by their sex, faith, age, social rank - and one another.
The lot of the younger generation is hardly less fraught: Germaine's youngest sibling Pierrette (Lisa Gardner) has been cast out of the family circle for pursuing "the swine Johnny", a passion which led her directly to the unholy trinity of nightclubs, booze and unwedded fornication. At 30, she has already deemed herself destitute. Ten years younger, Germaine's daughter Linda (Sally Reid) and her friend Lise (Hannah Donaldson) are at the fork in the road, torn between the old order of marriage, the Chapel and miserable convention, and the dangerous new path of economic freedom, sexual independence and professional aspiration. Among them all envy and hypocrisy co-exist with love and laughter. The older women are happy to rail against the depravity of the young while telling lewd jokes; they preach damnation while stealing stamps from under the nose of the very friend they are there to help.
The Guid Sisters is thought-provoking theatre which never forgets to entertain. Crucially, Findlay and Bowman's translation into broad east coast Scots preserved the bawdy vibrancy of the original's joual, the rough dialect of Montreal. The language is a joy, dripping with the juice of real life, and genuinely poetic in its raw depiction of the inner and outer lives of these working-class women.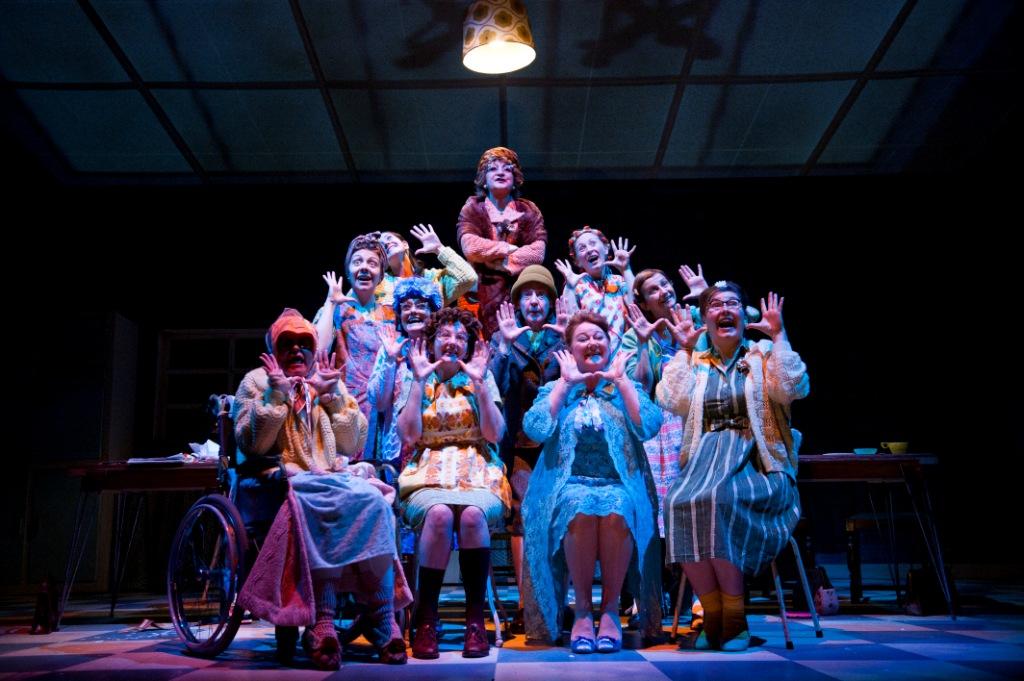 It is a loud, crowded stage – 15 bodies at times, all women - but then this is a busy, noisy, in-your-face play. Nothing is played small; everything is on full beam. Kathryn Howden leads from the front with a rip-roaring performance as Germaine, but there are no passengers. Of the many highlights, Karen Dunbar is terrific as the sharp-tongued Rose, a smart woman dragged down and worn out by her circumstances. Molly Innes is by turns terrifying and hilarious as Therese, a "saint" with severe anger management issues, and Jo Cameron Brown is a riot as Lisette, a sub-Jean Brodie creature who, it transpires, is all fur coat – or mink stole in this case – and no knickers.
Canadian director Serge Denoncourt does a fine job keeping several balls in the air, switching between barnstorming ensemble set-pieces, spotlit soliloquies and the brilliantly executed "Ode to Bingo" (pictured above), performed in syncopated rhythm by the entire cast.
There are no easy answers and no happy endings for any of these women, yet The Guid Sisters concludes with a hymn to sisterhood filtered through the words of Robbie Burns, bringing with it a surge of warmth and a sense of feminine power. Embattled and embittered though these women are, together, at least, they are able to be themselves.
The language is a joy, dripping with the juice of real life and genuinely poetic in its raw depiction of the inner and outer lives of working-class women
rating
Share this article