The Go-Between, Apollo Theatre |

reviews, news & interviews
The Go-Between, Apollo Theatre
The Go-Between, Apollo Theatre
Michael Crawford is deeply moving in a subtle and powerful musical adaptation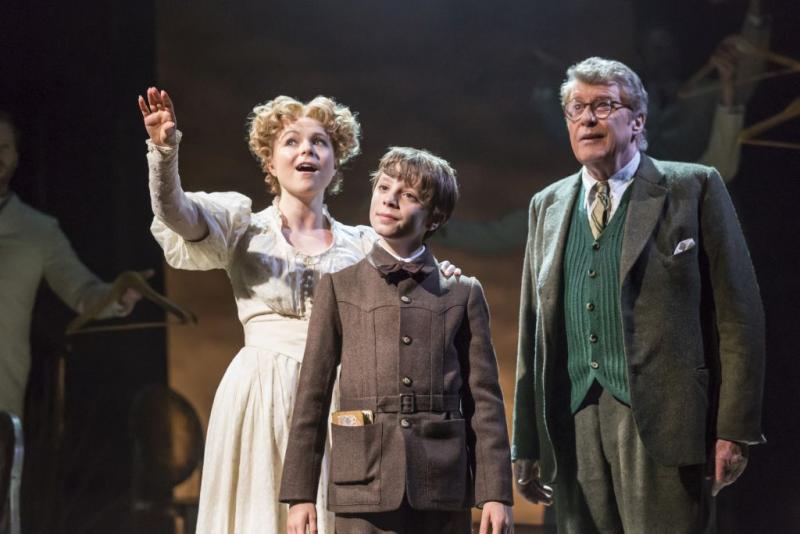 The postman: Gemma Sutton, William Thompson and Michael Crawford in 'The Go-Between'
It has taken six years – and Michael Crawford – to bring Richard Taylor and David Wood's poetic musicalisation of LP Hartley's The Go-Between to the West End stage. And before the tired old debate begins as to what it is – opera? musical? play with music? – let it be said that what really counts for something here is the storytelling.
Richard Taylor is a composer who loves the music of words almost as much as he loves music itself. He finds in them a songfulness, an expression, that is all about blurring the boundaries between speech and song. It isn't important to him when someone sings but why. We shouldn't be aware of what is spoken and what is sung but rather what is said.
That in itself is a crucial part of both the colour and the dramatic tension of The Go-Between. In addition to the characters of Hartley's novel there is another character – a grand piano (beautifully played by musical director Nigel Lilley) that is the foundation of Taylor's score, punctuating, ruminating, supporting what is said and sung. It is both a stark and romantic presence and very much symbolic of the class divide that drives the story. Such a piano would undoubtedly grace the drawing-room of Brandham Hall (pictured below) in and around which the action unfolds.
Taylor and Wood and their designer Michael Pavelka place us in a kind of no-man's-land between past and future and eventually present where 12-year-old Leo Colston (William Thompson in the press night performance) and his 62-year-older self (Michael Crawford) share and sometimes conflict over their story while figures from that fateful summer of 1900 look on accusingly. The faded mansion and its surrounds are contained in one cavernous room where fate and shadows play tricks on the senses and Tim Lutkin's evocative lighting is all about intensifying the mystery.
There are only two stand-alone "songs" in The Go-Between and they come at crucial turning-points in young Leo's young life. In "Butterfly" Marian (Gemma Sutton), the young lady of the house where he is a summer guest, transforms him with a new outfit that his poor circumstances could never afford and awakens in him an irresistible infatuation with her and a sense that his life has only just begun. Later in act two comes a second "aria" as Marian sings of her appreciation for what he has done acting as go-between in her illicit affair with the local farmer Ted Burgess (Stuart Ward, pictured below). Leo and Ted are "the outsiders" in the class-divide at the heart of the story and cleverly Taylor resists either of them singing until this point in the second act. It's a startling dramatic shift as the roles now shift between the younger and older Leo and the frustrations of youth clash violently with the heartache of age and hindsight.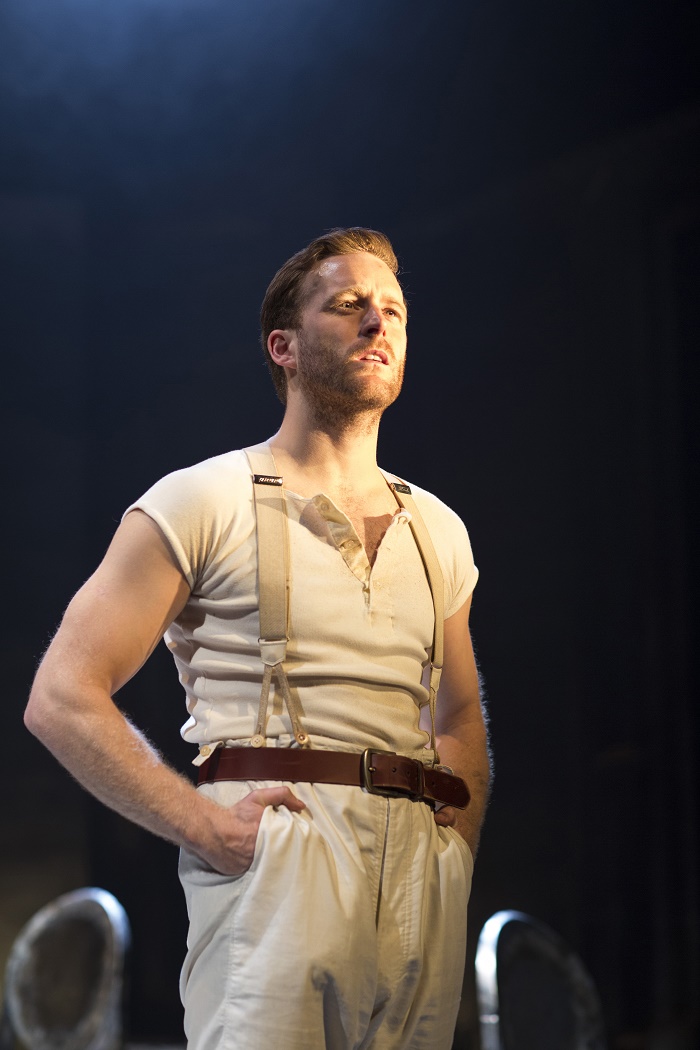 The Go-Between could still benefit from some judicious pruning, and I am even inclined to think of it as a taut and powerful single act. But the story is strong and Roger Haines' direction is fluid and creative and moody and, though challenging, it is good to see music theatre growing up and evolving beyond what is commercial – particularly in the West End. Taylor is undoubtedly a major talent in this multi-faceted world called music theatre.
One can see why Michael Crawford was drawn to both the piece and the role of Colston. He brings to it a fragility and an ineffable sadness. He is so musical in the way he fills the phrases he sings as if they might otherwise escape him. And in the poignant closing moments when he lets go of his younger self the book writer David Wood puts a more optimistic spin on Hartley and has Colston reject the idea that he has wasted his life aching for what was never to be but instead rejoices in having facilitated, albeit briefly, fleetingly, the love affair between Marian and Ted. If ever the final moments of a piece were earned these are they. They are, in Crawford's hands, deeply moving.