Globe to Globe: Timon of Athens, Shakespeare's Globe |

reviews, news & interviews
Globe to Globe: Timon of Athens, Shakespeare's Globe
Globe to Globe: Timon of Athens, Shakespeare's Globe
Misanthropic invective loses its sting in a bitter tale otherwise clearly told
Michael Meyer's Timon turns his back on Athenian society
Diamonds one day, stones the next: compulsive giver Timon's swift descent into raving misanthropy would be better packed into a gritty pop ballad than a full-length play. Still, Shakespeare just about pulls it off: having had more of a hindering than a helping hand from Thomas Middleton in early scenes, he comes into his own with howling, Lear-like invective.
Unfortunately this is the very point at which the Bremer Shakespeare Company, which last appeared here when Sam Wanamaker's dream of the Globe was still a building site, loses the sharp edge of a clearly-told narrative amid the laughter of an audience determined to have a good time. Jolly anecdote is a poor substitute for powerful alienation.
Which is a pity, because director/designer Sebastian Kauz's German-language adaptation is deft at setting up the spendthrift Greek's high-on-the-hog dinner party in a plausible present and keeping us there to unfold with all possible swiftness a hazy subplot (I hoped for a moment that General Alcibiades, to be banished from Athens at the same time as Timon casts himself out, had been omitted; but the actor, who veers between ranting and near-inaudible German, turned out to have been omitted from the cast-list). Michael Meyer's euphoric Timon binds the ceremony together with increasingly hollow-sounding odes to friends and friendship, and bounces his vaunting high spirits on a dining-table trampoline. Later the tailcoated pals who won't help him out when the debts are called in find themselves lured under it, to "dine" on hurled rocks and hosepipe water-spray, while in the second half it's turned upside down to furnish the now-reclusive Timon's cave.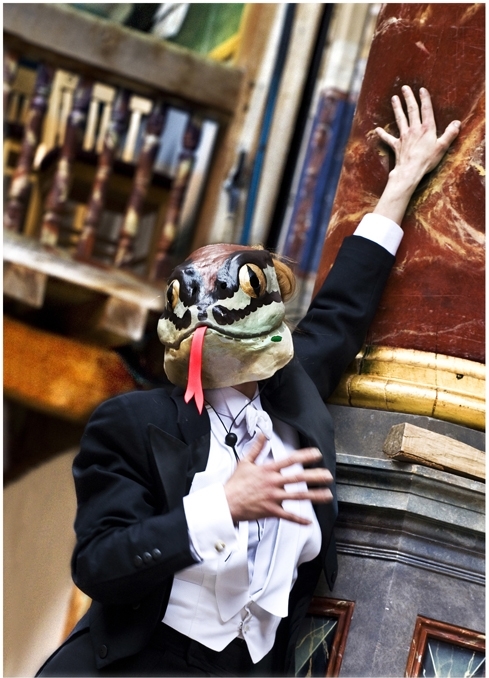 Authority disintegrates in stylised ensemble mania and frenetic musical interludes: "I Will Survive" is blasted out ironically as steward Flavius runs on the spot to solicit help in vain from the false friends, while snatches of Beatles songs are disjointedly hurled out by cynic-philosopher Apemantus in a perplexing performance from Petra-Janina Schultz which can't always be decoded.
Timon's rapid disintegration is briefly shocking as Meyer goes stark naked and stuffs his mouth with dirt, stilling audience titters with a convincing show of madness. The clarity of Meyer's delivery can't be faulted. But the furious rhetoric at which Shakespeare excels is soon dissipated. What should be a powerful sharing of King Lear's disgust at bestial traits in mankind is turned into a disco-track animal rant played entirely for laughs (snake in the pageant pictured above). Timon soon cedes the stage to mumbling Alcibiades, and the reprise of a fluttering red rag on a stick, presumably representing his soul, to the strains of Ravel is a poor replacement for the play's original epitaph. Is Timon genuinely tragic? Not here, nor in the Globe's own 2008 production, though that did at least offer more pathos in isolation. It remains to be seen what Simon Russell Beale can bring to the role when the National stages this topical but still problematic morality tale next month.
Timon's rapid disintegation is briefly shocking as Meyer goes stark naked and stuffs his mouth with dirt
Share this article