Globe to Globe: Henry VIII, Shakespeare's Globe |

reviews, news & interviews
Globe to Globe: Henry VIII, Shakespeare's Globe
Globe to Globe: Henry VIII, Shakespeare's Globe
A potentially fusty history play served up in Castilian Spanish with fire and pizzazz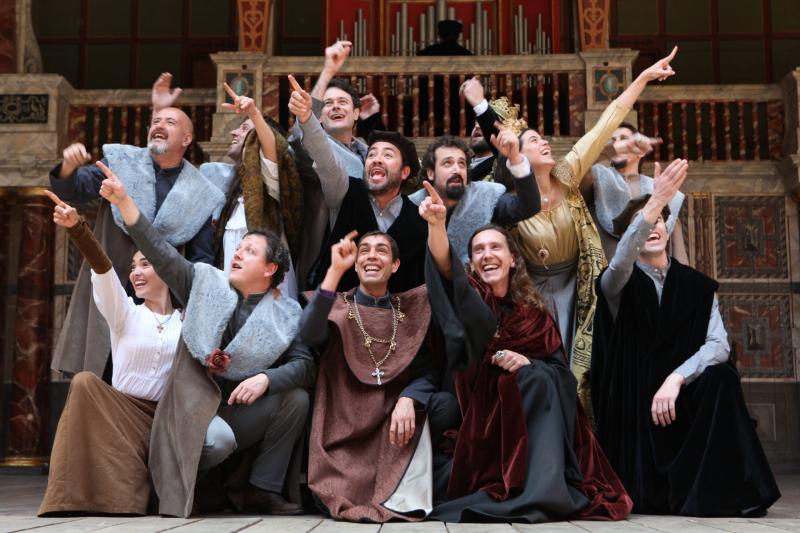 Who says history is boring? Not when performed by the Rakata Theatre from Madrid
Now here's a surprise. In English, Henry VIII gets dismissed as a Shakespearean dud (well, let's apportion the blame as well to the play's generally acknowledged co-author, John Fletcher), its karma not exactly enhanced by one's awareness that this was the play that was being performed when the original Globe burned down in June, 1613.
Happily, the only fire in evidence in the Globe to Globe's contribution from Spain was that communicated by its brio-filled, impassioned cast, for whom a potential theatrical pageant fairly pulsated with life.
The revelatory nature of the Madrid-based Rakata troupe's approach can't be overstated, given the glum-faced decorousness and pomp that have attended most homegrown stagings of this text; the Globe's own production two years ago, with Dominic Rowan in the title role, was lighter on its feet than most. But perhaps buoyed up by the freedom that comes with being outsiders to a canon that is bound to connect up to their own playmaking instincts in different ways, the Spaniards transformed a solemn exercise in propaganda - all hail Baby Elizabeth! - into a scorching study in political intrigue. And they never let us forget that the text's truly tragic heroine, Henry's discarded queen, Katherine (or, as here, Catalina), could lay claim to being one of theirs. For one thing, she was born near Madrid.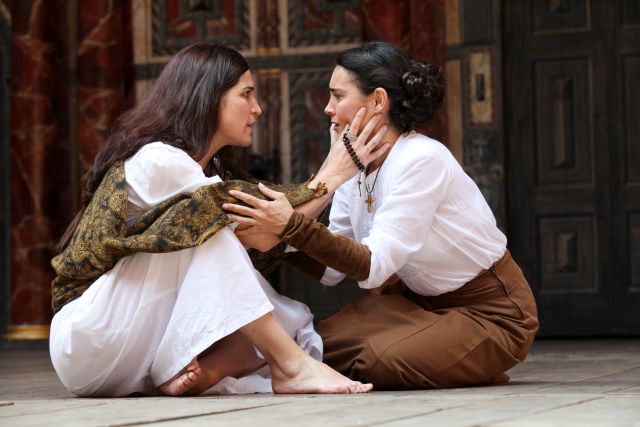 That in itself explained the shared focus in Ernesto Arias's staging between Fernando Gil's charismatic Enrique VIII on the one hand (those wanting the full-figured Holbein look instead got Gerard Butler's instantly commanding Spanish twin) and Elena Gonzalez's Catalina (pictured above, alongside Alejandra Mayo as Beatrix), whose gathering delirium was threaded throughout the po-faced closing sequence of Elizabeth I's baptism. Indeed, evincing a self-assertion that wouldn't be drowned out by the ceremonial swells of the small-scale organ perched atop the stage, this jettisoned royal, seen by play's end barefoot and bereft, put one in mind of Eve Best's transfixing Duchess of Malfi, another doomed woman who doesn't go quietly into the good night.
But the entire cast tapped into the play's labyrinth of allegiances transferred, cast off, or betrayed, on both the marital and political fronts. Entering the groundlings to seek their support in prayer, Julio Hidalgo cut so robust a Buckingham that he was missed after the interval. (His beheading, by the way, was the best I've seen since Toby Stephens stepped up to the guillotine in the National's Danton's Death.) And as Thomas Cranmer, the resident heretic, a flowing-haired Jesus Teyssiere suggested that he is aptly named: if Rakata ever does Jesus Christ Superstar, here's their man. But there wasn't a duff performance from a company that navigated the Globe space as if they'd been acting there for years, the characters' fieriness at times threatening toward fisticuffs and the audience drawn in not by so many talking heads but by the very humanity embedded in history. Which is, after all, the point.
I couldn't help by the way but notice in passing a tweet from one of the Globe higher-ups remarking that Wednesday night's ovation for this company apparently prompted the "loudest and longest curtain call of a festival not short of loud and long curtain calls". I saw an earlier performance but am in no way surprised.
The entire cast tapped into the play's labyrinth of allegiances transferred, cast off, or betrayed, on both the marital and political fronts
Share this article