First Person: playwright Tom Fowler on allowing room for 'Hope' |

reviews, news & interviews
First Person: playwright Tom Fowler on allowing room for 'Hope'
First Person: playwright Tom Fowler on allowing room for 'Hope'
The Royal Court playwright discusses the influences on his newly acclaimed play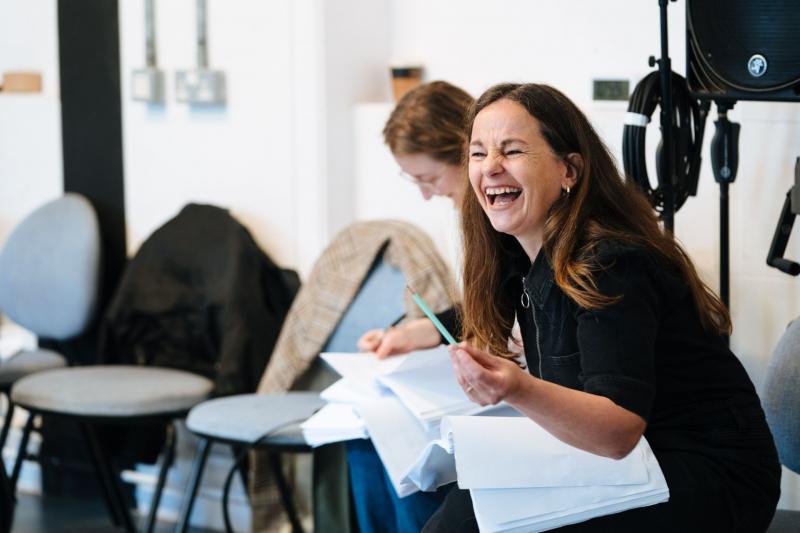 Happy days: in rehearsal with 'Hope Has a Happy Meal'
Recently, having just shared the rehearsal draft of my current Royal Court play Hope has a Happy Meal with two close friends, I found myself slightly offended when one of them said, "you can tell you were playing the Nintendo Switch obsessively when writing this." They then proceeded to talk about the play and its structure in video game terms.
The plot of my play [favourably reviewed last week
on theartsdesk
] revolves around a woman called Hope returning to the People's Republic of Coca Cola to find the family she left behind 24 years ago. As my friend (rightly) pointed out, the play operates like a side-scroller. Just like old Mario games, Hope has to travel through various acts (levels) to find her family (i.e. save the princess). There's even a Final Boss fight.
And it's true, I did buy a Nintendo Switch in 2020 (having been commissioned to write this play in late 2019), but video games also played a hugely formative part of my childhood. I spent just as much (if not more) time playing the SNES, the GameCube and the Wii as I did reading, watching films and doing school plays. In other words, of course my writing is going to be just as influenced by video games as it is by other art forms. But then why did I feel offended? Why did I feel like I'd been somehow found out? "Yeah he says he's inspired by Sarah Kane and Caryl Churchill but he's actually more inspired by Mario and Zelda!"
Since this conversation, I've been thinking about video games a lot. Whilst things are now changing for the better (and HBO's The Last of Us has definitely helped), it's clear video games have always been considered lowbrow and not worthy of being called art. However, what I've mainly been thinking about are the specific moments in video games that generate the same level of excitement and wonder in me that plays like Blasted and Top Girls do.
One such moment came playing Resident Evil 4 for the first time as a teenager. Having never played a Resident Evil title previously, I didn't know what to expect besides to prepare myself for having the shit scared out of me. And yes, there are lots of terrifying moments (involving chainsaws). But the moment I found uniquely thrilling was less about gore and more about form. Having spent the entire game so far within this creepy village, when you suddenly leave the village and a) find yourself in a completely visually different environment and b) realise you're only a quarter way through the game, I found myself mind blown. Essentially, what I think I found so exciting were the parameters of possibility suddenly changing. And these shifting, destabilising moments can be found to varying extents in all of my favourite games, from the incredibly tricksy Inscryption to the beautiful Hades and the absolute beasts that are the last two Zelda games.
And what I've realised is that these moments can be found in of all of my favourite plays too. Blasted is an obvious example but Top Girls, Far Away, Ear for Eye, Brilliant Adventures, The Glow and Revolt. She Said. Revolt Again, to name some examples, all recreate that same feeling in me of suddenly realising you've only seen part of the map. Whether it's a time travel-related stunt or the third act being a film, the maps of these plays are continually shifting and expanding.
And, ultimately, this is what I think life feels like. Life isn't a well-made play, it's Resident Evil 4. You can get comfortable in the proverbial creepy village, imagining you've seen the whole map, and then Brexit happens or the Tories win again or there's a global pandemic or you're made redundant or a loved one dies and suddenly a whole new part of the map opens up to you. And in response to this constantly shifting landscape, where and what the "hope" is (and how much there is) shifts too. It might look like there's no hope but then the map shifts and it's right there. Likewise, it can be right there in front of you and then it's gone.
So yes, Hope has a Happy Meal is inspired by Sarah Kane, Caryl Churchill, debbie tucker green, Alistair McDowall, Alice Birch, Edward Bond etc. But it is equally, and proudly, inspired by Mario, Zelda and, maybe most importantly, Resident Evil 4.
Of course my writing is going to be just as influenced by video games as it is by other art forms
Explore topics
Share this article