F**cking Men, Waterloo East Theatre - sex and not much else |

reviews, news & interviews
F**cking Men, Waterloo East Theatre - sex and not much else
F**cking Men, Waterloo East Theatre - sex and not much else
Modern touch-up of Joe DiPietro's seminal gay play is rollicking but lacking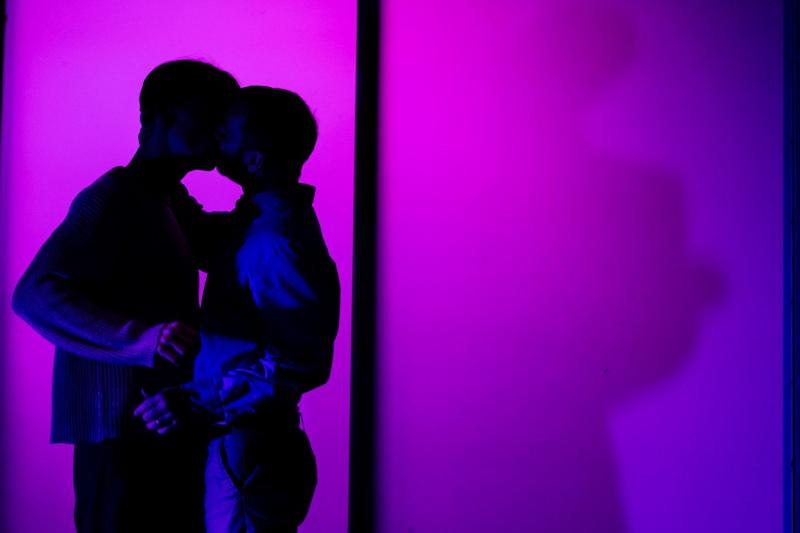 Bouncing energy: 'F**cking Men'
"This audience is very diverse, isn't it?" joked one of the audience members at Fucking Men at Waterloo East Theatre, a reworking of Tony-winning writer Joe DiPietro's seminal 2008 play (itself a reworking of Arthur Schnitzler's La Ronde, written in 1897).
True in one sense and not in another: the crowd was mostly gay men of a certain age. But then, Fucking Men does what it says on the tin – it's about gay men falling in and out of bed, and a few other places besides.
The format (carried over from La Ronde) is pleasingly circular: 10 scenes, post- or pre-coital, with one character from the previous scene leading us into the next. Steven Kunis's production has a bouncing energy, buoyed by pulsing club music and dynamic lighting. Alex Lewer's lighting design, Charlie Smith's sound, and Cara Evans' set and costumes create a dreamworld, a liminal space where the characters can pursue their desires. A circular bed dominates the stage, which echoes the dramatic structure, but also feels a bit too 80s for a play with smartphones in it.
They're a diverse bunch, these men who have sex with men. The ten roles are played by four actors: Alex Britt, Charlie Condou, Derek Mitchell, and Stanton Plummer-Cambridge. There's a married couple who've lost the spark after 11 years together ("12 in January"). There's a Marine who insists he's not gay and beats up a male escort after paying for a blowjob. There's a tutor seduced by his student, and a writer who's tricked into sex with a Hollywood star who promises to give him a lucrative job. In the last scene, we come back around to the beginning, with the chance for a happy ending this time.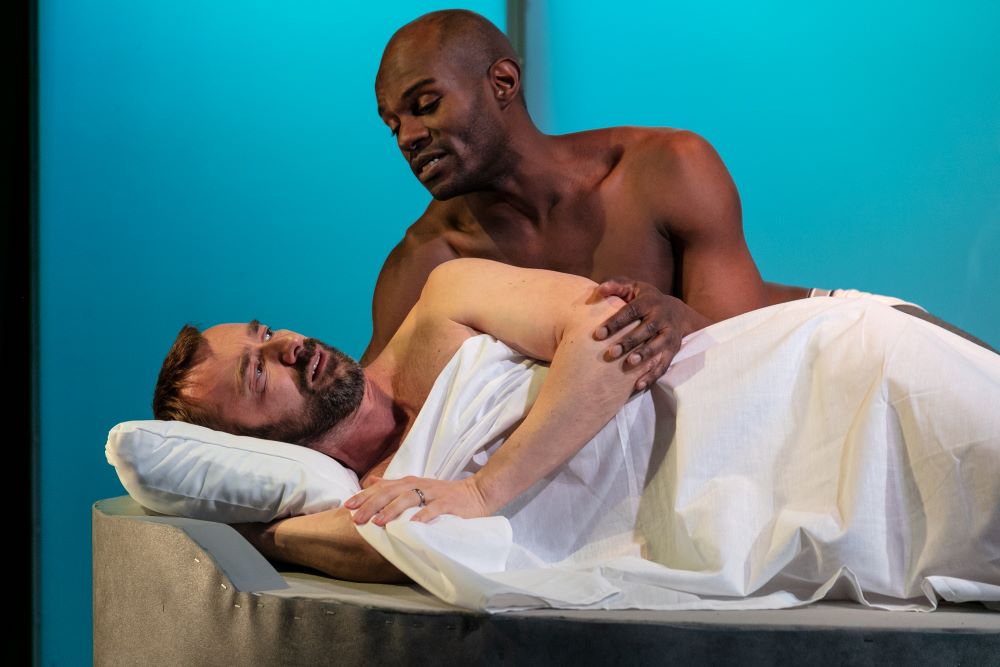 The scenes are snappy, which leads to an unfortunate reliance on exposition to keep things moving. But the four actors dance well together, and each has their standout moment. Britt lets us see peeks of vulnerability under his characters' swaggering snark. Mitchell's movements as the painfully earnest writer are a delight to watch, by turns jerky and sinuous, getting the biggest laughs of the night. Plummer-Cambridge (pictured above right, with Condou) switches deftly between the closeted Marine, Steve, and smooth-talking husband Jack. Condou as his other half, Leo, is more subdued; there's a lot bubbling under the surface of his awkward smiles.
A tight focus on the gay male experience naturally means excluding women, but DiPietro missteps here. The female figures of Fucking Men are mothers or carers, or girlfriends unaware that their partners are having sex with men. In presenting the breadth of gay men's experience, DiPietro doesn't let his women be more than cardboard cut-outs, which is a shame. There are jokes about bisexuality as a stopgap identity for men who don't want to say they're gay; the writer character (always a slippery slope) wonders if he has to call himself "queer" now. Though we get the sense DiPietro is poking fun at his own beliefs, the jokes still get laughs.

Fucking Men has been around, and then some, since it first premiered in 2008 at the Finborough. It works well in Waterloo East's intimate space, but feels ready to burst onto a larger stage. That, however, might ruin the sense of the play as a window onto a world usually hidden from the prying eyes of people who aren't gay men. Even 15 years since it was written, that glimpse is still groundbreaking.