Fathers and Sons, Donmar Warehouse |

reviews, news & interviews
Fathers and Sons, Donmar Warehouse
Fathers and Sons, Donmar Warehouse
Like 1850s Russia, Brian Friel's adaptation of Turgenev's novel feels lost in transition
"Believing in nothing is hardly a game plan": Joshua James and Seth Numrich as nihilists in love, in 'Fathers and Sons'
Brian Friel's affinity with Russian writers, notably Chekhov and Turgenev, is central to his work, the playwright seeing similarities between their tragi-comic characters, hanging onto "old certainties" despite knowing in their hearts that their time is up, and people of his own generation in Ireland. The correspondences go beyond theme, of course; he's not known as the Irish Chekhov for nothing.
Yet this production of Friel's 1987 play Fathers and Sons, adapted from Turgenev's novel, doesn't produce the frisson one might expect. It's elegantly mounted and entertaining; but considering the amount of philosophising and pontificating, of tragedy, confusion and regret, I was surprisingly unruffled.
Turgenev set his tale in 1859, on the eve of the Tsar's emancipation of the serfs – a move that reflected discontent in the country but did nothing to dispel it. Nikolai (Anthony Calf) is a liberal landowner who has already freed his serfs. But any righteous pleasure in his act is dispelled when his son Arkady (Joshua James) returns from university, with his pal Bazarov (Seth Numrich) in tow – self-styled nihilists, with a mission to "repudiate, renounce, reject" everything before them.
In fact, Arkady turns out to be a mere disciple, whose affectionate nature, in his friend's eyes, rather defeats their purpose. In contrast, the arrogant Bazarov is determinedly cold, cynical and critical, set on revolution, on "remaking" Russia. The female servants may fawn over him, but he's a destructive presence in his friend's home, in particular with Arkady's uncle Pavel (Tim McMullan, pictured right), a preening dandy, but one with pride and intelligence enough to know that his entire way of life is being undermined.
Ironically, the young radicals won't be undone by the vacuity of their beliefs (believing in nothing is hardly a game plan) but by love, both falling for the wealthy, sophisticated but damaged widow Anna Odintsov (Elaine Cassidy). Like a lot of people who profess not to believe in love, Bazarov will crumble before the first woman to breach his defences.
The production marks the return of Lyndsey Turner to the Donmar, where she directed Friel's Philadelphia, Here I Come! This is a very different animal to Chimerica, for which she recently won an Olivier Award and whose thrilling analysis of recent history she matched with verve and ingenuity. The staging here is pleasing, designer Rob Howell's wooden deck and slatted wooden walls combining with James Farncombe's lighting to conjure the simultaneous illusion of indoors and outdoors, whilst capturing the elegiac quality of the play. But Turner doesn't come up with an adequate solution to the long, laborious expositions of the second act, and the unsatisfying knowledge that much of the story has happened somewhere else.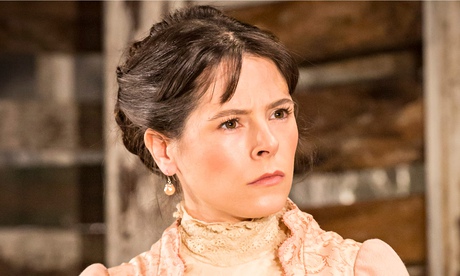 The character who suffers most from this is Anna. A woman with a tragic past yet present independence, and a sharp, business-like mind, she could have the measure of all these uncertain males; but her own caution prevents her from being anything more than a catalyst for woe. Cassidy (pictured above) has intelligent eyes and a stage presence that always suggests something in the wind; there's simply not enough of it. However faithful to Turgenev, I find the character here more an absence than an enigma.
There's pathos, particularly in the scenes involving Bazarov's maligned parents (Karl Johnson and Lindy Whiteford, lending them an almost Dickensian quality), and comedy, often courtesy of McMullan's delicious delivery. Numrich and James nimbly offer two very different portraits of idealism, one brooding and cruel, the other warm-hearted and naïve.
Ultimately, though, this tussle between parents and offspring, gentry and intelligentsia, the old and the new, feels half-baked. The landowners are floundering, but these are not the revolutionaries who will change the country; in the meantime, Russia itself seems lost in transition. And I can't help feeling the same way about the play.
The landowners are floundering, but these are not the revolutionaries who will change the country
rating
Explore topics
Share this article