Edinburgh Fringe 2019 reviews: The Red/ Gone Full Havisham |

reviews, news & interviews
Edinburgh Fringe 2019 reviews: The Red/ Gone Full Havisham
Edinburgh Fringe 2019 reviews: The Red/ Gone Full Havisham
More from the world's biggest and best arts festival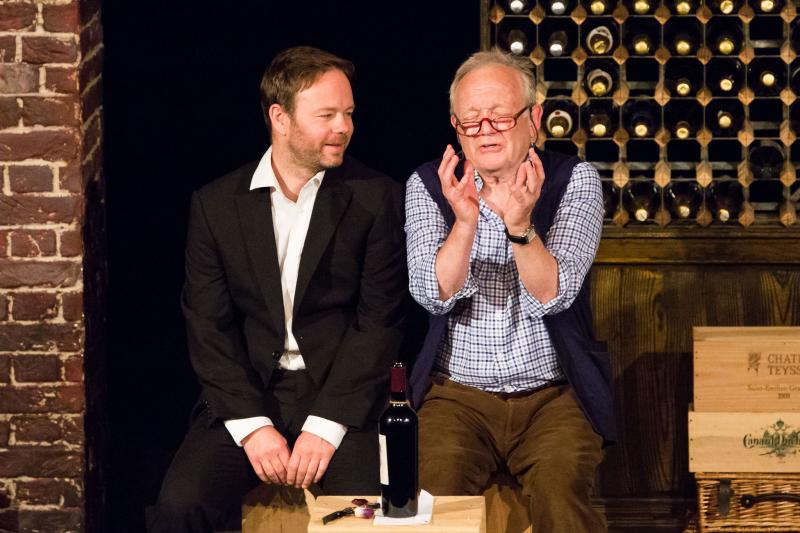 Real-life father and son Bruce and Sam Alexander as John and Benedict in 'The Red'
The Red Pleasance Dome ★★★★
Comic Marcus Brigstocke has spoken in the past about his addictions and now he has written this two-hander, which he directs, that goes some way to explain the constant internal dialogue he and others like him experience.
Benedict has been sober for 20-odd years but faces a big emotional challenge when his father dies. On the day of his dad's funeral we see him in John's extensive cellar, where a bottle of Château Lafite Rothschild 1978, the year of his birth, awaits him, as he reads a letter from John gifting it to him.
As Benedict confronts his emotions about his bereavement and his addiction, his late father appears to debate with him the pros and cons of taking a drink to toast a life well lived, and the warm relationship they shared. The conversation is, of course, entirely in Benedict's head, but his father is, what – a conscience, or temptation in human form, or perhaps both?
The two men banter about Benedict's siblings, the etiquette of family gatherings, and Benedict's parents' love for wine. For them it was an easy relationship, one that oiled the wheels of social interaction and made foreign travel even more enjoyable, while for Benedict it was a nightmare he fell into. He started stealing from his dad's cellar at 15 – "Not the good stuff!", John wails – before going into rehab at 21.
In an otherwise fascinating study of addiction, the starting point for Benedict's alcoholism is left unexplained and unexplored. The tension that runs well through the piece, though, is whether Benedict will pour himself a glass for old time's sake. The bottle of fine wine, which is perched centre-stage for much of the hour, becomes a character in itself.
Real-life father-and-son Bruce and Sam Alexander have an easy rapport and this is a convivial, if unsubstantial, essay on addiction.
Gone Full Havisham Gilded Balloon Patter Hoose ★★★★
Emily Halloran is alone in a hotel honeymoon suite, in her wedding dress, unwashed, a mess, the modern-day reincarnation of Miss Havisham from Great Expectations. Clips from David Lean's majestic film version from 1946 play in the background.
Emily – famous for being famous, and publicly jilted by her fiancé – is trending on social media; her breakdown is being viewed, commented on, even cruelly encouraged, as her predicament trends as #gonefullhavisham. Should she eat, should she brush her teeth? The watching jackals decide.
Irene Kelleher's one-woman play, which she performs, inventively pairs a Dickens story of Victorian social mores with an intelligent critique of the way mental distress so often becomes fodder for a rapacious social media audience.
We learn about Emily's childhood, with a dominant father and a mother who appears to have disappeared into the background. She was a bookish child with few friends, and her parents both died when she was young, so when a charismatic man came along and wooed her, she was easy pickings.
We see the gradual and disturbing breakdown of a fragile woman in Regina Crowley and Cormac O'Connor's production of this part-installation, part-dramatic monologue, with a committed and memorable performance by Kelleher.
Benedict has been sober for 20-odd years but faces a big emotional challenge when his father dies
Share this article