The Drowned Man: A Hollywood Fable, Temple Studios |

reviews, news & interviews
The Drowned Man: A Hollywood Fable, Temple Studios
The Drowned Man: A Hollywood Fable, Temple Studios
In their new show set in a seedy Hollywood outpost, Punchdrunk's theatrical magic loses some of its allure
A dream within a dream: Sophie Bortolussi as Wendy
A decaying London outpost of the Hollywood movie-making machine, where dreams are spun on celluloid, and reality and fantasy intertwine in a nightmarish danse macabre of desperation and dark desire... that's the concept behind this new immersive piece by the acclaimed site-specific innovators Punchdrunk. In execution, the experience is rather less mesmerising.
Punchdrunk – for the uninitiated – have pioneered an interactive form of theatre that transforms unlikely found spaces with meticulously detailed, epic designs. Through these atmospheric, often sinister and unsettling hidden worlds, masked audience members find their own path, stumbling upon fragments of narrative or following actors from one scene to another (if they can keep up with them – and, groping in semi-darkness among other questing masked figures, this isn't always easy).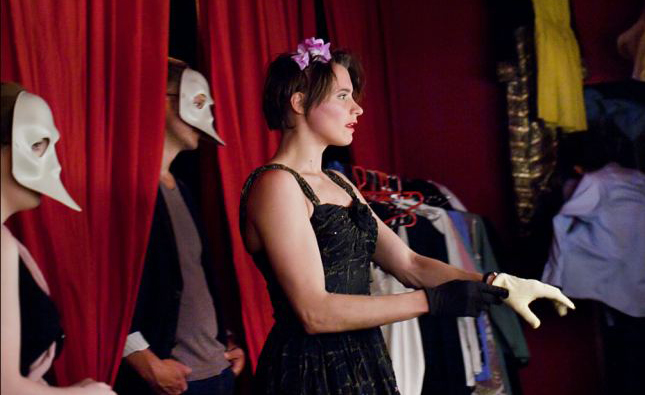 On first encounter, the company's work feels disorientating, challenging, thrillingly original. Now, 13 years since their first production, and seven since Faust, the large-scale piece that brought them widespread acclaim, the element of surprise and novelty has worn off and their techniques, dazzlingly deployed though they remain, are beginning to feel a little stale. This new show, a co-production with the National Theatre, offers plenty to explore and admire; but its formlessness and lack of rigour become slightly irksome, and with the action spiked with sex and violence, the audience is reduced to rubber-necking voyeurs, watching with detached interest before growing restless and wandering off in search of something spicier. This neatly points up the work's loose themes of life eliding with, and eclipsed by, silver-screen illusion; but it doesn't make for engaging drama.
The piece, directed by Felix Barrett and Maxine Doyle, is inspired by Woyzeck, Georg Büchner's influential, unfinished 19th-century play of love, neurosis, exploitation, jealousy and murder. There's also a whiff of Nathanael West's 1939 novel and Hollywood parable, The Day of the Locust. Those unfamiliar with either needn't worry, though; mood is the priority here, and anyone searching for the strands of Büchner's plot is in for a frustrating time. Instead, a card handed to you before you enter the cavernous, disused Paddington building where the event takes place explains that you are about to wander through the intersecting stories of two ill-fated couples: William and Mary, and Wendy and Marshall. They fall in love, and cheat, and succumb to bloody violence in and around the sound stages, back lots, cutting rooms, offices and trailers of a 1950s movie studio struggling for survival. Along the way, we collide with starlets, bit-part players, minions and writers, while the creepy, sonorous voice of Stanford, the studio boss, echoes intermittently through the gloom.
The installation, true to Punchdrunk form, is a marvel. Designed by Barrett, Livi Vaughan and Beatrice Minns, it leads us from the glaring lights on set, where a cheesy musical number is being shot, to woodland studded with actors' trailers, each of which you are free to poke around. There's a beach where a sensual Latina performs a dance of seduction, and a cinema where the plush seats are occupied by rows of decaying corpses. A diner serves up soda-jerk seduction and milkshakes in a tooth-aching array of flavours; and in a spooky chequered room that makes you feel like a pawn in a chess game, a sweaty terpsichorean orgy takes place.
The pleasures of investigating these intriguing settings, though, has to be offset against the process's discomfort, which is more physical than psychological. The beaky masks we're obliged to wear throughout – unless seeking respite in the bar – are hellishly hot and sweaty. And it's extraordinary how blatantly rude many punters feel entitled to be when their faces are obscured: people will think nothing of elbowing you in the chest to get a better view or trample on your feet in their anxiety not to miss a juicy bit, and at the performance I attended an unwelcome number of lanky blokes strode about all evening hauling their girlfriends along behind them, obliviously sending spectators reeling in their wake.
There's very little dialogue; most of the performers' interaction takes the form of expressionist dance, choreographed by Doyle, which sees them engaged in clinches or fights, flinging themselves off furniture and occasionally tearing off their clothes. It's often maddeningly diffuse, yet some moments are truly striking. There's a sequence in which a besequinned glamour goddess (Jane Leaney, pictured above) is turned by a hatchet-faced studio factotum into an aged, whimpering crone with the addition of a wig, a grotesque rubber mask and a walking stick. And in a recording studio, a woman creates sound effects by walking over sand and stones, before forcibly submerging the head of a white-faced mime artist in a tank of water to simulate the desperate splashes and gurglings of a drowning. Both bizarre scenes have their own self-contained potency, even if their context isn't entirely clear.
But that, in the end, is the show's frustration: its design offers more visual intricacy than it's possible to absorb, yet while the eyes are surfeited, the heart and brain are left untroubled and, eventually, slightly bored. If you've never seen Punchdrunk's work before, you may well be fascinated. If you have, then even as you applaud their technical artistry, this event might leave you feeling much as you did as you stood, masked and impatient in an empty room, wondering: what's next?
The Drowned Man is at Temple Studios to 31 December; there is good ticket availability from August
There's a cinema where the plush seats are occupied by rows of decaying corpses; a diner serves up soda-jerk seduction and a tooth-aching array of milkshake varieties
rating
Share this article