Crouch, Touch, Pause, Engage, National Theatre Wales |

reviews, news & interviews
Crouch, Touch, Pause, Engage, National Theatre Wales
Crouch, Touch, Pause, Engage, National Theatre Wales
Alfie Agonistes: gay rugby play needs to come out more as a drama
Tuesday, 24 February 2015
What's it all about, Alfie? Rhys ap William as Gareth 'Alfie' Thomas in 'Crouch, Touch, Pause, Engage'
For many the story of Welsh rugby star Gareth Thomas will be familiar. It has been told in many forms, and powerful and inspirational as it is, many times too. Thomas (known to all bar his mam as "Alfie") is now not just a totemic figure in the sport he graced for 16 years, but a symbol of courage and hope for the LGBT community and indeed anyone who has at some point in their lives felt the walls closing in.
The story of the first man in world sport to come out as gay is one that does not lose its power in the retelling, and National Theatre Wales's much anticipated staging of it – in collaboration with Out of Joint – focuses purposefully on the humanity of Alfie's journey. Here is a man who went to the very edge and came back, found that his true self was embodied in honesty, that by having faith in friends and family he could finally have faith in himself.
So this is a big story, a classical story in many ways, but even with the great Max Stafford-Clark in the director's chair we have a play that sometimes failed to reach the heights of the source material.
The decision to have Alfie played by every cast member feels disappointing. NTW have laid out this trick before, in Tim Price's award-winning The Radicalisation of Bradley Manning, and there the point was clear: that Manning stands for us all. But here it cannot work to the same purpose. The entire point is that Alfie is not just another member of his beloved Bridgend community: he is a hero, an extraordinary man who is able to take the strain of those who will come after him, their paths made smoother for his travails.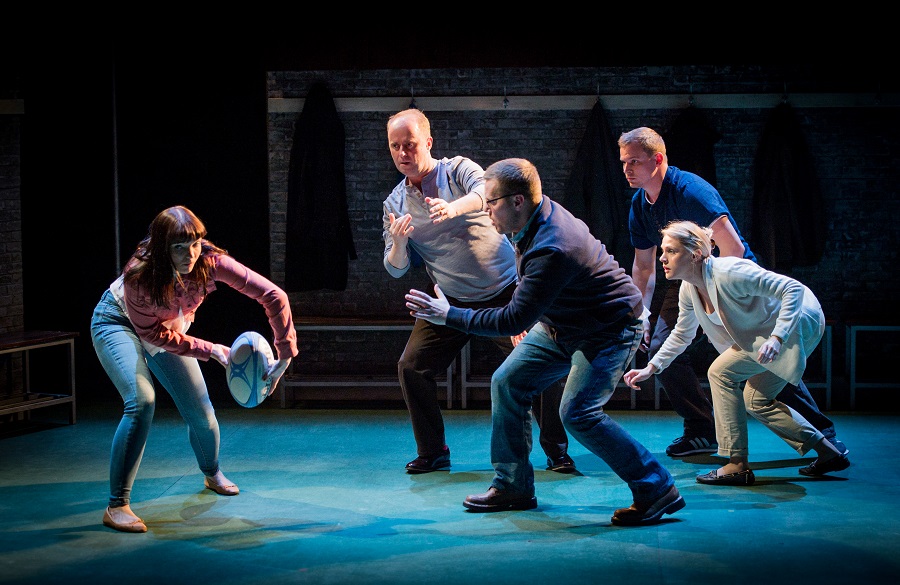 Similarly the decision by playwright Robin Soans to give so much weight to exposition and the deathless monologues – on which NTW often rely when tackling weightier subjects – undermines the drama. The play comes alive when the characters are allowed to interact, when nuance and subtext are permitted stage time. But over and over again the characters explain what they feel, they describe what would have been a powerful scene if acted out. By the denouement the script has broken down entirely and the play becomes little more than a motivational seminar.
But somewhere within Crouch, Touch, Pause, Engage is an edifying and ennobling heart, one that attempts to bring together a story of things passing, of old worlds evaporating, of rebirth and hope, and it has an honest and moving sincerity. At the centre is an indefatigable presence, and that is Thomas himself. His energy, warmth and generosity, his ferocity and his fear, are what make finally this, despite some fumbles, a worthy and sure-to-be-popular staging.
The play comes alive when the characters are allowed to interact, when nuance and subtext are permitted stage time
rating
Share this article