Collaborators, National Theatre |

reviews, news & interviews
Collaborators, National Theatre
Collaborators, National Theatre
Simon Russell Beale is chilling as Josef Stalin in a Soviet-era nightmare that demands more impact
Wednesday, 02 November 2011
Dream team: Alex Jennings as Bulgakov and Simon Russell Beale as Stalin
"Smackhead, groin doctor and smut-scribe": that's one way in which writer Mikhail Bulgakov is described in John Hodge's debut stage drama.
A kind of wild fantasia spun around incidents from Soviet history, the piece goes on to show how Bulgakov – who was indeed a former physician specialising in venereal disease, and a self-medicating sufferer from nephrosclerosis – his art suppressed, his livelihood precarious and his career stymied, is ungently persuaded to pen a play in celebration of Stalin, and in the process is drawn into collusion in acts of appalling political brutality.
A successful screenwriter noted for his work with director Danny Boyle (The Beach, A Life Less Ordinary, Shallow Grave, Trainspotting), Hodge has taken as the basis of his play the script for a planned film project. The theatrical incarnation of the idea is correspondingly vivid and episodic. Nicholas Hytner's nimble, nightmarish production performs its danse macabre around a jagged, crooked Constructivist set by Bob Crowley, whose denizens are given to bouts of grotesquely choreographed movement.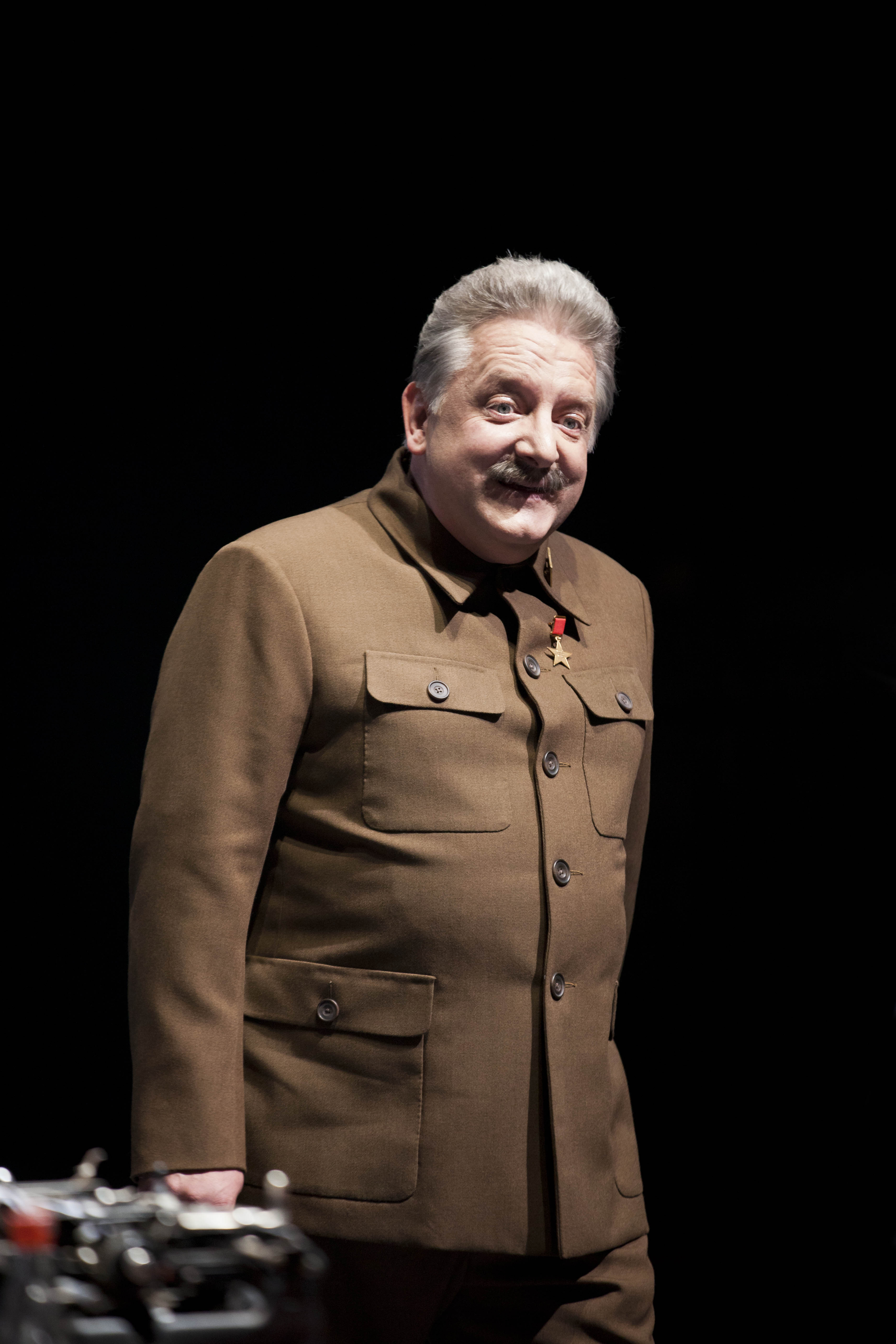 The cramped apartment where Alex Jennings's harried Bulgakov lives with his wife Yelena (Jacqueline Defferary) is also occupied by an ex-aristocrat, a teacher and a young factory worker who sleeps in a cupboard. Into this bleak domestic sphere of scant funds, cold water, hard bread and stinking cigarette smoke swarms a crow-like flock in blood-red, beaky commedia dell'arte masks – interlopers from Bulgakov's forbidden play Molière, about the French dramatist who had his own problems with his country's rulers. They are a bad omen, presaging the arrival of Mephistophelean secret police officer Vladimir (Mark Addy), with an unexpected offer. A birthday present is required for Uncle Joe's 60th; Bulgakov is advised, in the strongest possible terms, to oblige with a play. He agrees, on condition that the ban on Molière is lifted, and finds himself in a bunker beneath the Kremlin, staring across his typewriter at his new work's terrifying subject.
There's a satanic quality to Simon Russell Beale's Stalin (pictured above, right), but it shows itself by stealth. On first appearance he seems unassuming, his voice betraying a soft West Country burr (in deference to his Georgian origins), his manner that of a starstruck fan, as he boasts of having seen Bulgakov's The White Guard 15 times and shows off his Seagull badge, a gift from the Moscow Art Theatre. But as the pair work together, and he persuades the writer into a succession of artistic compromises, he also begins, insidiously, to draw him into his politics. Soon Stalin is behind the typewriter, composing his own tribute, and Bulgakov is scrawling instructions on Politburo paperwork and signing them "JS". The results are horrifying, and the gleam of quiet satisfaction in Beale's eye chills to the bone.
But while all of this is intriguing and visually arresting, Hodge's play never quite seems to get around to making its point. The heightened style neatly references the flavour of the surreal in Bulgakov's own satire, but the writing feels disjointed, the probing of the relationship between artist and authority too gentle, even as the stakes are raised. The performances all round are neatly executed, even where the characterisation is at its thinnest; and Beale's jovial monster is a creature of queasy fascination. But if the whole feels like a bad dream, it's not one that leaves a sufficiently strong impression.
A Mephistophelean secret police officer arrives with an unexpected offer: a birthday present is required for Uncle Joe's 60th
rating
Share this article