Bully Boy, St James Theatre |

reviews, news & interviews
Bully Boy, St James Theatre
Bully Boy, St James Theatre
Sandi Toksvig's play about combat stress opens a new London theatre
Thursday, 20 September 2012
Battle-scarred: Joshua Miles and Anthony Andrews in 'Bully Boy'
The St James Theatre has risen, phoenix-like, almost literally from the ashes of the Westminster Theatre, which was first a chapel, then a cinema and latterly a drama theatre that played host to productions of Oscar Wilde and Harley Granville Barker plays, among many others, and where Tyrone Guthrie once directed. In the 1950s and 1960s it was home to a production company run by producer Tony Furness and actor Alan Badel.
The theatre, just around the corner from Buckingham Palace, burned down in 2002 and now, as part of a new commercial development on the site, a company led by Robert Mackintosh (brother of Cameron) has opened the St James. It has two spaces - a 312-seat main house and a 150-seat studio (which opens next month) - plus a brasserie and a bar. David Gilmore is the artistic director. The opening of any theatre is welcome news, and we wish St James well.
They are both victims of war; it's just that Oscar's injury is there for all to see and Eddie's is not
Postwar, the old building was a memorial to those members of the international moral and spiritual movement Moral Re-Armament (now Initiatives of Change) who had lost their lives in the Second World War. It's fitting then, that the opening production at St James should be Bully Boy, a play by Sandi Toksvig's (pictured below) about those emotionally damaged in conflict. It was first performed at the Nuffield Theatre in Southampton, whose artistic director Patrick Sandford directs here.
The play begins at a British military base, which could be in Iraq or Afghanistan. We are not told, as such detail is unimportant to many, only that their sons and daughters may die there fighting a war whose purpose they cannot identify. As the young private Eddie (Joshua Miles) later explains, his dad never did know in which country he fought.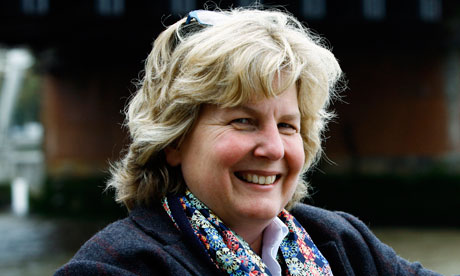 Eddie is facing an investigation led by Oscar (Anthony Andrews), a suave major in the Military Police who is a veteran of the Falklands War and is in a wheelchair. In scenes flashing back and forth in time, Oscar tells the tale of his investigation into what at first looks like an obvious case of murder by members of Eddie's unit, after an eight-year-old local boy - "a raghead" as the squaddie calls him - has died in suspicious circumstances after their patrol came under attack.
Eddie, a Burnley lad who left school at 16, is nervy and amusingly bolshie, and refuses to implicate his comrades, while Oscar is snootily dismissive - "When you said you were stupid I had no idea you were being modest" - but gradually a more equal (if not entirely plausible) relationship forms. As Eddie's combat stress is treated (at the Priory, more usually known for its celebrity clients, which gives Toksvig some amusing ammunition) and we learn how Oscar came to lose the use of his legs, we realise that they are both victims of war; it's just that Oscar's injury is there for all to see and Eddie's is not.
Andrews gives, as ever, good value and Miles is a young actor to watch. Simon Higlett's almost bare set serves to bring their committed performances to the fore, but also gives focus to a flawed script that, despite some smartly comic lines, has a lot of twists in which the initial victim, the eight-year-old Omar, disappears, unmentioned again after we delve into the men's stories. The programme notes by Elaine Peake - with astonishing statistics that seem barely credible - are, however, a telling and grimly eloquent account of the damage that war inflicts.
Andrews gives, as ever, good value and Miles is a young actor to watch
rating
Explore topics
Share this article