The Band's Visit, Donmar Warehouse review - still waters run bittersweet |

reviews, news & interviews
The Band's Visit, Donmar Warehouse review - still waters run bittersweet
The Band's Visit, Donmar Warehouse review - still waters run bittersweet
Feted Broadway musical finds an apt London fit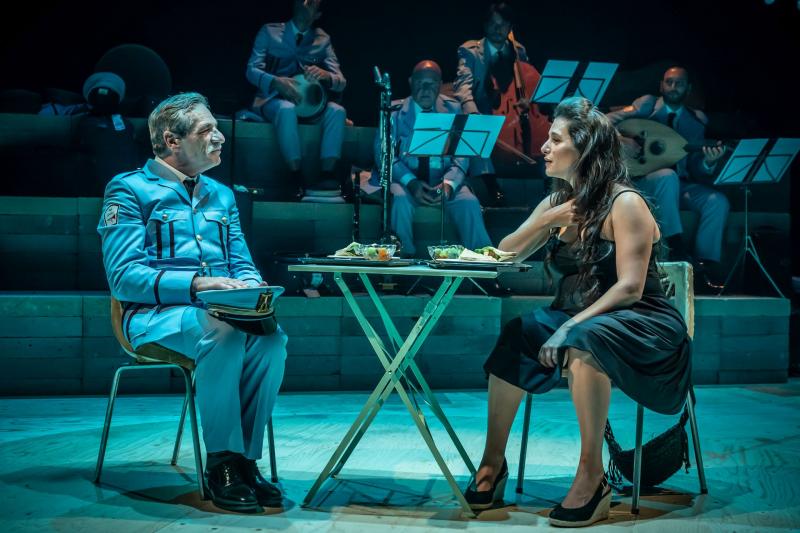 Cross-cultural: Alon Moni Aboutboul and Miri Mesika in 'The Band's Visit'
Not much happens but, in its way, everything does in The Band's Visit, the gentle, sweet-natured musical that rather unexpectedly stormed Broadway late in 2017 and is just now receiving a notably empathic London debut.
Broadway isn't always hospitable to musicals that wear understatement on their sleeve (cue Moulin Rouge by way of an exact opposite), and there was no guarantee that this adaptation of the 2007 Israeli film of the same name might find the mainstream appeal that it did.
Its London perch at the Donmar is in fact closer in vibe to the show's Off Broadway origins at the Atlantic in Manhattan, except that Michael Longhurst's production here courses with an authenticity that deepens the engaging experience I had in New York. I'm not convinced that the show, as written, is always as profound as it thinks it is - its ellipses are notable, more of which later on. But there's no denying the collective commitment of creatives whose affection for the work crosses the footlights en route to a post-curtain call set from the onstage band (pictured above) that sends you out smiling ear to ear.
The narrative, such as it exists, hinges on a mispronunciation that results in a misunderstanding: an Egyptian army orchestra en route to Petah Tikva near Tel Aviv ends up in the fictional Negev town of Bet Hatikva, a place that seems to have been forgotten by time itself. "Welcome to nowhere" is this desert community's mantra, even if one night between the locals and their visitors will upend the lives of all concerned, possibly for keeps.
Moses's book for the show, based on Eran Kolirin's screenplay, can be seen to anticipate that later Tony winner, Come From Away, another musical (albeit one rooted entirely in reality) about a little-known place transformed by an influx of visitors that takes them entirely by surprise. Wispier than its successor, and more of a tone poem than playgoers may be used to, The Band's Visit proceeds via an accretion of vignettes, most of which involve men and women attempting to forge connections even as the cultural barriers one might expect turn out, in fact, to be not much of an obstacle at all.
We watch as liaisons form, others fray, and one character, known only as Telephone Guy (Ashley Margolis, pictured below left), awaits patiently by a pay phone for his girlfriend to ring: the show is set in an unspecified past some while before texts, which come to think of it would these days have prevented the very confusion that sets the plot in motion.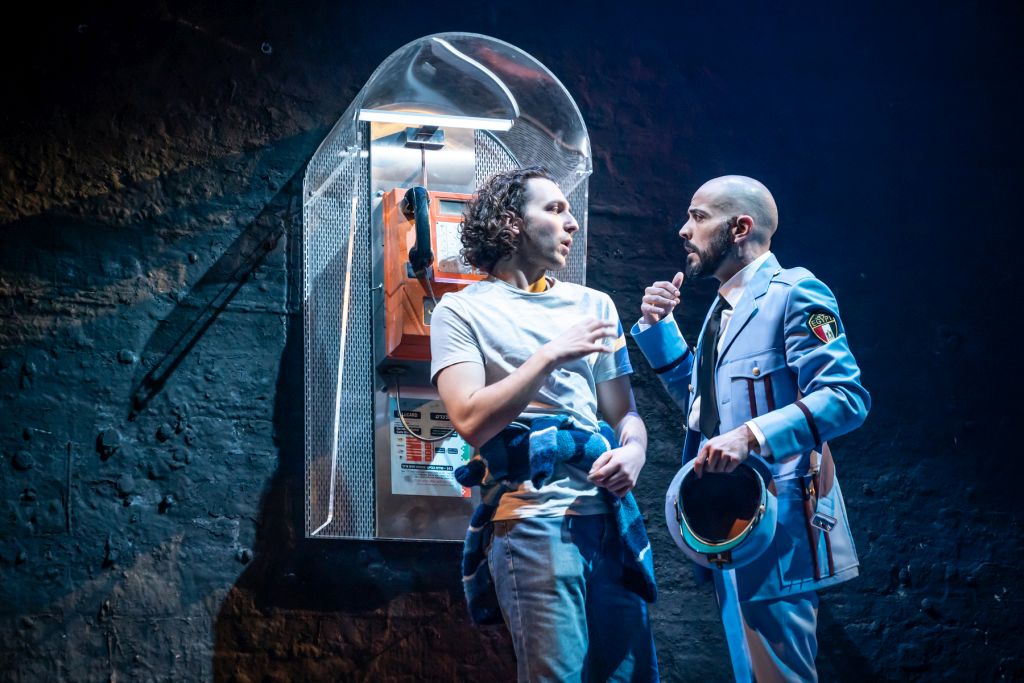 The deepest currents of feeling are those that develop between the Egyptian bandleader, Tewfiq (Alon Moni Aboutboul), and cafe proprietor Dina (Miri Mesika, with Emma Kingston taking that role at certain performances). Israelis both, Aboutboul and Mesika make astonishing London stage debuts, the latter luxuriating in the show's takeaway number, "Omar Sharif", in which this apparently provincial woman's cultural literacy is made swooningly clear to the indrawn widower suddenly arrived in her midst.
Some of the scenes are too short and jagged to register, and the occasional joke - a cheerful band member's ceaseless invocation of Chet Baker by way of a chat-up line - wear out their welcome. You do wonder, too, at the conspicuous absence of any political component to the conversations that ensue, though the show does also make clear the connections available between people on a human level that quickly transcend apparent divides.
But whereas previous Yazbek-scored shows like Dirty Rotten Scoundrels and Women on the Verge of a Nervous Breakdown had rather nervous trans-Atlantic crossings, this one feels entirely at home on Soutra Gilmour's deliberately featureless set: bleachers toward the back look as if they have spent years baking in the sun and provide a neat perch as and when the band of the title lets rip at the very end. The music throughout weds minor-key lamentation with soulful reverie, Arab influences like the oud with klezmer all in the service of a distinctive aural texture that eschews the big, belty numbers that prevail seemingly everywhere these days.
And when the actors have taken their bows, it's indescribably sweet to see the cast peering toward the stage from the side aisles as the nattily dressed band swings into action. I don't know what these amazing musicians are planning to do once this limited run ends (and a transfer of some kind surely beckons), but they might want to make themselves available for weddings, bar mitzvahs and heaven knows what else: their buoyancy is just what's needed as the winter ahead beckons and finds us in search of light.
It's indescribably sweet to see the cast peering toward the stage from the side aisles as the nattily dressed band swings into action
rating
Explore topics
Share this article