Annie review - a 12-year-old star is born |

reviews, news & interviews
Annie review - a 12-year-old star is born
Annie review - a 12-year-old star is born
A cautious Miranda Hart cedes centre-stage at Piccadilly Theatre to enchanting newcomer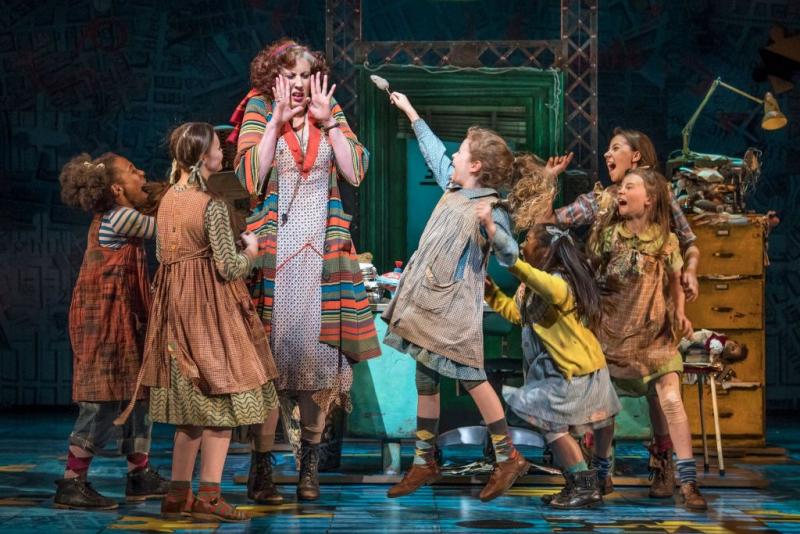 Next stop, Matilda? Miranda Hart surrounded by her young charges in `Annie'
Forty years after Annie swept on to Broadway, brimming with shining-faced optimism amidst wearying times, along comes Nikolai Foster's West End revival of the show to do much the same today.
Forty years after Annie swept on to Broadway, brimming with shining-faced optimism amidst wearying times, along comes Nikolai Foster's West End revival of the show to do much the same today. A tentative-seeming Miranda Hart may be the name player, making her musical theatre debut in the role created by Broadway legend Dorothy Loudon. But the heart and soul of the production belong to its pint-sized ensemble, not least (at the performance I caught) a 12-year-old newcomer called Ruby Stokes, whose unforced delivery of the title role really does make one hopeful about, as the song lyric so famously puts it, "tomorrow".
After countless stage revivals and two films, the most recent in 2014, you might imagine that the Thomas Meehan-scripted account of perky, orphaned Annie's takeover of New York, and its reigning bilionaire Daddy Warbucks, might feel slightly canned. But that's to undersell the commitment displayed by an enthusiastic assemblage of "little girls", as Hart's envenomed, drink-sodden Miss Hannigan sneeringly describes her charges. The West End has boasted no shortage of kid-heavy shows of late, and one can imagine eager stage mums shuttling their budding superstars between this revival and Matilda. After all, Sarah Jessica Parker was an erstwhile Annie, and look what happened to her.
Miss Hannigan, meanwhile, registers these days as an embyronic Miss Trunchbull: the parts are cut from the same mock-tyrannical cloth. So it's somewhat surprising that Hart – whose height would be perfect for the Trunch – doesn't go further with the role. Instead, what we get is a game if rather reined-in performance that allies her foghorn of a singing voice to some signature physical comedy, not least the brief horse's canter at the curtain call. Committed to the production through mid-September (though the show will continue without her after that), Hart may well relax into the gig over time, effecting more variations on the various scowls and glowering broadsides that constitute her orphanage-keeper at present; she's at her funniest when in sudden obeisance at the unexpected presence of FDR. A brief glimpse of Loudon on YouTube (a performance I saw onstage back in the day) suggests how OTT and still-plausible a performer can be with this role.
The production is in generally winning hands, starting with an unusually affecting Warbucks from Alex Bourne (pictured above right with Holly Dale Spencer and Ruby Stokes), who makes one nostalgic for a time when New York moneymen were good-natured souls at heart and not thuggish incipient American presidents. (Warbucks has not one but two universities bearing his name.) Several supporting roles ring out with particular éclat, not least Holly Dale Spencer as Warbucks' secretary Grace, and Jonny Fines as the high-kicking Rooster, one of the fraudsters whose comeuppance is to be exposed at the finale. Foster has directed Annie before on tour and one senses a genuine affection for the material, from his emphasis on the historical grounding of the Depression-era material to an eye for casting. Among the blink-and-you-miss-it parts of the Star-to-be, Keisha Atwell gives off the stage charisma of, well, a star-to-be.
Between Annie, On the Town, 42nd Street, and Dreamgirls, the West End is offering up an array of seminal Broadway titles of old that should keep devotees humming from one playhouse to the next. If Annie is in some ways an enduringly safe bet – this isn't a show that would benefit from Donmar-style deconstruction – its strength lies in an open-faced, full-throated compassion that wasn't lost on an audience seeing the musical in the immediate aftermath of the London Bridge attacks.
At times, one wishes for more scenic dazzle from Colin Richmond's jigsaw puzzle-framed set: a staircase and some lights don't do much to evoke New York (the setting, incidentally, of Foster's 2016 West End entry, Breakfast at Tiffany's). And I was worried at the outset that the well-drilled, air-punching tykes were going to tilt towards overkill. Luckily, Stokes's occupany centre-stage of the Mississippi-spelling, pigtailed Annie (pictured above with Hart) brings with it an unaffected charm, not to mention an easy way with the Charles Strouse/Martin Charnin score, from the wistful "Maybe" through to the ever-anthemic "Tomorrow". How nice, too, in a musical that chronicles the birth of the New Deal to have at its centre a newcomer who on this evidence is the real deal.