Almost, Maine, Park Theatre |

reviews, news & interviews
Almost, Maine, Park Theatre
Almost, Maine, Park Theatre
UK premiere of sweet, phenomenally popular American drama set in a fictional town
Thursday, 18 December 2014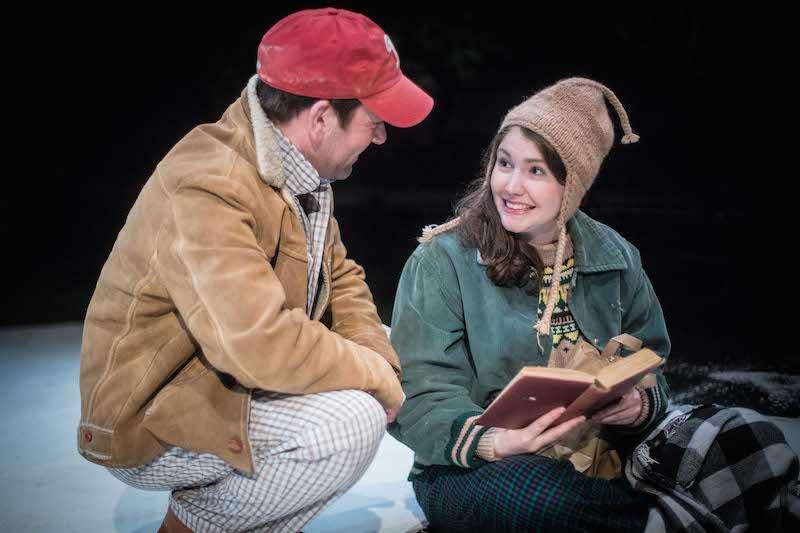 East (Hamish Clark) and Glory (Melanie Heslop) await the Northern Lights
For a Christmas-weary Brit who's already had it up to here with commercial bonhomie and festive schmaltz, there were going to be barriers to overcome. Here is an avowedly sweet American play – actually nine playlets – on the subject of love, set in snowy Maine, in a small town "that doesn't quite exist". In John Cariani's two-handers, lovers most often – although not quite always – overcomes disappointment, misunderstandings or awkwardness to reach mini-happy endings.
The piece is phenomenally popular in the States, having replaced
A Midsummer Night's Dream
as first choice for high school productions, and it has been translated into nearly 20 languages.


The links are not neatly choreographed in the manner of La Ronde, but references to names from other vignettes build up a sense of the almost-town. It begins to develop a character as home to some awkward but generally well-disposed young or youngish people coming to terms with half-understood or fugitive emotion. There is a faint whiff of Our Town about the proceedings, but Almost, Maine is altogether sweeter, wearing its charm on its sleeve. Its appeal for students is understandable.


Six actors play 19 parts between them in 90 minutes
The present production, under Simon Evans's crisp direction, manages to stay the right side of cloying sentimentality, with a touch of irony never too far away. And to be fair to Cariani, he warns in his notes for actors that "cute" will kill the play; he is aiming for romance rather than sentimentality. It's a big ask though, when there is scant time to discover much about the characters beyond a moment of realisation or attraction, however poignant or funny these might be. 


The incidents all take place on a Friday evening at nine o'clock. The Prologue opens with Ginette (Lucy Eaton) daring to declare her love for nerdy Pete (Ian Keir Attard) who almost loses her, but their story recurs and romance prevails. Then in the first play Glory (Melanie Heslop), an eccentric young woman, camps without permission in East's garden to watch the Northern Lights – the torches, she believes, of the newly dead – to say farewell to her recently deceased husband. She carries her broken heart in a bag. East (Hamish Clark) is a repair man. Go figure. Cariani often mixes odd little bits of magical realism and metaphor-made-concrete into his material. In another story Gayle (Eaton) re-delivers the love she took from Lendall (Clark again) in great white pillows; he has distilled hers into a ring.


Acknowledgement of feelings not previously understood leads to poignant humour when Randy (Patrick Walshe McBride) and Chad (Ian Keir Attard) realise they love each other and begin, literally, falling at each other's feet. In the last play Rhonda (Eaton) and Dave (McBride), pictured right, gleefully demonstrate the difficulty of giving in to desperate desire when got up in thermals for snowmobiling.


Six actors play 19 parts between them in 90 minutes, moving swiftly and convincingly between characters with scarcely more than an orange box or two for props. There is a suggestion of snow and a fine collection of pine trees bunched at the back of Amy Jane Cook's set in the smaller of the Park studios.
So, an enjoyable evening for anyone with a taste for sugar plums with only the tiniest hint of sharpness.
Simon Evans's crisp direction manages to stay the right side of cloying sentimentality
rating
Explore topics
Share this article