All of It/Hope Has a Happy Meal, Royal Court review - surreal pleasures |

reviews, news & interviews
All of It/Hope Has a Happy Meal, Royal Court review - surreal pleasures
All of It/Hope Has a Happy Meal, Royal Court review - surreal pleasures
New writing season kicks off with two imaginative adventures in theatre
Wired: Kate O'Flynn in 'All of It'.
The summer season at the Royal Court, London's premiere new writing venue, features two plays which imaginatively explore the human condition using elements of the surreal and the dystopic as well as the real. Or, to put it more accurately, both Alistair McDowall (in All of It ****) and Tom Fowler (in Hope Has a Happy Meal ***) show us recognisable human emotions through the lens of highly original storytelling.
The overall effect is an exciting contribution to contemporary playwriting
–
it's art that seems to make your mind go woo-woo.
The most mentally explosive experience, in the main Downstairs space, is McDowall's trilogy of short plays, which are all performed by Kate O'Flynn in what must surely be a career-defining event. The first 20 minutes is Northleigh, 1940, in which a young woman joins her father in their Morrison shelter, a wire-mesh tomb-like container on the floor of the dining room, during a wartime air raid. Starting with the elevated and inflated tone of lyrical poetry – "Alone, on ashen sands that yearned beyond/ All measure known in realms familiar" – the piece then grounds itself in northern everyday chat, before evoking, more abstractly, the falling German bombs. It's intriguing and allusive, but less impressive than the next two monologues.
During the next 20 minutes In Stereo shows O'Flynn's lonely narrator experiencing a psychotic episode in which the actor's recorded voiceover tells the supernatural story of a damp stain on the wall which gradually takes over her life. Alone on stage with a television, the silent O'Flynn moves warily as her entire life begins to be consumed not only by the growing mould around her, but also by fractures of her self as her words splinter into several simultaneous and competing voices. McDowall shows how the mottled room, itself a character, will outlive this one woman and will absorb the lives of future generations until climate change washes over everyone.
The mixture of Beckettian sparsity with moments of extreme lyricism continues with All of It, a 45-minute monologue which tells the entire life story of a woman from birth to death. Starting with a positively Joycean articulation of baby talk, the piece moves through childhood, puberty, sex, university, love, marriage, childbirth and divorce. The repetitive quality of work is emphasised, and also both the pleasures and pains of family, as the narrator moves from being a mouthy teen to having a mouthy teen daughter. O'Flynn performs this series of snapshots of the inner life, with its repeats of "I'm fine" and deadening "Driving to work", at a snappy pace which suggests the speed of time passing. She is enthralling, funny, sad and moving.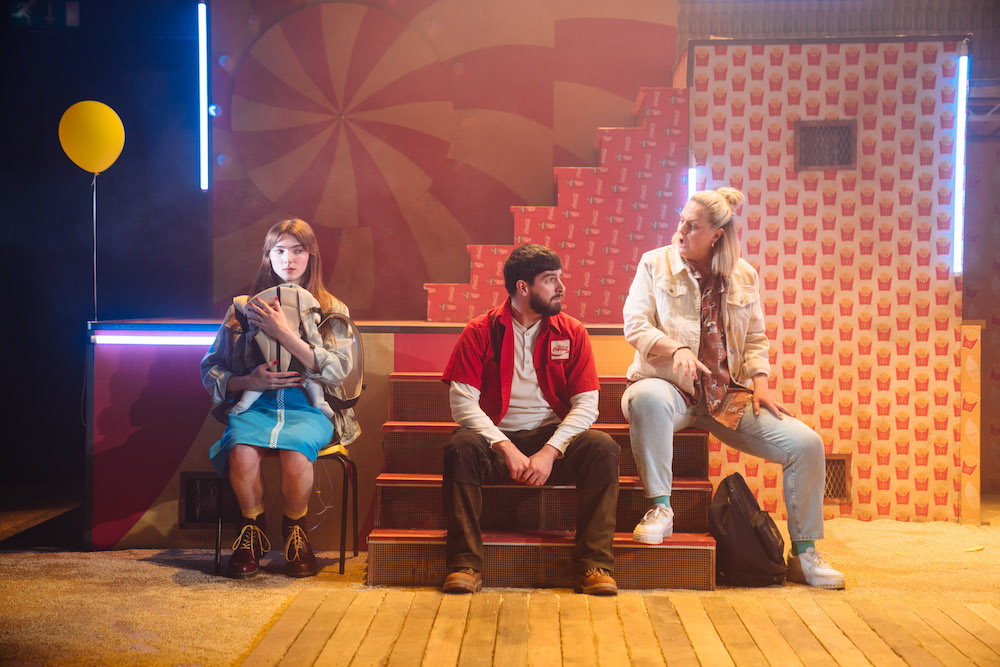 Directors Vicky Featherstone and Sam Prichard, with help from Merle Hensel's claustrophobic set and Melanie Wilson's eerie soundscapes, work beautifully with O'Flynn to make this experimental trilogy memorable visually and in its cascades of words, especially parts two and three. Likewise, Fowler's Hope Has a Happy Meal features striking performances in a story where recognisably painful human emotions – loss of family members – are set in a dystopian vision of the world's future. We are in the People's Republic of Koka Kola, formerly the UK, where freedoms are acutely curtailed and consumer capitalism is totally dominant.
Fortysomething Hope returns home after being away for 24 years: she's trying to reconnect to her half-sister Lor, and gets a helping hand from Isla, a trans waitress who is looking after her sister's baby, while on the run from Wayne, an abusive cop. On their way to find the Strawberry Fields commune of Hope's youth, they are joined by redundant forest ranger Alex, but things soon get very complicated. Fowler's writing has an instantly appealing brightness and energy, and his renaming of places reveals the ubiquity of big corporations in a nation ruled by a CEO rather than prime minister: Nike International, Samsung Central and Mitsubishi Parkway.

But as well as the joy of this humorously lurid vision, and the game show episode in which Hope's fears are presented in a nightmarish clown-led extravaganza, genuine emotions about the family are powerfully articulated. Lor is angry with Hope because she feels betrayed and abandoned when Hope left – and 24 years is a long time to wait for reconciliation. Her resentment simmers before exploding, although the quest narrative plotting slackens a bit too much towards the end of this 100 minute show. Nevertheless, the notion of loss and death gives the piece its much needed shadows.

Still, there is a lot to enjoy in Lucy Morrison's energetic and often funny production, whose set by Naomi Dawson is versatile enough to host what is in effect a Thelma-and-Louise-style road movie lit up by the neon glare of American culture. Laura Checkley's Hope and Mary Malone's Isla are nicely contrasting characters, and the early comic scenes are the strongest in the play. Amaka Okafor's Lor is convincingly passionate, and the women are well supported by Nima Taleghani's Alex and Felix Scott's Wayne (pictured above are Malone, Taleghani and Checkley. Photo: Helen Murray). Most of the cast play several minor roles, which adds to the piece's epic sweep. Taken together, the two plays offer a great summer of surreal new writing.
The effect is an exciting contribution to contemporary playwriting — it's art that makes your mind go woo-woo
rating
Explore topics
Share this article