Aladdin, Prince Edward Theatre
Aladdin, Prince Edward Theatre
Disney's latest blockbuster film-turned-stage show remains airborne – just
Magic carpet ride: Dean John-Wilson and Jade Ewen in 'Aladdin'
If anyone harboured any doubts as to how diverse the world of musical theatre can be, this past week will surely have proved an ear and eye-opener. While Richard Taylor and David Wood's poetic take on The Go-Between pretty much threw out the rule book on musicals, Disney's stage version of their blockbuster film Aladdin dutifully returns to the first edition, which is how a successful franchise works. As the old adage goes, "if I knew the secret I'd bottle it".
Disney has – and pantomime has come early to the West End.
There is room, of course, for everything, and I've been a sucker for the animated movies that spawned these stage extravaganzas, and still more for the music of Alan Menken, for whom Disney must give eternal thanks. He's a great songwriter, make no mistake, and the first of his Disney classics to be reincarnated for the screen, Beauty and the Beast, boasts a fabulous romantic score by anyone's standards. Small wonder he has the wisecracking Genie of Aladdin (Trevor Dion Nicholas, pictured below) invoking it in the Cave of Wonders. Sometimes you don't know what you're missing untikl you hear it again.
Granted, Aladdin offers "a whole new world" of possibilities (as per the title of its most famous number), but its slim pickings, musically speaking, are not – with one notable exception – what I would expect from this composer; the show's homage of sorts to the jazz age of the 1930 and '40s just doesn't have the robustness and pizzazz of the era it evokes. It does, though, throw up the opportunity for snazzy production numbers, none more outrageous than "Friend Like Me" which turns the eyeful of iridescence that is designer Bob Crowley's wondrous cave into a Hollywood wet dream and affords the exuberantly larger-than-life-and-then-some Nicholas (happily imported from Broadway) one of several opportunities in director Casey Nicholaw's production to "give it" big, bigger, biggest.
Co-star Nicholas is the one thing to come between thinking adults and terminal boredom and (like the great Robin Williams, who powered the movie), he has more than anyone's fair share of the smart one-liners – a few too many of them clumsily adapted to popular British culture, some of which, like Tommy Cooper, won't mean a thing to the kids or, for that matter, to their parents.
The best gags highlight the perils of "pyramid schemes" and characterise a headstrong princess who flatly refuses to marry "any Tom, Dick, or Hassim". And there are, of course, the hiss-worthy villain Jafar (Don Gallagher) and his loquacious sidekick Iago (Peter Howe), who is repeatedly urging Jafar to access his "happy place", as well as Aladdin's trio of mates, Babkak (Nathan Amzi), Kassim (Stephen Rahman-Hughes) and Omar (Rachid Sabitri), the portliest of whom, Babkak, mishears everything as a food association (the ensemble, pictured below).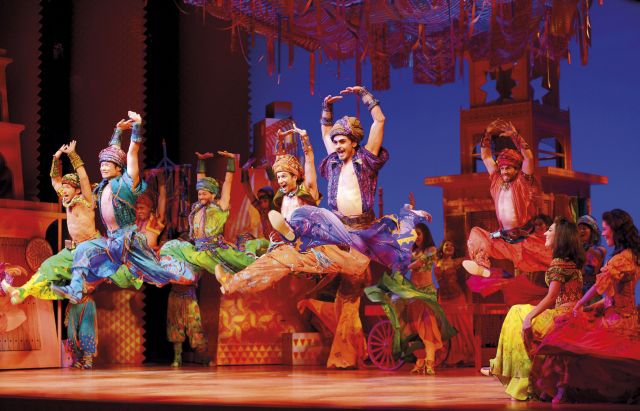 But it isn't the gags, such as they are, that wow the captive audience – especially the youngsters – but the stage pictures. As the Cave of Wonders materialises and the magic carpet carrying Aladdin (Dean John-Wilson) and Princess Jasmine (Jade Ewen) – both looking remarkably like their cartoon counterparts – glides through the starlit sky (look, no wires) the din of approval says it all. You get what you are paying dearly for.
Me, I took home one lovely song – Aladdin's solo "Proud of Your Boy" – which Menken wrote with his long-term partner, the late Howard Ashman, and has restored for the stage version. But that's about it: beneath the cosmetics, there's precious little else to savour. The third star is for Crowley's visuals.
It isn't the gags, such as they are, that wow the captive audience but the stage pictures
rating
Share this article