theartsdesk Q&A: Composer Alan Menken |

Theatre reviews, news & interviews
theartsdesk Q&A: Composer Alan Menken
Disney's chief composer on Sister Act's first birthday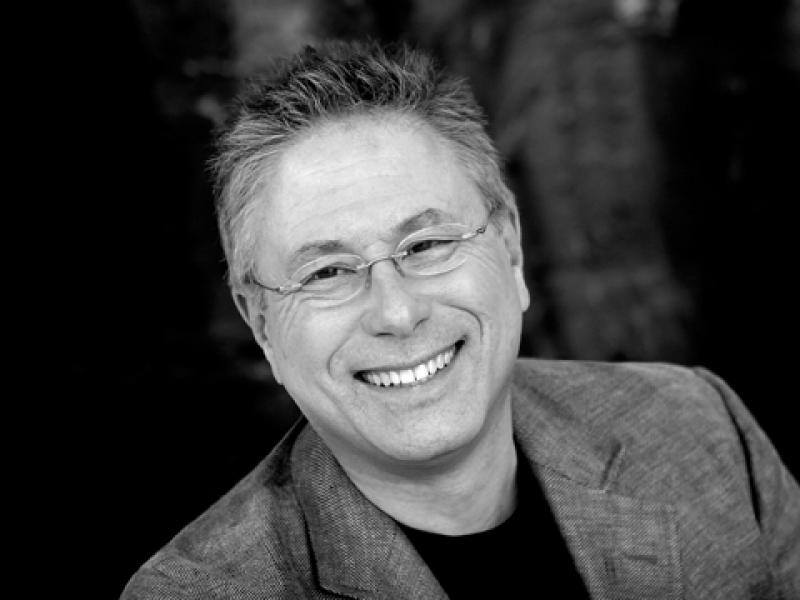 Alan Menken rules: the musical theatre composer's career stretches from 'Little Shop of Horrors' to 'Sister Act'
For a generation of children, Alan Menken (b. 1949) composed the soundtrack. From the moment Disney returned from the creative wilderness in the late 1980s up until Pixar changed the rules of animation, Menken wrote the catchiest tunes in the cinematic songbook. The music in
The Little Mermaid
,
Aladdin
,
Pocahontas
and, above all,
Beauty and the Beast
, which pioneered the migration of films from screen to stage, were of all his making. They had to create something called the Alan Menken rule at the Oscars to stop him carting home a statuette every year.
Until recently, it had been a long time since the composer who made his name with Little Shop of Horrors worked the theatre. He returned to Broadway in 2008 with an enlarged songbook for The Little Mermaid, but it closed within a year. Later this year his gospel-tinged Leap of Faith, based on the 1992 film starring Steve Martin as a faith-healing charlatan, opens in Los Angeles. But in the mean time, there is the ongoing success of Sister Act, which this month celebrates its first birthday at the London Palladium (pictured below right).
In the autumn it is contractually obliged to make way for The Wizard of Oz, but it will have a further life on tour, and possibly a return to America, where it was first tried out in 2006. Menken's contribution is a parody of Seventies disco kitsch, a delicious palette stretching from Barry White to the Weather Girls. And then there's the title-song ballad, which is pure uncut Menken, the signature work of a shameless tugger of heart-strings.
His most fruitful collaboration was with Howard Ashman (Little Shop, Mermaid, Beauty and the Beast, much of Aladdin), but his other partnerships down the years have been with the wittiest lyricists of the age – Tim Rice ("A Whole New World" from Aladdin), Stephen Schwartz (Pocahontas, Enchanted), David Zippel (Hercules) and Lynn Ahrens, with whom he wrote A Christmas Carol, for many years a seasonal favourite at Madison Square Gardens. Menken talks to theartsdesk about what got him started, and what keeps him going.
JASPER REES: How many did Little Shop of Horrors have?
ALAN MENKEN: Little Shop never really had what you'd call a preview period. We opened in an Equity showcase Off Off Broadway. It had a handful of performances, like a weekend, and then out in front of the press.
In previews does there come a moment like Richard Rodgers before South Pacific opened saying, "Fellas, forget it, it's perfect"?
You'll never get a creative team to say, "It's perfect." Or the Merman line, "It's bird's eye." You try to interpret how you're doing also. And with musicals, number one, it's a moving target. It changes from night to night. It's such a collaborative form, one person's ceiling could be another person's floor.
How have you learned to cope over the years with the frustrations of colleagues...
Not agreeing with me?
Wanting to go in a different direction. Having to collaborate.
I've learned to do it a lot. Number one, if I feel in my gut that I really know what I want I'll fight for it. And then if I can't win I will let go. I'd rather stay on the horse that simply be bucked off than have the horse go riding off and I'm saying, "Where are you?"
How often does it happen?
It happens in small ways a lot. It's a hard question because the truth is – I'm full of these metaphors but you know the whole thing about a blind man feeling an elephant's rump and says, "The elephant is round." And then another one feels the elephant's trunk and says, "The elephant feels like a snake." A musical can be so many different things. And you can see it purely as an entertainment and go, "It really needs to please a crowd," which is frankly where I weigh in. But you are also building a structure that people and casts will be inhabiting hopefully for the rest of your life and in another country at different ages, and so you want it to be structured in such a way that it can survive all kinds of interpretations.
Have there been occasions when you've realised you were wrong in wanting to take a show in a certain direction?
Oh my God, that happens all the time. Oh boy. I tend to block those things out. If you give me a minute to think about it. That happened on Little Shop. We had a ballad in act two called "We'll Have Tomorrow", a beautiful ballad for Seymour and Audrey. It came after things are looking really bleak for the plant and Seymour is saying to Audrey, "It'll be OK, I'll get us through this." Howard said, "We have to lose it. We don't need to two ballads in act two." This was early on when I still tried to hang on to things. And we cut it and the show was better for cutting it. And that happens a lot.
Has it been used anywhere else?
It was actually an alternative track