After Life, National Theatre review - thanks for the memories |

reviews, news & interviews
After Life, National Theatre review - thanks for the memories
After Life, National Theatre review - thanks for the memories
Intriguing, inventive play from Jack Thorne and Headlong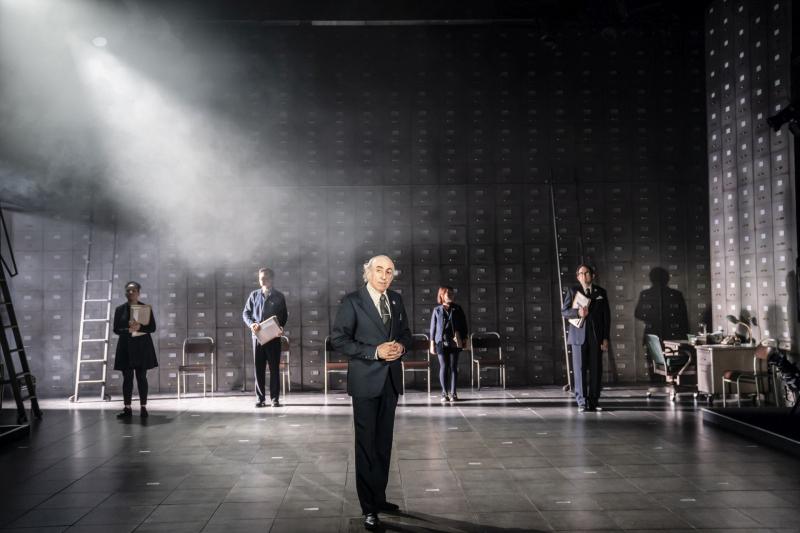 In limbo: Kevin McMonagle and the cast of 'After Life'
Limbo, in Jack Thorne's latest play, is a room lined ceiling-high with drawers, a sort of morgue rebooted as a vast filing system.
It apparently provides comfy accommodation for the souls waiting to pass over, and its activities are run in tight bureaucratic fashion by Five (Kevin McMonagle), a crisp but likeable Scot with a nice line in candour and a squeezebox on which he plays Gershwin melodies. Balloons erupt through the floor of the
National
's Dorfman auditorium; cherry blossom petals ("made by three little ladies from Northampton", the operative named Four notes) drift down from the ceiling.
What we are seeing is a sort of theatre within a theatre, a special drama unit where the memories of people who have just died are meticulously reconstructed by a team of Guides; the Guided can choose just one defining moment each to take with them into the after-life. They have a week to decide their memory, coaxed by the Guides into establishing what it is, what it looks like, why it's important. Then the Guides stage a re-enactment. It's hard not to spend part of the play's 100-minute length (no interval) deciding what you would choose as a defining moment in your own life.
Would you be like Beatrice Killick (the estimable June Watson, pictured right), an elderly woman from Bolton who seems more concerned about the beloved cat her death has left without food and water and who only slowly reveals her moment of happiness with the love of her life? Or would your chosen moment be a tad predictable, like Jill Smart 's (Maddie Holliday), a young girl who, as young girls are wont to do, chooses a visit to Disneyland Paris as her happiest time? Operative Four (Millicent Wong), a lively, headstrong newbie in the team, nudges Jill towards a more original tableau, of lying aged three with her head in her mother's lap, a scarf tickling her neck. (Should Jill let her story be "edited" in this way, the other Guides ask? Do our memories ever really represent the truth?) Maybe, like Obafemi Taylor (Olatunji Ayofe), a teenager who says he died too young to make wise choices, you might decide not to join in this game at all.
Hiro Mochizuki (Togo Igawa) looks like he will take Obafemi's stance too. He's a mild-mannered widower who deems his personal life and career too ordinary to be worth immortalising and struggles till the last minutes of his week's stay to find his defining moment. If he doesn't choose one, he will not be able to pass over and could end up staying with the team, endlessly recreating other people's memories.
Hiro's case is being handled by Two (Luke Thallon), a super-competent team member who has been tasked with drawing out details of the old man's life. But Two becomes uncharacteristically entangled in his subject's back story, and the two men end up helping each other, in unexpected ways. Their interaction provides the play with its core issue: how do we judge a life to have been well lived? Who does the judging? Society, or those who did the living?
Things could have taken a sententious turn, but Thorne mostly sidesteps any icky sentiments the Guides might hand down to the Guided, with Five in particular injecting dry wit and a wordly wisdom, Four a welcome blunt realism and Two an unexpected back story of his own, leading to the "reveal" that gives the plot dramatic ballast. Or it should. Thorne's version, for me, doesn't quite pack the punch of the tender 1998 film by Hirokazu Kore-eda that is its source. There's a slightly pantomime air of jollity to it, and at times its larger ideas don't find quite the resonance they deserve. For the film – which is almost a chamber piece, typically with two characters per scene shot in tight close-up – this intensity is more easily achieved, the characters more subtly drawn.
But the premise of the play still intrigues, and certainly entertains. Jeremy Herrin's production is delivered with Headlong's trademark inventiveness, designed by Bunny Christie and lit by Neil Austin with impressive set pieces and coups de theatre. (I especially loved the spaceman who suddenly drifts along the back wall, like an escapee from a Robert Lepage piece.) At the end of the Guideds' allotted week, the Guides' montage of their recreated moments makes indeed for a memorable display.
How do we judge a life to have been well lived? Who does the judging?
rating
Explore topics
Share this article