After Edward, Sam Wanamaker Playhouse review - delightfully risky |

reviews, news & interviews
After Edward, Sam Wanamaker Playhouse review - delightfully risky
After Edward, Sam Wanamaker Playhouse review - delightfully risky
A soaringly irreverent postmodern caper through shifting attitudes to homosexuality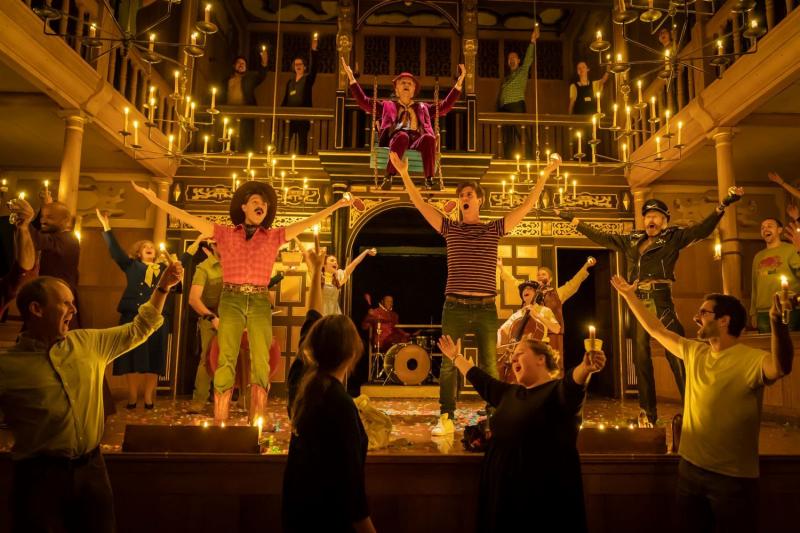 Liberation with the Pet Shop Boys: the entire cast
A loo with fuschia-pink carpet to catch splashback; an Archbishop of Canterbury who's in it for the skirts; a gobbing Dorothy from The Wizard of Oz.
A Jacobean theatre like
the Sam Wanamaker Playhouse
will have witnessed most extremes of human behaviour, but this soaringly irreverent, camper than tinsel, and – let's face it - outrageously Eighties evening, takes it down alleys it's never ventured before.
It starts with a literal bang: heavenly music from above, a bit of a shriek, darkness, and then a man lying prone on the stage. The next thing we know, the Archbishop of Canterbury is pottering around, lighting church candles while wittering on about the importance of bending knees during a fall to preserve your lower back. Somewhat bemused, the man helps him to light the candles. Metaphysical madness intertwined with sardonic banality: it's all getting curiouser and curiouser.
Tom Stuart's sweepingly hallucinogenic companion piece to Marlowe's Edward II is a delightfully risky venture – a postmodern caper through shifting attitudes to homosexuality. Stuart – who also plays Edward II – here both writes and stars as the young man who, after his fall, realises that he has no idea who he is, where he is, and how he's going to escape a playhouse that seems trapped in a gilded tongue-in-cheek purgatory.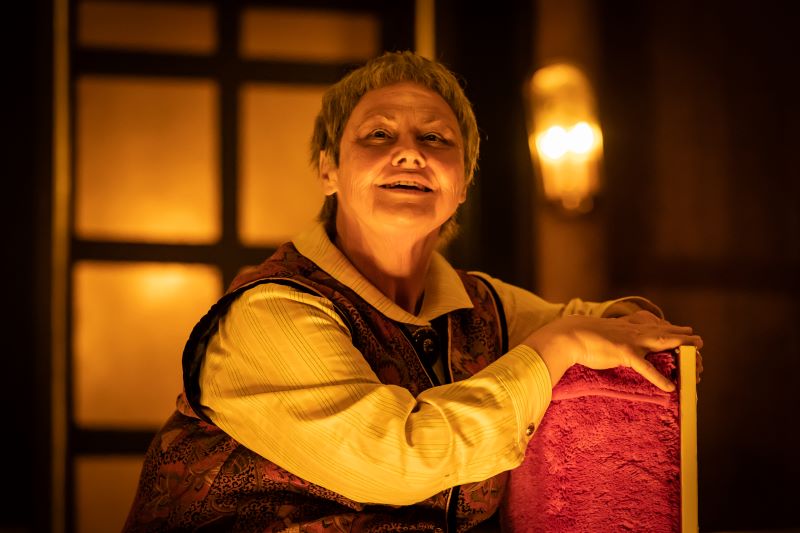 After a slightly wavering start, the comedy really hits its stride when Annette Badland's assured, rasping-voiced Gertrude Stein (pictured above) emerges astride a lavatory. Stuart's fantastic pastiche of Stein's vigorous non-linear prose, "I am no longer here now I am there," simultaneously echoes the central character's own disorientation while bringing a sense of emotional and intellectual ballast to proceedings. The next thing we know, Richard Cant's self-possessed, waspish Quentin Crisp has descended from the flies above the stage – a dea ex machina if you will – to help resolve our hero's dilemma. With the entrance of Polly Frame's popcorn-munching Harvey Milk, the action reaches a deliberate height of absurdity – now it's up to the characters to work out what they are all doing there.
It's no small irony that Stuart's play starts to anchor itself with the appearance of Maggie Thatcher. Thatcher, of course, was the prime minister who introduced the controversial Section 28 legislation banning the "promotion" of homosexuality in schools, setting off a wave of protests. The anonymous young man, certain that she should not be on stage with him, starts to remember the moments of shame her decision induced during his childhood in the Eighties. This in turn has impacted on his identity as a gay man, leading to the crisis in which he has summoned up ghosts who, while they seem to come from a camp-as-Christmas past, in fact have serious messages for his future.
This is a tricky tonal transition to make, but the deft writing along with some sure-footed direction from Brendan O'Hea means that not a false note is struck. That's not least because the Crisp, Stein and Milk have very different messages to offer. Crisp refuses to do anything but assert his stubborn right to his individuality; Stein talks movingly about her love for Alice B Toklas; Milk emphasises the political dangers that continue to threaten homosexuals around the world. Meanwhile irreverent appearances from Dorothy from The Wizard of Oz and Maria from The Sound of Music stoke the comedy by bringing a brief bathos to proceedings.
So how on earth do you tie up the swirling strands of such a plot? Stuart's answer is with – what else? – a song that brings in the wonderful a cappella LGBT+ The Fourth Choir singing the Pet Shop Boys' "Liberation". It's a wonderful, suitably uplifting end to the evening that should send you dancing out onto the walkways by the Thames. An extremely enjoyable innovation for the flourishing Globe.
rating
Explore topics
Share this article