The Riot Club |

reviews, news & interviews
The Riot Club
The Riot Club
Play-turned-film is brutal, well-acted, and hard to take seriously
Friday, 19 September 2014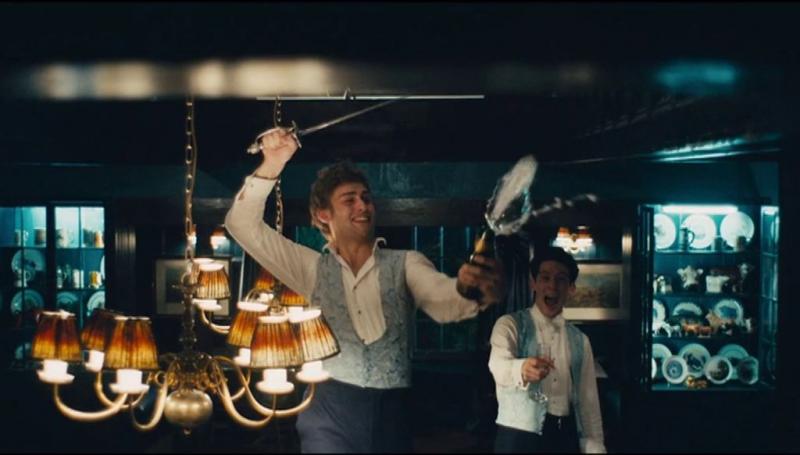 Party time? Douglas Booth is one of a far-from-merry band of reprobate toffs in `The Riot Club'
Britain's young male elite behaves badly (to put it mildly) in The Riot Club, playwright Laura Wade's screen adaptation of her Royal Court stage hit Posh, and the result is even more difficult to take seriously than it was in the theatre. Though the fundamental tension of the material remains the same - how could such charming-looking chaps be doing such beastly things? - Wade's screenplay is sufficiently fueled by contempt that one begins to tune out altogether.
A clutch of attractive Britboy actors in-the-ascendant will surely attract filmgoers early on, but one has to wonder what will happen once word gets out about a movie that exists for few other reasons but to pillory the people it is about.
On stage, Lyndsey Turner's highly astute and self-aware production powered through much of that same problem through sheer adrenalin (various sonic interludes took us out of the rage-driven literalism before us) and a spectator's grim-faced fascination at what members of the Bullingdon Club may have been up to before those same people went on to run this country. On film, where the cast by definition doesn't have to enact the same shenanigans eight times a week, the level of atrocity has been ramped up a notch to the detriment of the whole. The cynicism of the ending is all well and good and we all know that life's misdeeds often go unmarked, especially for those who have good connections on their side.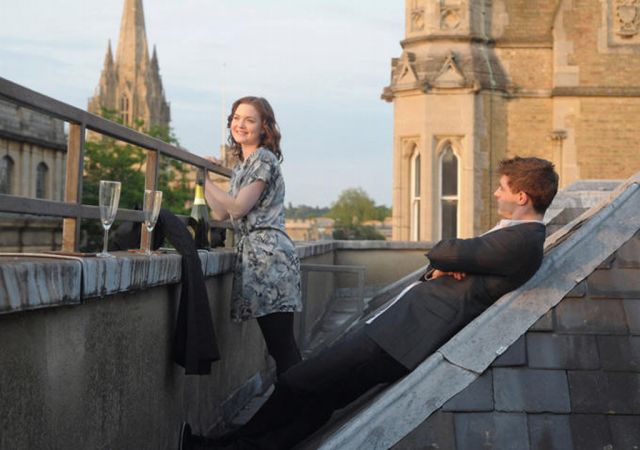 But there's simply no way that the goings-on of this celluloid lot - expanded upon for the cinema well beyond what we saw on stage - would allow these fellas to get away with actual near-murder. Wade and her Danish director Lone Scherfig (An Education) may be rubbing their hands together in glee, but the fact remains that the ferocity of their satirical vision sacrifices credibility, not to mention plausibility, on the altar of bitingly acted class warfare. Wade this time out has even introduced a character, Lauren (Holliday Grainger, pictured above with Max Irons), who is a Mancunian Fresher at Oxford and functions as a version of Wade herself, or at least of the audience - that's to say, a moralising outsider to a time-honoured boys' establishment to which she (or we) cannot hope to gain access. And, on this evidence, wouldn't want to in any case.
Lauren has scarcely arrived at university before she takes up with Miles (Max Irons), a posh boy who also happens to be a nice guy - imagine! - but who gets indoctrinated into the riotous entity of the title - "riotous" perhaps too mild an adjective for a gathering whose coke and booze-driven antics land a country publican in hospital gasping for his life and the perpetrators pretty much walking free. And in a further departure from the play, Miles is granted an unexpected adversary in tutorial partner Alistair (Sam Claflin), a mean-eyed malcontent with parental issues and a sneaky way of gaining access to Miles's mobile phone. (That specific act is crucial to the re-imagining of the plot.)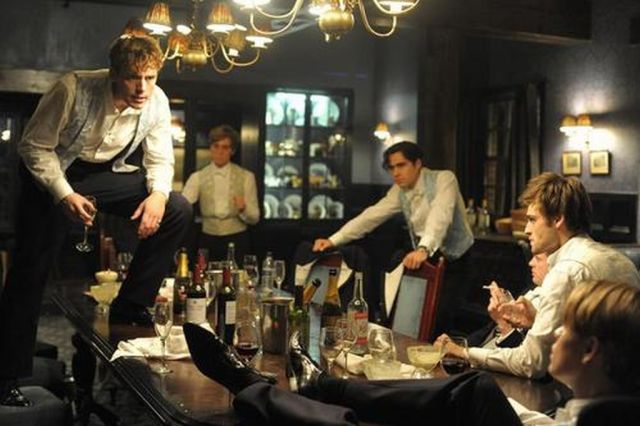 So whereas the play occurs mostly at the gastropub to which the lads systematically lay waste, that prolonged descent into the moral abyss is rather more contained within a movie that, to its credit, does attempt where possible to sketch in the psychology that would lead these young upstarts to such a place. That said, the dinner scene (pictured above) is sure to remain the talking point, not least the contemptible fates meted out to three women in sequence, even if the hapless publican's daughter doesn't quite bear the full brunt of the men's recklessness to the degree that the same character did on stage. Wade's real-life partner Samuel West gets a look-in as the (thickly bearded) don who doesn't realise the cruelty of which the smooth-cheeked chaps before him will prove capable, and Tom Hollander inherits Simon Shepherd's stage role as the establishment figure who is there to affirm the status quo. You watch proceedings intrigued, then slack-jawed, and finally repulsed. Poor David Cameron: first Scotland to deal with - and now this?
Overleaf: watch the trailer for The Riot Club
Riotous is perhaps too mild an adjective for a gathering whose antics land a country publican in hospital gasping for his life
rating
Share this article