StreetDance 3D |

reviews, news & interviews
StreetDance 3D
StreetDance 3D
Every silly social and racial cliché about dance in one dumb film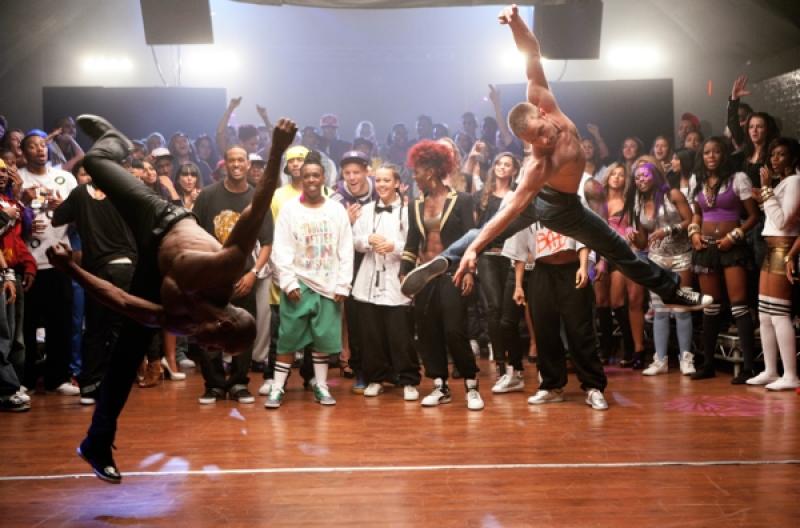 White boy wins: Richard Winsor is the white ballet boy who successfully changes his spots and street-cred
"Hey, it's the UK street dance championships soon - we're a crew, let's show them what we can do," cries the flawlessly pretty blonde to her black colleagues in the shopping mall. In quoting that line I deny any charge of offering a spoiler about what happens in StreetDance 3D.
A collective intellectual regression seems to overtake the vast majority of Brits when confronted with the idea of dance - how else can one explain the demonstration of every dumbwitted social or racial cliché ever coined about dance that is this ludicrous movie?
There are countless reasons to take offence. It is trumpeted as Britain's first all-3D movie, but people who expect to see cinema's future will spot disappointedly that most fast dance moves too quickly for film, and that 3D breaks down the liquid flow into a juddering string of frozen frames. People who are interested in street dance or ballet will hate its imposition of mostly half-baked non-dancers to serve a drivel of a plot. People who pay taxes and BBC licence fees will be wondering what the hell the BBC and the Lottery are doing funding a full-length promo video for the ITV show Britain's Got Talent, whose discoveries Diversity, Flawless and George Sampson provide the chief dancing attraction.
People who rate a script that has even a germ of reality will listen to lines like Carly's "We don't need a bit of tin medal to be winners" with incredulity. People who think a street dance movie might have raised the black quotient slightly will shrug cynically at the dominance of a love story between two blondes and the reduction of black cast members to comedy wisecracks, physical stunts and loud fashion statements. (Pictured left, Richard Winsor and Nichola Burley)
This film is really bewilderingly bad. Only last month we had the luck to get a rare film that treats dance with the intelligence it deserves in Fred Wiseman's La Danse, a remote, intense, almost clinical film about the mental fastidiousness and hermetic dedication that is needed to make great dancing. Here we have its gummy, jelly-baby, sugar-dummy opposite, a film that any child over 10 will sense to be a fraud.
The plot's premise (written by children's specialist Jane English) is that trendy equation: street dance equals free, poor, vernacular and therefore good, while ballet equals expensive, epicurean, academic and therefore bad. Carly, our pretty blonde (Nichola Burley, who evidently can't dance much but still plays the leader of her crew), delivers sandwiches to a posh ballet school run by Charlotte Rampling, who instantly falls in love with the cute knock-kneed girl in her George Sampson cap and sloppy vest, and offers her very best ballet studio for the crew to rehearse in - as long as they incorporate her top five ballet students in their entry for the street dance champs.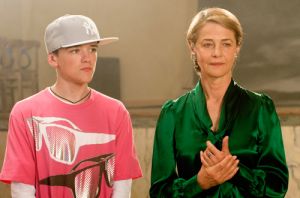 Connoisseurs of real life may have spotted a few incredibilities here. For one thing there is a vast ballet school canteen, so the sandwiches are clearly a MacGuffin. And indeed a Double Cheesy MacGuffin, for not only do these humble sandwiches engineer Carly's entry into the ballet school, but they allow wee street-dance-sensation George Sampson (as ethereal a figure as ever, pictured right with Rampling) to come into play as back-up sandwich deliverer in a "specially created role", as the publicity has it. And it would hardly be fair to you to let another spoiler out of the bag, but don't blink near the end or you might miss it.
The ballet school is, while grand, on its uppers, as its students (says Rampling) lack "passion", and since this is why they are not getting jobs in top ballet companies (rather than their laughable attempts at looking like ballet dancers), the school is about to have its funding cut. Unlike the gregarious, well-balanced street dancers, the ballet girls are ragged with neuroses and the ballet boys are under-engaged. Id est: if Britain's top ballet students don't learn street dance and win the UK championships, that's the end for ballet - a mendacious and silly social message that currently can't fail to tick funding boxes.
And it so happens that the leading chap in the ballet group is handsome Richard Winsor, star of Matthew Bourne's Dorian Gray, and a cynosure for hetero girls and homo boys everywhere when he strips off his ballet vest and starts attempting b-boying all by himself in the sunlit studio. And it so happens that Carly's bad black boyfriend has just left her... Again I really shouldn't spoil the surprise.
Actually I feel darned offended by such a footling waste of effort and money. Street dance is an exciting currency of British dance-theatre, and I am a firm fan of the live sort, and even sometimes of the television sort - I felt, like millions of others, the electricity of the crack discipline and daring of Flawless (pictured below left) and Diversity on Britain's Got Talent. The two troupes have been dragged briefly into the movie to provide the featured dancing on either side of our rather less impressive group of heroes, without the courtesy of putting the direction to the task of letting their speed and choreographic wit speak for itself. I'm also sorry to see that some of it is choreographed by Kenrick H2O Sandy, whose Pied Piper live street dance production had all the virtues that have been squeezed out of this film.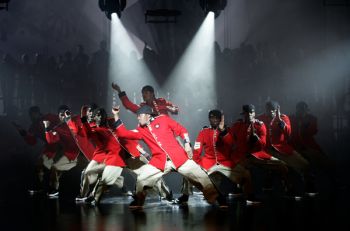 The priorities are all backwards. The 3D demonstration has been put ahead of capturing the intensity of the dancing, so there is a premium put on the crowds rather than the performing, heads between us and the dancers, hands waving, dingle-dangle from trees or overhead chandeliers, cameras scooting about eagerly looking for obstructions to shoot past, while the frame-juddering that 3D brings out so clearly blights the b-boying highlights when you do catch them.
Even more of a negative is that the directors, the pop promo specialists Max and Dania, cut and slice faster than a sushi chef, slo-mo here in a flying jump, cutaway to pants-wetting crowd there. Any genuine impression of the fire of fine street dancing, of the sweat and courage of individual exuberance and the strangely touching community spirit that rises like smoke off top crews is ruined by this inability to stop trying to gussy it up with the camera. When you watch top street dance live, you can't believe your eyes sometimes, so angry and yet so refined can it be - here, with these Attention Deficit Syndrome-afflicted directors, their fear of any shot longer than a second, and their lathering of gloss onto what should be raw and punchy, that wondering disbelief isn't possible.
Who is this movie for at all? I guess it's for kids, if surely not black kids, and surely not streetwise kids of any colour. It might be street dance for the Mamma Mia! crowd, since it cutely incorporates Abba, Elton John and David Bowie in among the hip-hop sounds. The baddest word in it is "tutu tits" (an insult for a ballet dancer), and the finale - with the ballet dancers abandoning their Royal Ballet auditions to take part in the UK champs - is more about the screams of the girls in the audience than about homing in on the acts. Oops, another spoiler, but who could by now be at all surprised?
The official trailer for StreetDance 3D