The Turn of the Screw, Garsington Opera review - superb music drama on an open stage |

reviews, news & interviews
The Turn of the Screw, Garsington Opera review - superb music drama on an open stage
The Turn of the Screw, Garsington Opera review - superb music drama on an open stage
Britten's problematic ghost opera allowed to triumph by way of the music
Miles and Flora (Leo Jemison and Elen Willmer) in conference with their ghosts (Ed Lyon and Katherine Broderick)
The famous ambiguity of Henry James's The Turn of the Screw is whether the ghosts that take possession of the two children are real or merely figments of the young Governess's imagination. Britten's opera resolves this unequivocally in favour of their reality: they appear alone together, and generally materialise so solidly that it never occurs to you to doubt their real existence. But now Louisa Muller, in her vivid new production for Garsington, casts a fresh and intriguing light on this question. She presents the Governess, the housekeeper Mrs Grose, and the ghostly Miss Jessel as three aspects of the same person, dressed identically, same size and shape, not dissimilar voices. At the end, the Governess, defeated by Miles's death, walks away across the lake presumably to join Miss Jessel: in death? Or in some new fusion?
As a gloss on a problematic libretto, it has its points. But the real virtue of this production is something more mundane and functional: the rivettng way in which Muller makes use of a large, open stage, with minimal necessary props creating the sense of a grand decaying mansion, in and out of doors, without a single scene change, and generating tension entirely through movement and the fluctuating physical relationships of the dramatis personae. So many opera directors clutter the stage as if to disguise a certain discomfort with the music. Muller lets the music speak through sound and motion, and the result is by far the most powerful production of this work that I can remember seeing.
It's rare to find a director with so much faith in her musicians. But they fully justify it. The cast itself is strong, to put it mildly. But the real hero of the evening, for my money, is the conductor, Richard Farnes. On the face of it The Turn of the Screw is an episodic, even cinematic score, with many scenes, cast as a set of variations on a ground bass (I suspect Britten had been studying Berg's Wozzeck). But Farnes binds it into an unbroken totality, creating a superbly controlled long dramatic line, while at the same time extracting every detail of instrumental colour and making Britten's thirteen instruments, superbly played, sound like every kind of orchestra, from a gamelan up to the LSO. There were thrilling sonorities in this performance that I've never heard in a Britten chamber score, climaxing in the final scene of the first act, where Quint and Miss Jessel close in on the children and Farnes generated a degree of tension that sent us out gasping for the summer air.
It's one of those evenings you know are going to ping from the first note: the piano arpeggios and the narrator, Ed Lyon, on an empty stage, the simplest start imaginable: "It is a curious story…" etc. Lyon is also excellent as the all-too-solid Quint, just sufficiently Peter Pears-like in grasp yet without the mannerisms. But this is essentially almost as much an opera for women as Billy Budd is for men. Sophie Bevan (pictured below with Leo Jemison and Elen Willmer) paces her Governess skilfully, timid and not very characterful at first, gradually emerging and intensifying up to the hardly bearable final scene with Miles.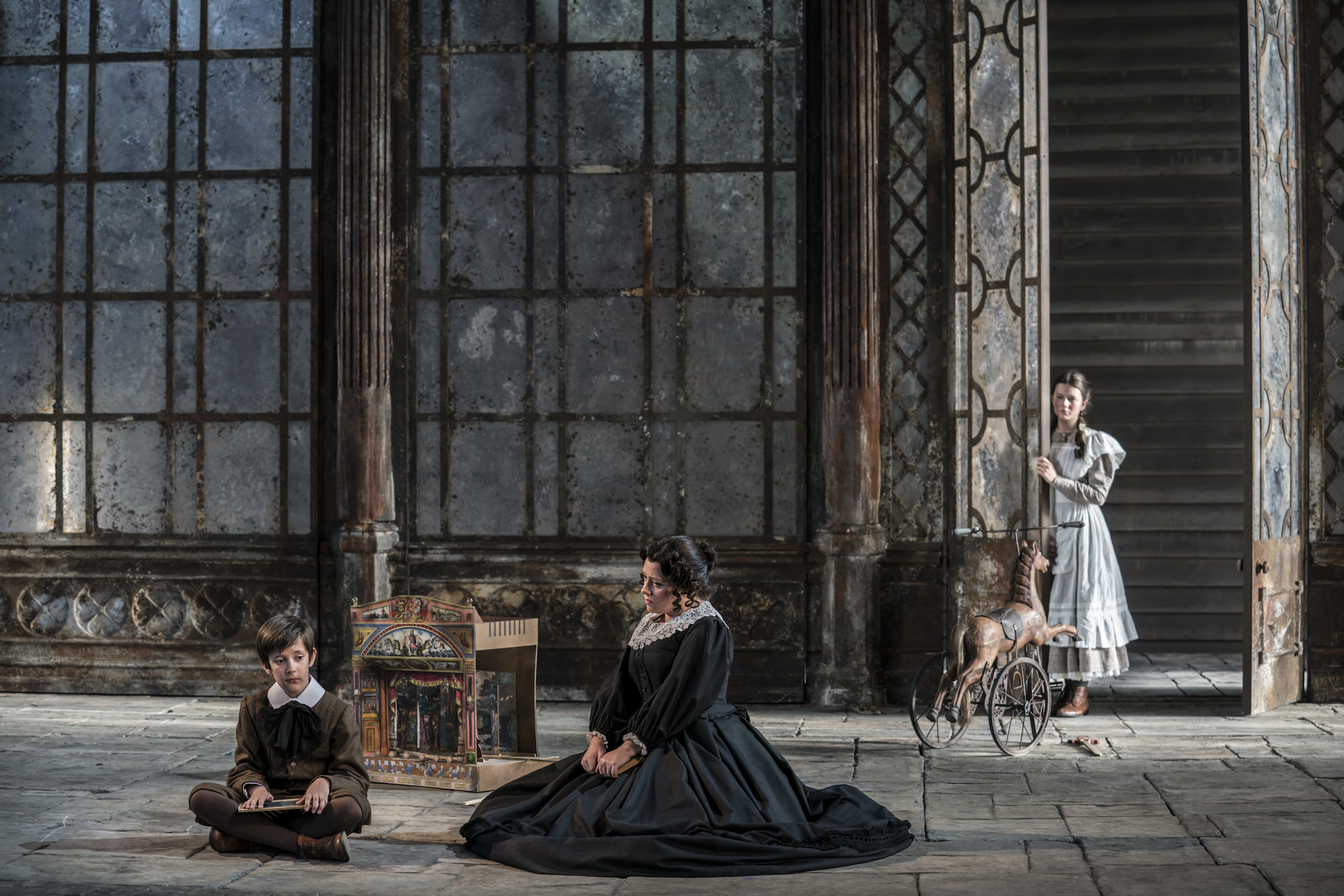 Kathleen Wilkinson and Katherine Broderick offer ideal support as Mrs. Grose and poor dead Miss Jessel. But the real comprimarii (in the performance I saw: the roles are double cast) are Leo Jemison and Elen Willmer as the children, Miles and Flora, perfectly combining superficial innocence with the sinister undercurrents that, in Yeats's image quoted by the libretto, gradually drown it. Their singing and musicality are remarkable, and Leo gets a special accolade for playing the piano with such a correct sense of the hand positions that one could believe he is actually playing (maybe he is…).
The production, discreetly and tastefully designed by Christopher Oram, overrides quite a few of the stage directions, but mainly to strong effect. Most striking is the often embarrassing scene at the start of the second act, where Quint and Jessel argue alone "nowhere" like a pair of drunken Eng Lit professors, but here find their colloquy invaded by the other characters in a way that draws out its disturbing relevance to them. In the absence of a tower, Quint's early manifestations are all through the misted windows of Oram's grand arcaded framework, which also lets us see him walking from one to another - a "real" ghost, not a mental aberration.
But the great moments are the usual ones. Bevan's ejaculated "Died?" when she hears that the man she has just seen alive is truly dead, sends a shiver down the spine; and the sheer physicality of her encounters with Quint (though of course they never touch) add weight to the idea that her image of the man is tangled up with her memory of the children's guardian. I'm still not quite sure what her identification with Miss Jessel signifies, but I'm working on it. Never mind. This is a great evening for opera as music drama, and that's a rare enough treat.
Subscribe to theartsdesk.com
Thank you for continuing to read our work on theartsdesk.com. For unlimited access to every article in its entirety, including our archive of more than 10,000 pieces, we're asking for £3.95 per month or £30 per year. We feel it's a very good deal, and hope you do too.
To take an annual subscription now simply click here.
And if you're looking for that extra gift for a friend or family member, why not treat them to a theartsdesk.com gift subscription?