Semele, Glyndebourne review - the dark side of desire |

reviews, news & interviews
Semele, Glyndebourne review - the dark side of desire
Semele, Glyndebourne review - the dark side of desire
A sturdy, thoughtful but downbeat take on Handel's hybrid masterpiece
Heavenly bliss? Semele (Joélle Harvey) and Jove (Stuart Jackson)
It never rains but it pours – and hails, snows or, above all, thunders. The presiding tone of Semele, in Adele Thomas's new production for Glyndebourne, matches the current English summer with its grey skies, glowering clouds and stormy outbursts. Jove's evidently in a rage, despite his rejuvenating lust for the Theban king's daughter, Semele.
He's not the only one: the first of many lightning-bolts – designed by Peter Mumford with Rick Fisher – that flash around Annemarie Woods's crepusular set illuminate lonely Juno, spurned and seething spouse of the heavenly overlord. Her dogged quest for revenge on her husband's lover will drive the action of Handel's hybrid opera-oratorio. With its mingled genre – composed in 1744 as Handel shifted from Italianate music-drama to post-
Messiah
sacred stage tableaux – and dazzling stylistic mood-swings,
Semele
leaves plenty of scope for directors to stake their claim to comedy, romance, satire, even tragedy.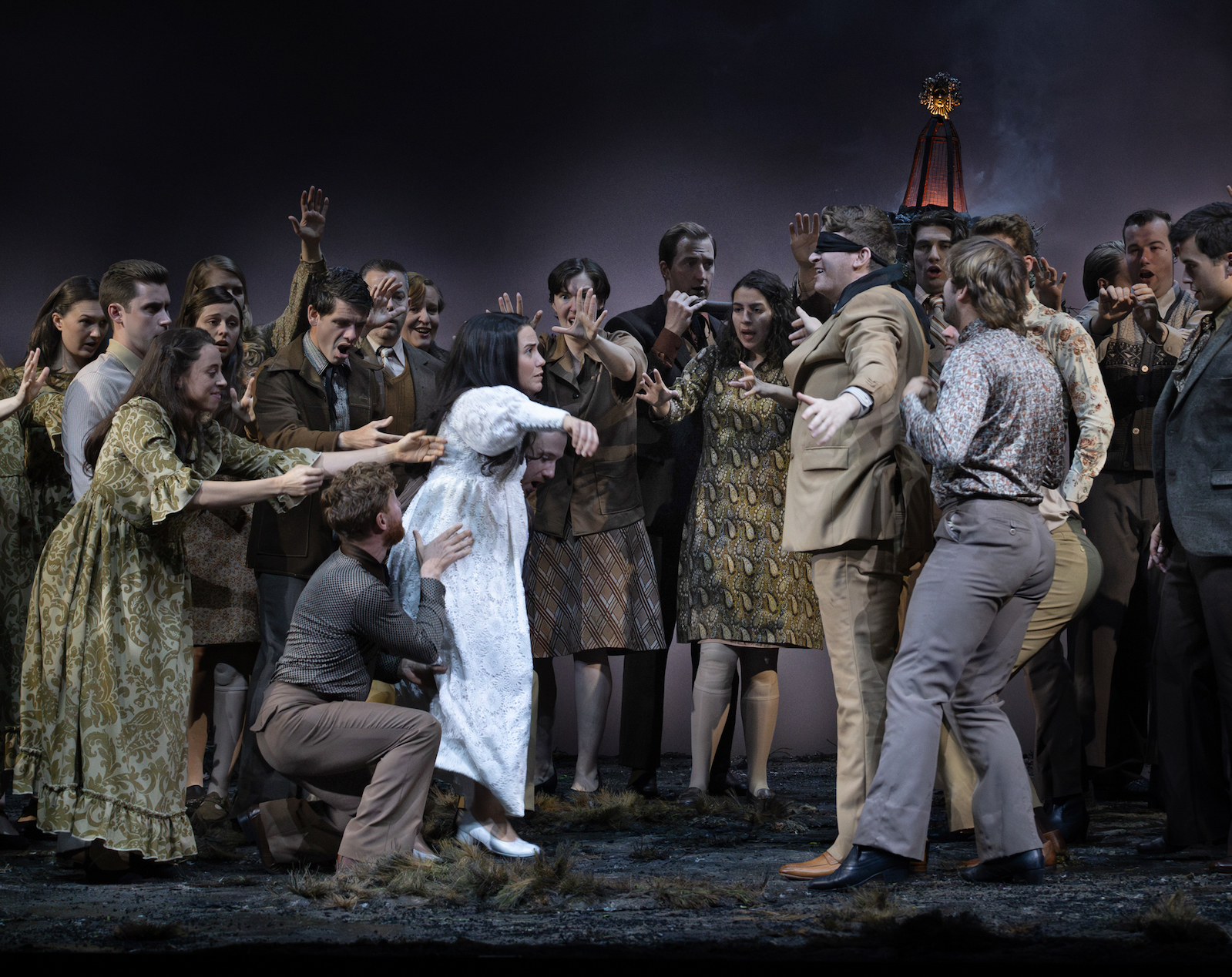 From the overcast, oppressive lighting to the drab, earth-coloured 20th-century costumes of the chorus, in contrast to Semele's defiant white, Thomas veers towards the dark side. Semele becomes not so much a flighty over-reaching bimbo, burned (literally) by her hubristic yearning for immortality, as a small-town rebel with big dreams, snared by the false promises and snobbish jealousies of the mighty. What she gains in pathos, even dignity, Joélle Harvey's heroine arguably loses in brio and exuberance. This, though, is a consistent and thoughtful interpretation of a gloriously eclectic piece. It reinforces its reading via myriad details to conjure an enveloping atmosphere of fear and obedience, relieved only by the whims and desires of capricious deities. The cost, arguably, comes in a loss of sparkle, wit and pace.
The Glyndebourne chorus, vocally powerful as ever but lent additional muscle by Emma Woods's striking choreography, help to press and bully Semele into her forced marriage to Athamas: counter-tenor Aryeh Nussbaum Cohen (pictured above with Joélle Harvey's Semele). Groupthink becomes crowd movement as the beige hordes demand a sacrifice of liberty from the (at first) fine-toned but rather pinched Harvey. Nussbaum Cohen skips with anticipatory glee as he brings finesse, dexterity and authority to "Hymen, haste, thy torch prepare". But for all his vocal skill, this remains a pretty thankless part. Thomas's direction underscores his nervy, entitled arrogance.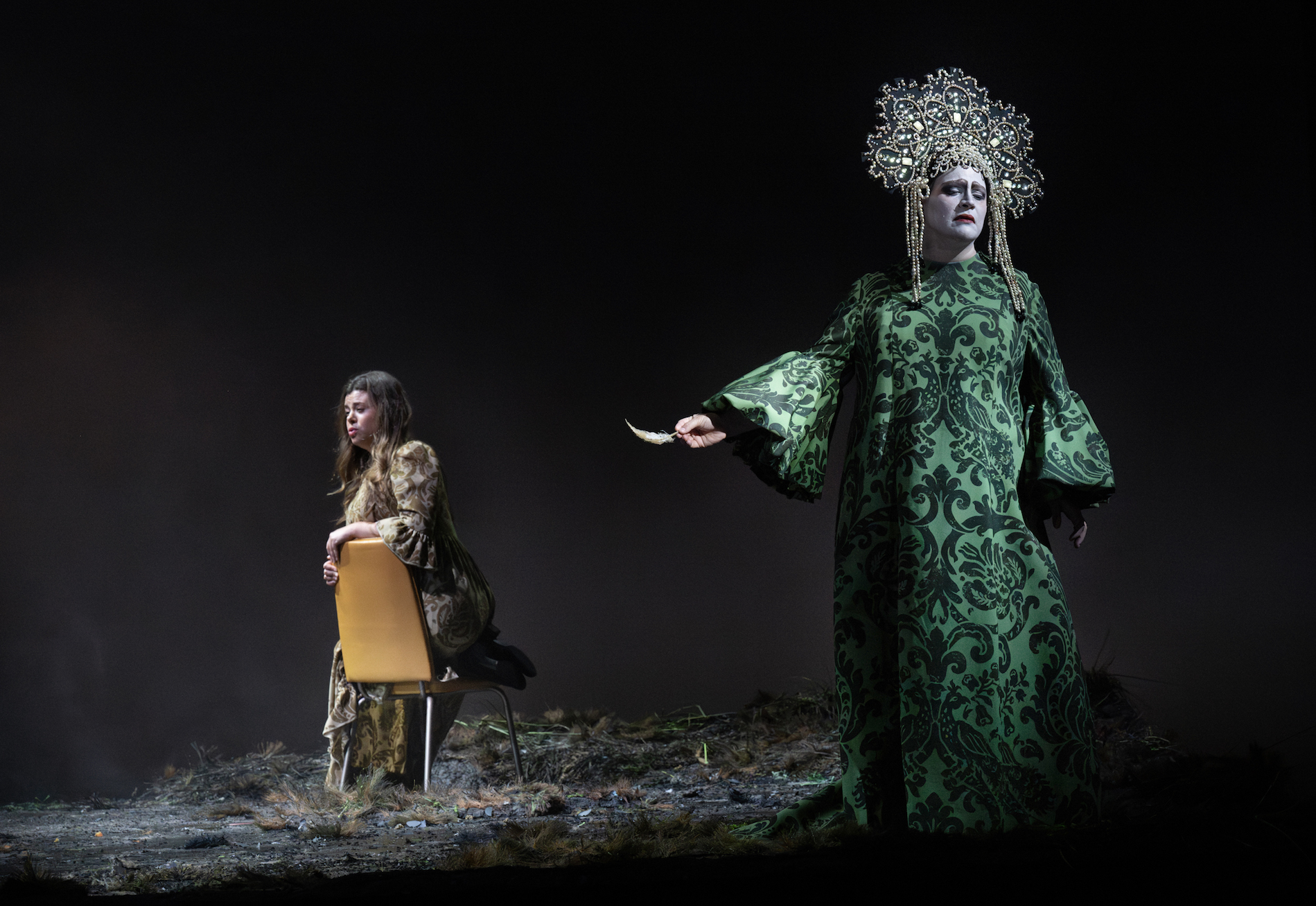 Jove's thunderbolts prompt a virtuoso intervention from the chorus before the golden mezzo of Stephanie Wake-Edwards, as Semele's sister Ino (pictured above with Jennifer Johnston's Juno), laments her own unrequited longing for Athamas (but why?) in a beautifully voiced and phrased "Turn, hopeless lover". Her warmth and refinement impressed from first to last. In the gods' abode, meanwhile, Jennifer Johnston's lavishly-head-dressed Juno broods and plots, a looming threat at every turn. The slate-skied gloom of Thomas's Thebes tells us why the embrace of sugar-daddy Jove might so thrill Semele. After he abducts her, though, the Jeff Koons kitsch of the bed-bower in which he entertains his conquest soon puts us right. He's more slob than stud. Still, Harvey's orgasmic aria "Endless pleasure" finds the right blended tone of drollery and sultriness, even if the suggestive gyrations of the chorus below push us towards Carry on up Olympus territory.
As Iris, who brings the bad news about her husband's escapades to Juno, the distinctive timbre of Samuel Mariño's male soprano had plenty of celestial charm and high-wire agility (pictured above with Jennifer Johnston). While Juno's revenge brews, the rich string-driven textures of the Orchestra of the Age of Enlightenment – conducted by Václav Luks – showed off the sheer dramatic range and invention of Handel's orchestral writing, with telling contributions all the way from William Carter's theorbo.
As for Jove and Semele's brief idyll, it took us into a sun-dappled meadow where the hulking top god in his boxy yellow suit (Stuart Jackson) strives to keep up with his beloved's bedroom stamina. Thomas's cowed, backbiting Thebes had convinced; this more stylised bower of bliss, less so, despite the extravagant smooching. Still, Harvey's "O sleep, why dost thou leave me?" ravishes the senses, as does her fiery outpouring of want in "With fond desiring". Here, as everywhere, admirably clear enunciation makes us realise what a jewel Handel had to hand in the pre-existing libretto for Semele by William Congreve, its verbal wit and metrical deftness several cuts above the operatic norm.
Yet that shameless scavenger Handel plundered Pope for the words to Jove's show-stopper, "Where'er you walk". Big-voiced but slow-paced, Jackson (pictured below with Joélle Harvey) here has to shift from anxious, scheming roué – Semele has hinted that she seeks immortality – to impassioned swain. He does so with a somewhat languid, tenderly decorated, loveliness, as Handel magically turns in a heartbeat from sleaze to sublimity.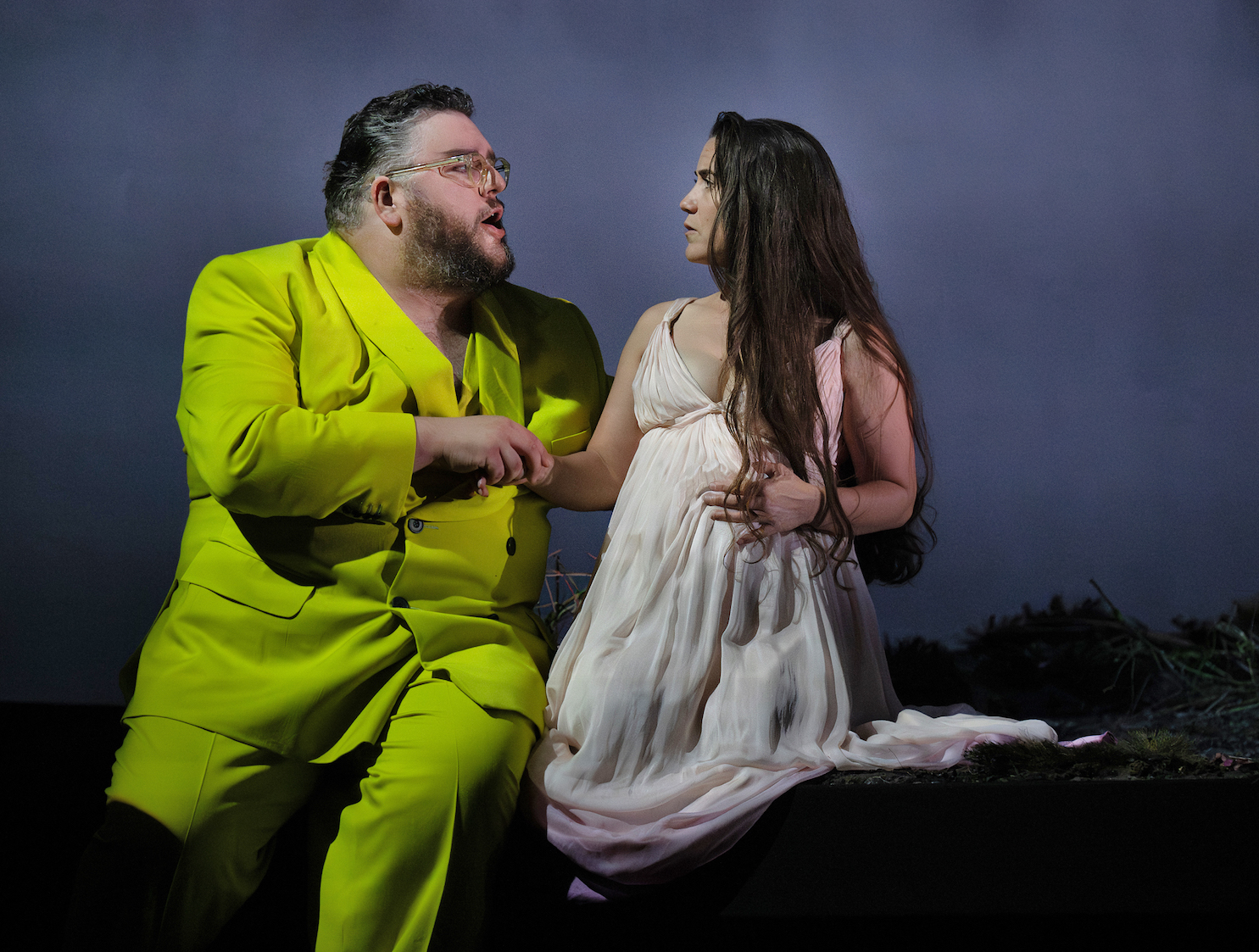 Down among the mortals, choral offerings hint at a sinister undertow of backwoods fertility ritual that the last act will develop. Jove's Arcadia makes for a cursory middle act (between two intervals), but we return to the complete contrast of a snow-blasted wilderness. Here, Juno and Iris trick Somnus (the grumpily engaging Clive Bayley, who also played Cadmus) into letting them dodge the dragons that guard Jove's palace. We have to take Thomas's shifts from naturalism to abstraction on trust; mostly, they work, and foul weather unites both domains.
In any case, the now-pregnant Semele's disillusion with her chosen entrapment in the role of divine courtesan soon steals the show: Harvey's "My racking thoughts" has a tetchy, scurrying momentum. With "Myself I shall adore", as Semele preens into a mirror, Thomas's conception gives the aria an edge of needy, desperate insecurity rather than the simple comic narcissism of many versions. The reading gains in psychological plausibility, but loses a little zest and slightly dampens down the music's fizzing verve. You might say the same for this production as a whole.
There was, though, no doubt about the wheedling splendour of Semele's complaint, "I ever am granting", as she rashly entreats Jove to come to her in divine rather than human form. Jackson makes us believe in Jove's regret as he grants the fatal wish, although he knows that "she must a victim fall". Here, Semele's destruction becomes not so much the lethal encounter with divine sexuality in Ovid's landmark telling of the myth, rather a superstitious ritual immolation. Semele is consumed by flames in a cage, Wicker Man-style, as the provincial conformism of the first act now picks up a folk-horror tinge (pictured below).
Icily statuesque, Johnston's Juno scarily exults in her vengeance. Athamas's return to crow over Ido's new-found love for him ("Despair no more shall wound me") has a nasty, cackling triumphalism, vigorously channelled by Nussbaum Cohen. The loser has got lucky. Meanwhile, the tipsy, swaying chorus celebrate the birth of Bacchus: Semele and Jove's child, rescued from the flames by divine decree. The festive finale has a dangerously manic edge, closer to the climax of some 1960s Hammer Horror special than an Olympian orgy. We end, as we began, in gloom. Endless pleasure? No chance.