Arminio, Royal Opera review - Handel does Homeland, and it works |

reviews, news & interviews
Arminio, Royal Opera review - Handel does Homeland, and it works
Arminio, Royal Opera review - Handel does Homeland, and it works
Taut staging and strong singing give this revival of a rarity its keen topical edge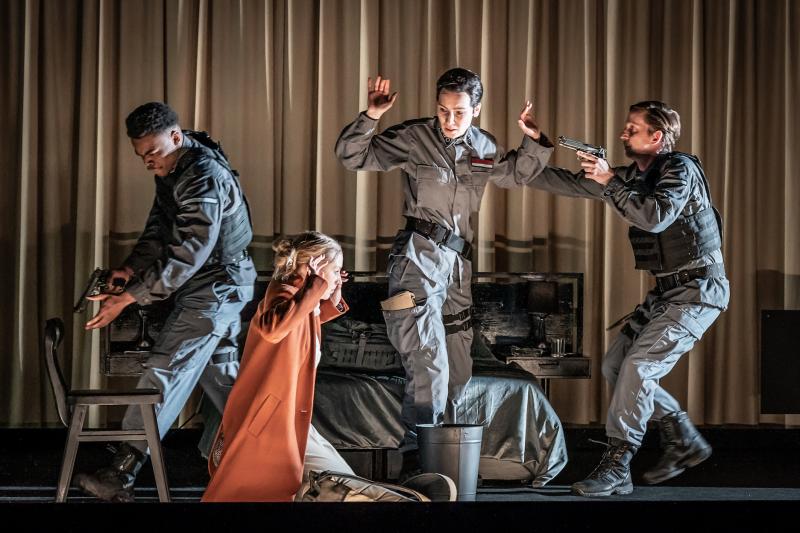 Guns and poses: Gabriele Kupsyte as Arminio (r), with Sarah Dufresne as Tusnelda (l)
Invasion by a colonising power has convulsed a country, dividing families – even individuals – between the rival claims of resistance and collaboration. A captured freedom-fighter from the indigenous elite faces execution; an imperial general hopes to wed his widow and bring a kind of peace to the conquered land.
Meanwhile, another local leader has thrown in his lot with the invaders – to the dismay of his rebel children. You can see why the action of Arminio, which Handel saw premiered at Covent Garden in 1737, might appeal to a director with an eye on recent history – or on today's headlines.
Almost three centuries on, still on the Covent Garden site, the Royal Opera's House's Jette Parker Artists have revived Arminio at the Linbury Theatre. The piece did not fare well on its opening, and has seldom surfaced since. Yet, in a modern-dress production, director Mathilda du Tillieul McNicol and an impressive young cast lend it pace, focus and dramatic flair along with that timely political edge. Here, Handel and librettist Antonio Salvi's tale of the Germanic tribes' legendary defeat of the Roman legions in 9AD becomes the sort of neo-imperial, 21st-century conflict we see played out not only on news bulletins but in long-form TV political thrillers. Noemi Daboczi's set cuts with a tight televisual grammar between opposing sides of the stage that represent the offices and headquarters of the Romans and Germanians. So, to a degree, Handel does Homeland – and the conceit works surprisingly well.
Rebel leader Arminio (Gabrielė Kupšytė), who has masqueraded as a Roman stooge, is exposed and captured while the colonial warlord Varo (Michael Gibson) falls for Arminio's wife, Tusnelda (Sarah Dufresne). Segeste, Tusnelda's father (Josef Jeongmeen Ahn), is an arch-collaborator whose loyal service to the Romans outrages his conflicted son Sigismondo (Isabelle Peters) and Sigismondo's beloved, the anti-colonial militant Ramise (Kamilla Dunstan) [pictured above with Sarah Dufresne]. Mathilda du Tilleul McNicol makes the unfolding intrigue swift and lucid as "love and blood", duty and integrity, freedom and prudence, split families and hearts alike. Guns change hands to symbolise the shifting balance of power until the denouement, rapid even by Handel's opera seria standards, suddenly unties every tangled knot. Conductor André Callegaro, with the 15-strong specialist orchestra of the Early Opera Company, crisply and idiomatically deliver a score that may, by the composer's own stupendous standards, lack many Handelian show-stoppers, but still abounds in passages of beauty, invention and enveloping musical drama.
The action bounces across the wide Linbury stage between "Roman" and "Germanian" rooms, with a no-man's-land corridor for clashes and confabs in between. Curtains that open or close around each set lend proceedings a slight hospital-ward vibe, but that's not a serious distraction. The techno-military decor and costumes (also designed by Noemi Daboczi) suggest not just the style of our contemporary wars of choice but (deliberately) the way that an HBO or Netflix multi-season blockbuster might depict them. The blue-uniformed Romans have a certain brusque nobility as well as ruthless, imperial authority – a mixed sensibility captured in Michael Gibson's forceful, graceful but never strident tenor as Varo, and the gruff muscularity of his sidekick Tullio (Kamohelo Tsotetsi).
Against the iron Roman will, Arminio inflects stalwart resistance with periods of fear and doubt: Gabrielė Kupšytė's mezzo (in what began as a star castrato's role) has an underlying toughness as well as a fine strain of lyric tenderness. That came to the fore as, imprisoned, Arminio contemplates death and Tusnelda's marriage to Varo in the gorgeous Vado a morir. Arminio may not offer many stand-out concert pieces but the loveliness of its reflective scenes still takes the breath away: as when Tusnelda yearns for Arminio's return in the gorgeous Rendimi il dolce sposo, or broods on suicide in Ho veleno. Sarah Dufresne's soprano showed richness of tone, some angelic high notes and admirable control. The highlight arias, meanwhile, were blessed by some ravishing instrumental accompaniments: from Katharina Spreckelsen's and Sarah Humphrys's oboes, for instance; Andrew Skidmore's and Carina Drury's cellos, and Eligio Luis Quintero's plangent theorbo.
Yet the most fascinating scenes in Arminio belong to its torn or wavering characters. As the blustering sell-out Segeste, Josef Jeongmeen Ahn [pictured above], with his robust but nuanced baritone, veers effectively between spluttering fury and self-analytic guilt as Handel matches his jittery, anguished spirit with music that captures a splintering soul. The most compelling couple, though, proved to be Isabelle Peters's nerdy but volatile Sigismondo, and Kamilla Dunstan's fiery Ramise: a relationship full of grapples, tussles, hugs and thumps, as riven with conflict, physical and emotional, as the Germanian toffs themselves in the face of Roman might. Both voices had edge, passion and fervour aplenty, with an expressive depth and dramatic pulse that brought the parts alive.
However, as Sigismondo trashed his dad's office or clawed neurotically at his beloved, you began to worry – as elsewhere – that the director was packing a little too much intrusive stage business into every scene for fear of the stately stasis that can afflict Handel in this vein. On occasions, mimed actions needlessly complicated – or diluted – fine singing. Yes, such a plot requires (and duly received) dramatic clarification. Sometimes, though, the music really can speak for itself, and should have been left unadorned.
An explosion of shock-and-awe (thanks to Florence Hand's sound design and DM Wood's lighting) ushered in the hasty, happy farewell – with Sigismondo and Ramise visibly unable to share in the neat resolution. Overall, the Jette Parker crew proved that Arminio remains both practical and powerful on stage. The "Roman" bosses of our age rule not just by coercion but by agonised consent: Handel's music, and drama, makes us share the divisions that they sow.