Salome, Bournemouth SO, Karabits, Symphony Hall, Birmingham |

reviews, news & interviews
Salome, Bournemouth SO, Karabits, Symphony Hall, Birmingham
Salome, Bournemouth SO, Karabits, Symphony Hall, Birmingham
Lise Lindstrom steals the show as a sensual Strauss anti-heroine in concert
Saturday, 03 October 2015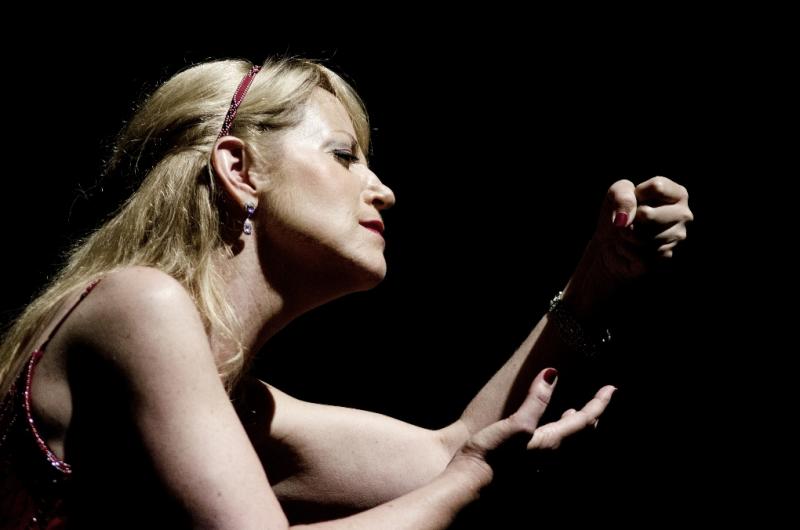 Ill met by moonlight: Lise Lindstom's Salome with her last encounter
"How fair is the Princess Salome tonight"! That slithering clarinet run, that glint of moonlight: few operas create their world so instantly and so intoxicatingly. At Symphony Hall, the lights rose on the very back row of the stage, the percussion riser serving as the terrace from which Andrew Staples's Narraboth and Anna Burford's Page exchanged their ecstasies and warnings.
Beneath them, Kirill Karabits directed a surging, shimmering Bournemouth Symphony Orchestra with urgent, economical gestures. By the time Lise Lindstrom glided on downstage as Salome, the scope and quality of this concert performance of Richard Strauss's breakthrough opera had already been impressively defined.
Lindstrom seemed to pull the drama in around her in every scene in which she appeared. She stalked the platform, her movements calculated and taut, her eyes wary: Salome as wounded predator. Her tone wasn't especially lush. What her voice had in abundance was focus and a sort of concentrated sensuality, just as potent and expressive whether hurling soaring arcs of sound at the back of the hall, or whispering a lethal threat. In the space of the one phrase "Gib mir den Kopf des Jokanaan" ("Give me the head of John the Baptist", it modulated from luminous sweetness to a curdled snarl; and then again, and again - changing from sinister to savage as the Princess repeated her demand.
Around a figure as compelling as Lindstrom, the limitations of the concert format hardly seemed to matter. Joe Austin directed, making effective use of basic coloured lighting and a few telling details of characterisation – James Rutherford's hellfire-preacher hand gestures and blustering delivery as Jokanaan, Kim Begley's self-satisfied manspreading as Herod – to lift this performance away from stand-and-deliver. Begley was very nearly as watchable as Lindstrom (the two pictured below). His wiry tenor fits Strauss's brutal writing as comfortably as anyone's ever could. He strutted complacently about the stage, eyes glinting with lust: a gloriously sleazy Tetrarch and – for once – a plausible match for Herodias. Birgit Remmert sang with such lustre in that role that at times she almost made her character seem likeable – then banished any thoughts of sympathy with the hissing malice of her low notes, as Salome pressed home her appalling final demand.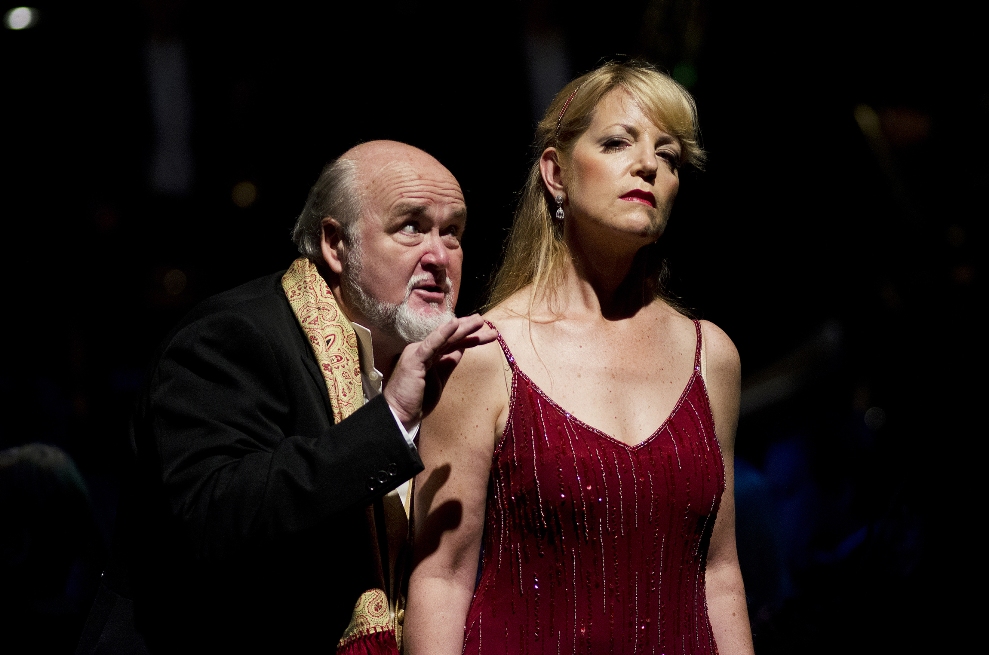 The BSO played as if they were loving every single note – as well they might. Initially, there were balance problems (Staples and Burford were almost inaudible at times), and a tendency for the richer textures to become congested – both familiar issues when guest orchestras overcompensate for the Symphony Hall acoustic.
Karabits quickly got that under control, and then let his team play out: a firm, satin-finished string section (the decision to split the violins revealed some usually unheard details), exuberantly characterful woodwinds and a tuba player who deserved a solo bow in his own right.
This wasn't a particularly refined Salome, but it was a dazzlingly colourful one. Karabits seemed to take an almost tactile pleasure in a trumpet's peacock-squawk or the blinged-up glitter of celeste and harp. And the way he handled the sweep of Strauss's final sequence, pushing headlong into Salome's dance, and letting the ensemble run off the leash as Strauss's harmonies strain ever closer to collapse – well, for drama, no concert performance can ever be an adequate substitute for a full staging. But this came damned close.
MORE RICHARD STRAUSS ON THEARTSDESK

Der Rosenkavalier, Royal Opera (2009). Uneven revival of John Schlesinger's 25-year-old production
Capriccio, Grange Park Opera (2010). Lively staging, stylish singing and a welcome intrusion of wartime reality
Salome, Royal Opera (2010). Angela Denoke's mercurial Salome (pictured below by Clive Barda) shimmers in Strauss's monstrously beautiful opera
Ariadne auf Naxos, Welsh National Opera (2010). Hoffmansthal's libretto is all about fidelity. This updating is faithful, up to a point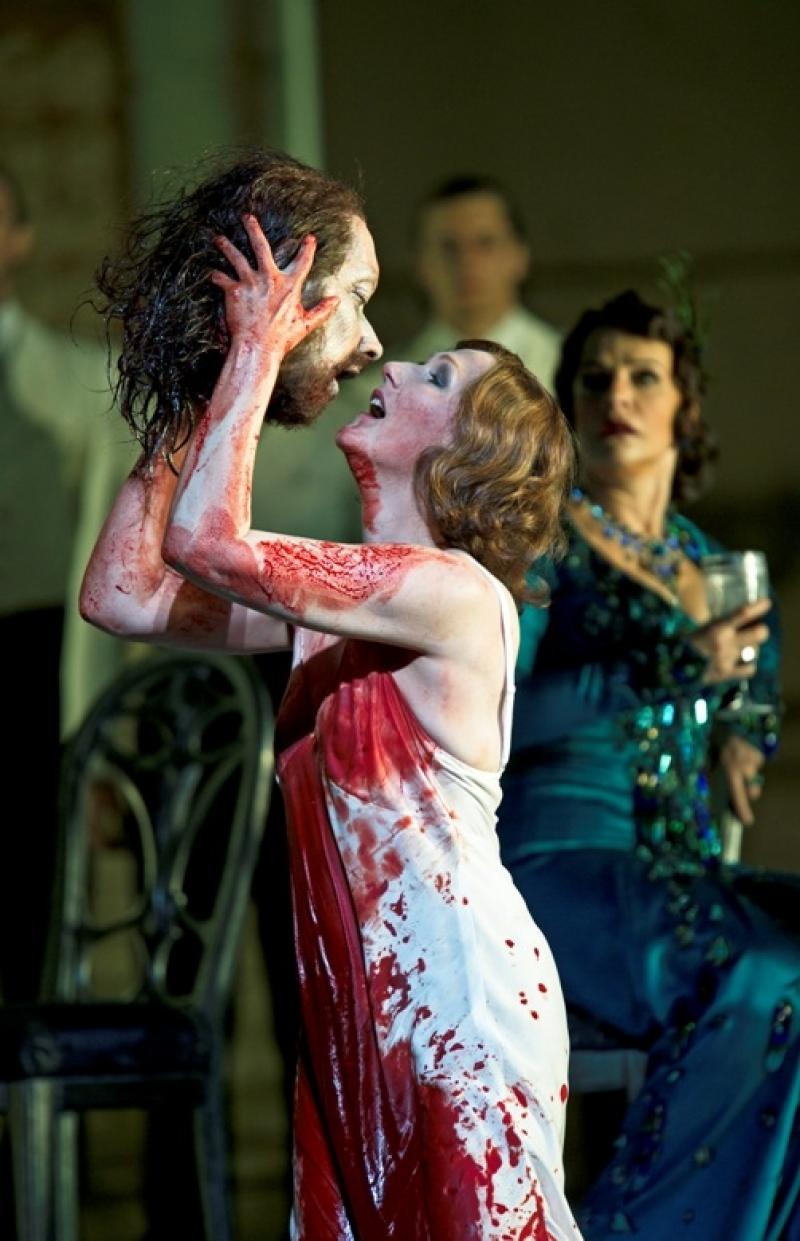 Intermezzo, Scottish Opera (2011). Soprano Anita Bader graces a Klimtian take on Richard Strauss's domestic comedy
Die Frau ohne Schatten, Mariinsky Opera (2011). Strauss's massive fairy tale makes a rare outing in Gergiev's musically strong venture at the Edinburgh Festival
Der Rosenkavalier, English National Opera (2012). David McVicar and Edward Gardner deliver a riveting account of Strauss's popular opera with Amanda Roocroft as the Marschallin
Intermezzo, Buxton Festival (2012). Fine style in Strauss's comedy-with-feeling
Ariadne auf Naxos, Glyndebourne Festival Opera (2013). Strauss's opera reluctantly enters the Battle of Britain courtesy of a young German director
Capriccio, Royal Opera (2013). Renée Fleming leads superlative cast in concert performance of Strauss's operatic debate

Elektra, Royal Opera (2013). Revival with Christine Goerke in the title role hits the horrid heart of the matter in Strauss's poleaxing masterpiece
Die Frau ohne Schatten, Royal Opera (2014). Compelling dream-interpretation of Strauss's myth graced by fine singing and Semyon Bychkov's conducting
Der Rosenkavalier, Glyndebourne (2014). Richard Jones finds new order in rococo comedy for music, with Kate Royal as the Marschallin

Salome, BBC Proms (2014). Nina Stemme stuns with Donald Runnicles and the Deutsche Oper Berlin in a giddying account of Strauss's incredible score at the Proms
Ariadne auf Naxos, Royal Opera (2014). Two nymphs are the real revelation in this revival of evergreen hybrid
Der Rosenkavalier, Royal Opera (2016). Robert Carsen's handsome production with Renée Fleming is elevated by superb orchestral playing