Parsifal, Opera North review - full focus and a dream line-up |

reviews, news & interviews
Parsifal, Opera North review - full focus and a dream line-up
Parsifal, Opera North review - full focus and a dream line-up
Bold touches and thrilling high points in Wagner's 'stage consecration festival play'
A temple with congregation: Robert Hayward as Amfortas, with the Chorus of Opera North and orchestra
Wagner, in his medievalist, pan-European, 19th century way, wanted Parsifal to be a blend of abstract and religious experience for his audiences at Bayreuth, calling it a "festival play for a stage consecration". Questions for those performing it today include how to do justice to its philosophical baggage as well as its marvellous music, and whether to introduce new elements in the visual staging that the composer never thought of.
Directing Opera North's first-ever performance of the work, Sam Brown's approach has avoided getting it mired too deep in the philosophy and restricted himself to a handful of bold touches in the presentation. Most importantly, Richard Farnes, former music director of the company and architect of its Ring cycle and other "concert" stagings in the past, brings the music – the most enduring element of the original creation – into full and glorious focus. That may not have been flawless, but my goodness it was thrilling at its high points, with orchestra and conductor in full view and soloists and others, including the chorus, deployed both at the front of an extended stage and around the auditorium.
The principal singers were about as near to a dream line-up for the work as could be imagined. Brindley Sherratt was noble in tone and untiring in the massive role of Gurnemanz; Robert Hayward, with his power and wide tremolo, ideal for the almost equally taxing task of acting and singing the pain-ridden, sin-burdened king Amfortas; Toby Spence, greatly in demand today as a Heldentenor with huge intelligence, ideal as he makes his role debut as the pure hero Parsifal. Most notable of all, perhaps, were Katarina Karnéus (pictured below, with Toby Spence) in the one female principal role of Kundry – which, for all that it might be considered misogynistic today, has more depth and character interest in it than those of any of the men – and Derek Welton, who brought huge energy and impact to that of the sorcerer Klingsor.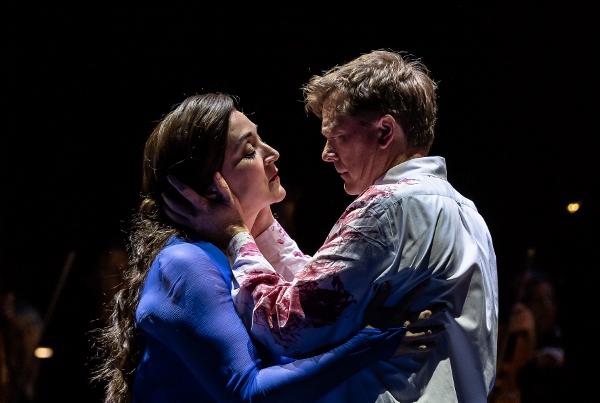 Those who see Opera North's Parsifal in Leeds Grand Theatre undoubtedly have an extra dimension to their experience, compared with the concert hall staging versions that are to follow elsewhere. Brown uses Leeds Grand as never before. Its great stage-side pillars and rounded proscenium arch are like a temple in themselves (its architecture is strikingly similar to images of the Act One set for the first production at Bayreuth in 1882), and what was the orchestra pit has been built into a series of rising platforms forming a thrust section of the set, taking the drama into the body of the house and creating a sense that performers and audience together are a great congregation engaging in sacred mysteries, which would surely have pleased Wagner very much.
(The official reason for playing in the Grand rather than Leeds Town Hall is that the latter is in mid-refurbishment, but in this case the forced re-think has been an amazing boon. It remains to be seen how the production will adapt for its later outings in actual concert halls, in Manchester, Nottingham, Gateshead and on the South Bank.)
Brown's handling of the drama is clear but doesn't try to answer all its questions – all to the good. What he does bring to it is an attempt to add visual symbolism to the Holy Grail ritual on which Wagner spends considerable time towards the close of Act One – "blood" being smeared on all present in a rather gory parallel to Christian Communion, but signifying, presumably, the common fate of warring men as well as universal guilt – and a closing scene in which, far from a dove appearing on the end of a string, as Wagner requested, we see Kundry as a Madonna with child to represent ultimate redemption. Both visually effective, if notionally ambiguous.
Richard Farnes (with the Orchestra of Opera North led by David Greed, who retires as leader after 44 years following these performances) succeeds to a remarkable degree in bringing the luminous sound world of Wagner's opening scenes to fruition. This sacred world is particularly testing for brass players at the start of a long performance, but by the time the climax came, trumpets and trombones were in magnificent voice. The central act, an energetic evocation of chromatic musical sorcery, was highly vivid and precise, with lovely sweet string playing in its tender episodes, and the Chorus of Opera North, in considerable strength of numbers, were brilliant, whether being seductive Flower Maidens or, later, in their angelic manifestations in the body of the temple. The Good Friday music in the final act manifested glorious purity and clarity from all.
Those who see this in Leeds Grand Theatre undoubtedly have an extra dimension to their experience
rating
Explore topics
Share this article