A Midsummer Night's Dream, Barbican Theatre |

reviews, news & interviews
A Midsummer Night's Dream, Barbican Theatre
A Midsummer Night's Dream, Barbican Theatre
A World War II setting fails to serve either Shakespeare or Britten's magic vision
Wednesday, 29 February 2012
The rude mechanicals present their tale of the 'tragical mirth' of Pyramus and Thisby
Love it or hate it Christopher Alden's A Midsummer Night's Dream at English National Opera last year made quite the impact, banishing any fey woodland glades and general waftiness from Benjamin Britten's opera and embracing a rather more astringent visual aesthetic. It's unfortunate then that Martin Lloyd-Evans's production for the Guildhall School of Music and Drama should follow so closely behind, begging comparisons that don't best serve his World War II interpretation.
A lack of directorial coherence mars what visually and vocally is a fine evening, and while Shakespeare may restore order to his young lovers, Lloyd-Evans ultimately leaves his audience wandering (and wondering) in his enchanted forest.
Britten's eerie glissandi break the silence in a moonlit hospital ward or dormitory, rows of beds concealing children. As dirty and dishevelled as the room itself, these feral fairies in nightgowns and slippers orchestrate the action with the help of Puck (Alexander Knox). In what seems (nothing is clear here, and not in a good way) to be a collective playing-out of escapist fantasy, the children dream their way out of their squalor while Puck himself, initially elderly and wheelchair-bound, casts aside his disability and regains his youth.
There's no shortage of ideas here, but no amount of visual magic can distract from direction that lacks focus
The quartet of lovers come clad in assorted service uniforms, while Oberon (Tom Verney) and Tytania (Eleanor Laugharne, pictured below) appear respectively as kinky surgeon (Oberon sports a rather fetching pair or leather trousers together with matching leather apron and gloves) and kinky matron (or possibly kinky nun – it's hard to tell). The mechanicals fit into Lloyd-Evans scheme most naturally, with Quince (James Platt) heading up his plausibly motley collections of Home Guard volunteers.
There's no shortage of ideas here, and while Dick Bird's beautiful designs gamely pursue each one, conjuring flying beds and a rustic milk-float stage for Bottom et al, and bringing not only fairy-lights and bunting but an entire forest down from the sky, no amount of visual magic can distract from direction that lacks focus or any plan for his wartime setting other than some attractive visuals.
It's a lack that shows up the weaker actors of the cast. While there's a place for motiveless malignancy in Shakespeare it certainly isn't here, and despite stalking the stage like an extra from Saw, Verney's villainous Oberon is strikingly lacking in character. Denied any relationship (amorous or otherwise) with matron Tytania, and with the "little Indian boy" all but absent, his campaign of mischief has little purpose and still less clarity. Vocally it's a big ask for a young countertenor (particularly in a large space like the Barbican's theatre) and while Verney's diction and voice are both solid, we miss the magic only real legato can bring to "I know a bank" and the otherworldly menace Britten's celesta insists so emphatically upon.
Laugharne's Tytania is assured and queenly – the stand-out vocal performance of the evening – controlling a rather heavier voice than Britten's writing suggests with absolute musicality. Among a universally strong quartet of lovers Sky Ingram's passionate Helena (pictured below with Ashley Riches and Stuart Laing) and Riches's Demetrius draw eye and ear, and there's strong work also from Barnaby Rea as Bottom (alternating each performance with Ciprian Droma's Theseus). While Rea delights in his comedy without ever sacrificing tone colour and phrasing, perhaps his fellow mechanicals might have taken more risks however; smaller roles like Flute (Jorge Navarro-Colorado) Snout (Luis Gomes) and Starveling (Hadleigh Adams) needed more character-singing and less vocal loveliness to bring energy to their knockabout scenes.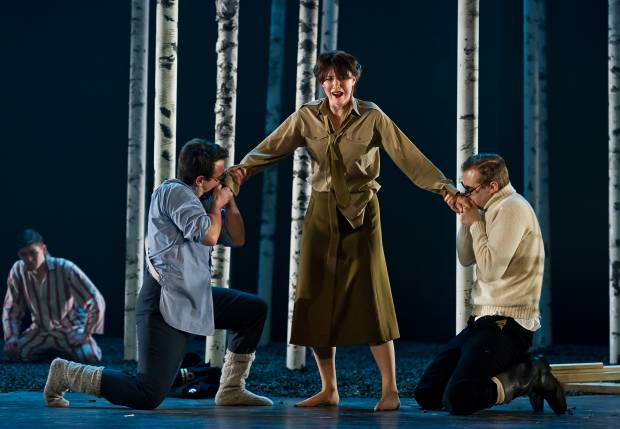 On the whole the pace did drag, and not even the excellent ensemble singing of the fairy chorus could redeem the directionless and dissonant work from the orchestra under Stephen Barlow. Britten's evocative opening was lost in tentative scratchings, capturing the eeriness but none of the lush delights of this deviant forest of the night. At times too loud (a little more sympathy to Verney's lower register might not have gone amiss) and at others crucially absent (the Act III lovers' quartet needed much more support to make harmonic sense) the orchestra consistently hampered the singers – a real shame given their quality.
When Martin Lloyd-Evans's production lost its fairies it also lost something of Shakespeare's magic. Alden has flung the door wide for intelligent, resonant reworkings, but if a change of setting does nothing more than exchange crinolines for gas-masks then it hardly seems worth the trouble. There's a comedy of mistaken identities here, but it's not quite the one Britten had in mind.
Laugharne's Tytania is assured and queenly – the stand-out vocal performance of the evening
Share this article