The Marriage of Figaro, Welsh National Opera |

reviews, news & interviews
The Marriage of Figaro, Welsh National Opera
The Marriage of Figaro, Welsh National Opera
Mozart matched by a production with wit and style and no deviant concept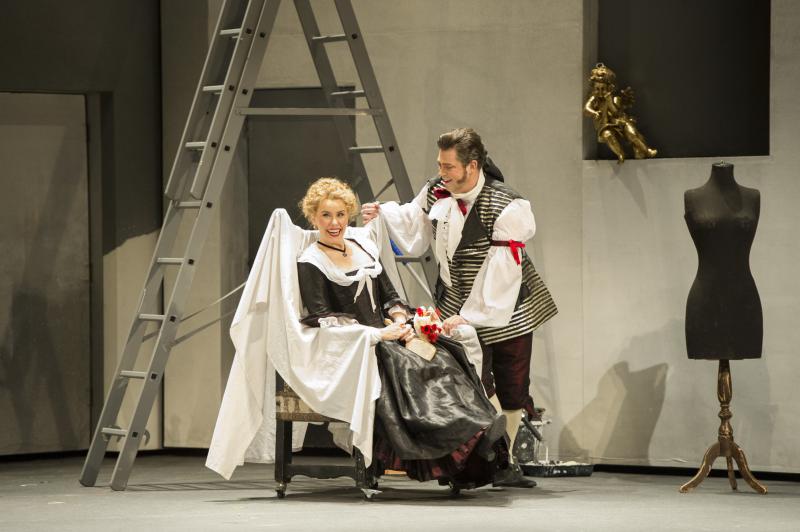 Anna Devin (Susanna) and David Stout (Figaro), measuring up
From the more or less inconsequential wit and bravura of The Barber of Seville to the profound comic psychology, social nuances and unparalleled musical genius of The Marriage of Figaro, and from the silly antics of Sam Brown's Rossini to the style and brilliant stage management of Tobias Richter's Mozart, is a good lesson in music theatrical history played backwards.
At the same time it's a reminder of the versatility of this great Welsh company, the adaptability of its orchestra and chorus, and the musical loss it's about to suffer with the impending departure of its chief conductor, Lothar Koenigs.
Koenigs has never been the most comfortable of musical directors. There have been tantrums and confrontations; his personal touch is school of Toscanini rather than Haitink. But for the past five or six years he has nevertheless been inspiring WNO to some of its best ever (and admittedly one of its worst ever) performances; and this Figaro, if not quite in the clouds, is certainly well above the treetops.
A stylish polyphony of comic activity, with moments of penetrating stillnessApart from the virtuosity of the orchestral playing, its most striking feature is its velocity. Here and there – in the overture and Cherubino's "Non so più" – the speed might seem excessive, though it never seems to trouble the singers very much, or the orchestra at all. More important is the lightness of touch, which certainly does communicate to the cast. Richter's production, after some vacuous business about a play-reading during the overture, settles into a stylish polyphony of comic activity, interspersed with those moments of penetrating stillness that separate Mozart from all other buffo composers, using the whole of this big stage as well as, for brief but telling moments, the actual auditorium.
It's a staging that places its trust in the composer and librettist, touts no personal vision or philosophy, but concentrates on the sheer traffic that motivates the piece. Here Ralph Koltai's designs, somewhat anonymous for The Barber, come into their own: precise, specific and practical, occasionally also beautiful, but above all geared to the elaborate choreography of scenes like the Act 2 finale, with its doors and windows and cross-dressing, and on the other hand the actual wedding, which needs, and gets, nothing but space. Sue Blane's costumes likewise make no protest against the work's idiom but simply abet its central idea of dress as both a form of social and sexual imprisonment and a means of escape.
Like the Rossini, this Figaro is very strongly cast. Elizabeth Watts (pictured right), who has sung Susanna here before, seems to have found new and darker colourings in her voice, and she delivers "Dove sono" especially with heart-breaking intensity, while the Susanna here, the young Irish soprano Anna Devin, is suitably lighter and brisker, touching in "Deh vieni" (but then one needn't be moved by its fake sentiment), and an alert, watchable actress. Naomi O'Connell is a boyish, soprano Cherubino, excellent in her way, though for me the voice needs stronger support in this role: pubescent, not choirboy.
Of the genuine males, David Stout is an outstanding, resonant bass Figaro, terrific in "Non più andrai" – one of the best I can remember – and a robust, not too violent, foil to Mark Stone's sometimes frighteningly aggressive but musically controlled Almaviva. Richard Wiegold skilfully converts his Rossini Basilio into the Mozart Bartolo, Alan Oke is a sparklingly malign Basilio (with alas no aria – saving himself, perhaps, for a big part in Figaro Gets a Divorce), and Susan Bickley, with aria, is an ideal Marcellina, turning from old bitch into loving mother without a flicker. Rhian Lois also catches the eye and ear as Barbarina.
Like The Barber, the work is sung in English (Jeremy Sams's clever, catchy translation), but with surtitles for some reason only in the set pieces. Since the main argument for opera in English is surely audience comprehension, one wonders why translate if titles are still necessary – as they certainly are, and not only in the arias. David Pountney, a longstanding fan of translation, argues on the other hand that English gives better communication between the singers. I wonder how much difference this really makes with modern professionals who know these texts so well. What it certainly does is alter the music, and not for the better.
This 'Figaro', if not quite in the clouds, is certainly well above the treetops
rating
Share this article