Lucia di Lammermoor, ENO |

reviews, news & interviews
Lucia di Lammermoor, ENO
Lucia di Lammermoor, ENO
Sets, costumes and an Italianate tenor save a museum-piece opera
Thursday, 04 February 2010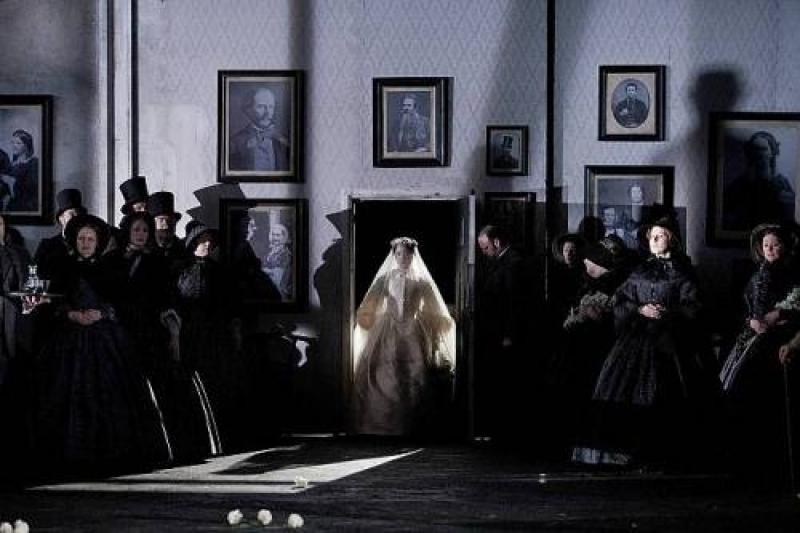 Crinolines and crumbling walls: a Victorian Lucia from ENO
Is Donizetti's fustian operatic mash-up of Sir Walter Scott worth staging seriously? On CD, stupenda Sutherland and divina Callas continue to give us goosebumps with their darting, florid stabs at poor mad Lucia. If the difficult-to-achieve match of bel canto and dramatic intensity rests only with the lead tenor, as it did last night, what's left? Well, this revival of David Alden's 2008 production still looks stunning, well in line with ENO's high visual style so far this season. The expressionist mania bursting out of those sets and costumes, though, can't often be supported by a score two-thirds of which I never remember having heard before.
For a start, there's a lot of unintentionally comic climbing and falling in and out of the windows of the Scots country house left to rack and ruin by the crazy Ashton family. Mother is dead, leaving behind psychopathic son Enrico - Brian Mulligan, rather too gentlemanly a baritone to suggest black rage - to torture infantilised teenage sister Lucia into an unholy alliance.
Though Charles Edwards's sets, variously lit by Adam Silverman, immediately create a world, the ENO male chorus got off to a ropey start, not much helped by the anodyne numbers for the first scene where it was impossible to tell if conductor Anthony Walker was doing more than a functional job or not (I'm still undecided; it's that kind of a score).
Enter the heroine, singing of fountains and ghosts in front of a ruined theatre, and the energy levels didn't exactly rise with Anna Christy's singing. The traumatised, doll-like characterisation came with matching voice. Christy's is a light coloratura, certainly capable of projecting but not possessed of much tonal colour, and the bright vibrato sometimes gets in the way of spinning a proper line. What we needed was the pint-sized cut and thrust of Barry Banks, a straggly-haired wild man bouncing about in kilt and sporran (pictured right by Rob Workman/ENO) - no good for this fragile Lucia, and on the wrong side of the tracks to boot.
Banks's sound has always been convincingly Italianate - he made a starry, deeply touching duo with the exquisite Mary Plazas in ENO's last Elixir of Love - and now the voice has grown in size and ring to set alongside the best. For once, the long final scene where the desperate Edgardo learns of his sundered love's untimely death really was the musical highlight of the evening.
Yet of course there's an awful lot of singing before it. Could the duets with Enrico and Clive Bayley's wildly overacted and oversung religious nutcase Raimondo be pruned? I thought so. Is the climax of the opera in which Lucia, having murdered the husband she was forced to marry, gives the most plaintive account of madness in early 19th century opera worth the rescue-job it got here? Probably, though I was untouched by Christy's less than melting delivery.
If Alison Martin's harp solo had brought the only touch of poetry to Lucia's earlier aria, here the restoration of the fascinating glass harmonica proved much more than a musicological curiosity. Donizetti originally intended it to be the music from beyond heard by the deranged girl - the famous phantom flute was a belated rehearsal compromise - and it eerily complemented the emptying stage around which the bloodstained bride wanders so pathetically in this production.
Indeed, the look of it is what will stay with me. Brigitte Reiffenstuel's grey-black crinolines and suits, reflected in the photographs on the walls and always intelligently grouped in Edwards's sets, give a menacing air to the nuptials, relieved only by the cream-coloured swank of the wealthy bridegroom and his men. Later the revellers go briefly wild, dancing a polka in the only hyperactive part of the late, lamented Claire Glaskin's creepy, disciplined movement.
As for the music, though, I'd rather have swapped the grim decay of the Scottish country house for the Cornish camp, the better English text and the more distinctive tunes of G&S's Ruddigore. Banks, in fact, would be the ideal interpreter of the vintage Sullivan ditty "The battle's roar is over". But he's off for more Donizetti to Covent Garden and the Met, and may they appreciate quality when they hear it.
Subscribe to theartsdesk.com
Thank you for continuing to read our work on theartsdesk.com. For unlimited access to every article in its entirety, including our archive of more than 10,000 pieces, we're asking for £3.95 per month or £30 per year. We feel it's a very good deal, and hope you do too.
To take an annual subscription now simply click here.
And if you're looking for that extra gift for a friend or family member, why not treat them to a theartsdesk.com gift subscription?