Listed: Essential Operas 2015-16 |

reviews, news & interviews
Listed: Essential Operas 2015-16
Listed: Essential Operas 2015-16
Our classical/opera writers choose 12 highlights of the coming season
Tuesday, 01 September 2015
Sunshine and pyramids ahead: not Verdi's 'Aida' but Philip Glass's 'Akhnaten'
September is upon us and it's nearly time for the new season. English National Opera's Artistic Director John Berry may have left the building but his enterprising legacy lives on in a 2015-16 season that looks on paper as good as any in the past 20 years; what happens after that is anyone's guess. Still, there shouldn't be too much grief that ENO Music Director Edward Gardner has moved on, since his successor Mark Wigglesworth already has a fine track record with the company.
Over at the Royal Opera, it's business as usual with Antonio Pappano and at least one rarity to match Szymanowski's Król Roger this past season – Enescu's Oedipe. There are new operas to be found in Scotland and Wales, while the recent burgeoning of bright young companies operating in smaller venues like pubs and studios shows no signs of abating (the quality is mostly an unknown quantity, though; you have to be prepared to take a chance, and even favourable reviews elsewhere aren't always to be trusted, as I found out with a Twickenham Sweeney Todd that didn't pass muster fit for review).
The season continues well into the summer with the country-house success stories; Glyndebourne's summer programme is set to include a new production of Berlioz's Béatrice et Bénédict conducted by a man already an authority in the field, MD Robin Ticciati.
Our classical music and opera writers take their pick, revivals included. Here's the cast, in order of appearance. David Nice
Lady Macbeth of Mtsensk, ENO
Katerina Izmailova has just murdered her loathsome father-in-law with rat poison sprinkled on mushrooms. A priest mutters a litany – and then a blast from an onstage band makes me jump out of my seat. I'm flashing back to the 2001 revival of David Pountney's rightly celebrated production of Shostakovich's operatic masterpiece, and the conductor who gets the English National Opera orchestra to plays so deep and dark is Mark Wigglesworth. No wonder, then, that he's chosen the same opera as his signature opening at the London Coliseum as ENO's new Music Director. The production is from that master of unorthodox stage pictures Dmitri Tcherniakov, proving it's ENO business as usual from the off (a scene from the original Deutsche Oper am Rhein production, pictured above by Eduard Straub). Let's just hope that Tcherniakov can make a more convincing rethink than he did in his other production to date for ENO, Simon Boccanegra. DN
Opens 26 September 2015 at the London Coliseum
The Force of Destiny, ENO
It's one of those totally bonkers Verdi plots that I can't take seriously, yet La forza del destino – coming to ENO as The Force of Destiny – contains some very astonishing music. And the plot should hold rich pickings for a daring director with a social conscience like Calixto Bieito, especially the war scenes with that crazy, tub-thumping aria for the free-spirited Preziosilla. We know to expect a Spanish Civil War setting; but beyond that Bieito's limitless imagination should be unleashed to (hopefully) powerful effect. With the company's new music director Mark Wigglesworth on the podium and a strong cast headed by Gwyn Hughes Jones as Don Alvaro and featuring Carmen escapee Rinat Shaham as Preziosilla, this is ENO's first production of this opera for 20 years. Bring it on, and may the Force be with you. Jessica Duchen
Opens 9 November 2015 at the London Coliseum
The Devil Inside, Scottish Opera
Scottish Opera unveils a brand new, full-length opera from composer Stuart MacRae and novelist Louise Welsh in January 2016. The Devil Inside is a modern reworking of Robert Louis Stevenson's Faustian morality tale The Bottle Imp, involving a magical vessel that will grant your every wish but, if you can't sell it for less than you paid for it, will also send your soul to hell. It's MacRae and Welsh's third Scottish Opera collaboration – their Afghanistan-themed Ghost Patrol in 2012 was widely admired for MacRae's brittle, energetic music and Welsh's uncompromising libretto – and Stevenson's gleefully macabre fable looks like it could be just the vehicle for the intense, dramatic artistic partnership they've developed. David Kettle
Opens 23 January 2016 at Glasgow's Theatre Royal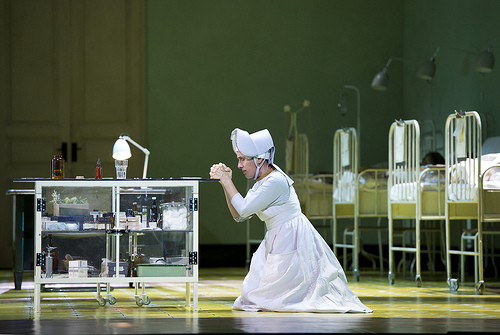 Il trittico, Royal Opera
A tragedy of love, lust and murder; a melodrama of renunciation and heavenly visions; a comedy of young love, death and greed: Il trittico has so many shifts of tone that it's almost impossible to find a production equal to all three parts of Puccini's triple-bill (pictured above by Bill Cooper, Ermanela Jaho as Suor Angelica). But that's the triumph of Richard Jones' typically vivid Royal Opera production. Greeted with raves at its 2011 debut, it was filmed and won the Gramophone DVD award. But as proven yet again with his spellbinding WNO/ENO production of The Mastersingers of Nuremberg, Jones' thrillingly meticulous work demands to be seen and heard live. All generalised opera acting is banished: this is music-theatre. David Benedict
Opens 25 February 2016 at the Royal Opera House

Akhnaten, ENO
2015 has been designated the "50th anniversary of Minimalism", and even if that seems a little arbitrary, it's as good a reason as any to revisit some of the genre's classics. ENO has an ongoing relationship with Philip Glass and his music, and so it makes sense that this year they'll be completing their trilogy of his "portrait" operas with Akhnaten. Inspired by the Egyptian Pharaoh, the opera's unusual orchestration calls for no violins, creating a striking soundworld that promises to be matched here by director Phelim McDermott's visuals (if his Satyagraha is anything to go by). Full cast still to be announced, but star American countertenor Anthony Roth Constanzo will take the title role. Alexandra Coghlan
Opens 4 March 2016 at the London Coliseum
Boris Godunov, Royal Opera
When I spoke to Richard Jones about a dream Royal Opera collaboration with Bryn Terfel and Antonio Pappano, he hinted that he'd been looking at "stuff about Russian cannibals". So expect surprises as ever from his production of Musorgsky's opera about the tsar with a child's murder on his conscience. The choice is the spare original 1869 version – so no Polish act, as there rarely is in these more economical times, and that's a pity since Jones says he loves its completely different atmosphere. Still, the Royal Opera has had the "supersaturated" amalgamation of versions from Andrey Tarkovsky in its repertoire for years, so maybe it's time for a change. DN
Opens 14 March 2016 at the Royal Opera House
The Importance of Being Earnest, Royal Opera at the Barbican
Not everyone loved Ramin Gray's modern dress production – with Lady Bracknell a bass in a pinstripe suit – of Gerald Barry's wackily counter-intuitive Oscar Wilde-based opera on its first showing at the Royal Opera's Linbury Theatre. I did – every hysterical minute of it. It should fit fine into the Barbican Theatre, especially since the orchestra is on stage. Locus classicus of comic opera, up there with Verdi's Falstaff and Puccini's Gianni Schicchi: the bitchfest between Gwendolen and Cecily declaimed through megaphones (pictured above by Stephen Cummiskey), and accompanied by the smashing of 40 plates plus numerous novel percussive effects. If you can't see it here this time round, you can always catch it later in New York. DN
Opens 29 March 2016 at the Barbican Theatre
Lucia di Lammermoor, Royal Opera
Conductor Daniel Oren won't be to everyone's taste, but the pairing of arch-realist director Katie Mitchell with Donizetti's gothic tragedy raises all kinds of questions and possibilities. Can the work actually be made to yield up psychological truths despite the limited emotional range of its score? If anyone can manage that, Mitchell can. With Diana Damrau and Charles Castronovo as ill-fated lovers Lucia and Edgardo, this could prove an exciting night of music-drama. AC
Opens 7 April 2016 at the Royal Opera House
In Parenthesis, WNO
A somewhat speculative Welsh National Opera season includes two intriguing commissioned works, Elena Langer's Figaro Gets a Divorce, and Iain Bell's In Parenthesis: the one a comedy (I presume) sequel to Rossini and Mozart, both of whose Figaro operas are being done as well. In Parenthesis is based on David Jones's to my mind unreadable poetic novel about the Somme. But, as a lover of Jones's paintings and etchings, I'm looking forward to being proved wrong about the poem, and to being proved right about Bell, a composer in his mid-thirties whose previous works show a real talent for vocal writing. Stephen Walsh
Opens 13 May 2016 at Cardiff's Wales Millennium Centre
Oedipe, Royal Opera
Director of the Royal Opera Kasper Holten may have hit on something by theming two unusual operas based on ancient Greek tragedies in two successive seasons. The fabulously elaborate late Romantic Romanian George Enescu has had to wait a long time for a staging of his Sophoclean opera in London. With another strong cast to follow that of Szymanowski's Król Roger and direction from the driving forces of the visually amazing Spanish company La Fura dels Baus, this should be something out of the ordinary. DN
Opens 23 May 2016 at the Royal Opera House
Tristan and Isolde, ENO
English National Opera has recently had a good run with Wagner, and this upcoming Tristan promises much. Sets are by the celebrated sculptor Anish Kapoor, so expect primary colours and sensual curves. In the title roles are Stuart Skelton and Heidi Melton, two young Wagnerians who are just reaching the peak of their powers. The conductor is Edward Gardner, the company's previous Music Director. He recently demonstrated impeccable Wagner credentials in Mastersingers at ENO, and if he can achieve similar standards here, this Tristan is sure to be a hit. Gavin Dixon
Opens 19 June 2016 at the London Coliseum - no booking details yet available online

Into the Woods, Opera North/West Yorkshire Playhouse
Director Jo Davies brought plenty of sparkle to Opera North's Ruddigore and Carousel, so seeing what she makes of Cole Porter's Kiss Me Kate will be fun, and 2016 will see complete performances of the semi-staged Ring, including one in London's Royal Festival Hall. But I'm most excited about a new version of Stephen Sondheim's Into the Woods in June 2016, co-produced with the West Yorkshire Playhouse. Sondheim musicals can work brilliantly with just a handful of singers and a pianist, but the prospect of this piece being done in a modern theatre with opera house resources is an enticing one, and we'll hopefully get to hear a large pit band playing Jonathan Tunick's ripe orchestrations. Graham Rickson
Opens June 2016 – details TBC – at the West Yorkshire Playhouse
David Nice's Opera in Depth course at the Frontline Club in Paddington, launching on 28 September, will cover six of the operas listed above. For further details, including contact, read his blog entry here

Director Richard Jones hinted that he'd been looking at 'stuff about Russian cannibals'
Explore topics
Share this article