Jakob Lenz, ENO, Hampstead Theatre |

reviews, news & interviews
Jakob Lenz, ENO, Hampstead Theatre
Jakob Lenz, ENO, Hampstead Theatre
A new production of a contemporary classic captures Rihm's drama if not always his clarity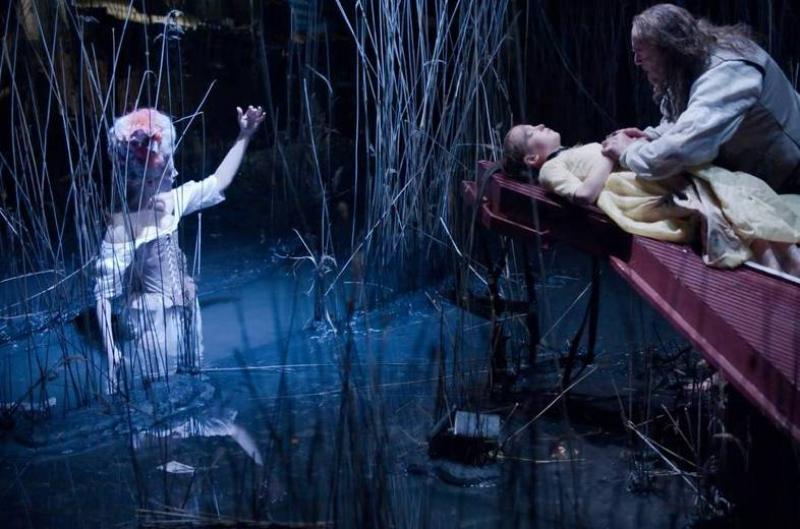 Watery and grave: the spirit of Friederike (Suzy Cooper) watches over Lenz (Andrew Shore)
Forget opera-glasses, the must-have accessory for the contemporary opera-goer in London is fast becoming a sturdy pair of wellingtons. No sooner had we all dried off from our voyage into The Heart of Darkness at the Royal Opera House (where Edward Dick's watery set lapped dangerously close to the orchestra pit) than we find ourselves up to our knees in the boggy marshlands and treacherous pools of Sam Brown's Jakob Lenz.
The mire of psychological collapse has rarely been so vividly rendered, even on the opera stage (surely madness's truest artistic home), but while visuals were striking, they were no match for the urgent, immediate drama of Wolfgang Rihm's 1979 score.
Following previous field-trips to the Young Vic, English National Opera here stage their first offsite show at the Hampstead Theatre. While the claustrophobic intimacy of the Young Vic is dramatically attractive (as anyone who saw last year's The Return of Ulysses will vouch) there's no getting away from the venue's acoustic difficulties for classical music. Favouring height over width, Hampstead on the other hand seems a much better fit, offering rather more space for Rihm's dazzling (in senses both good and bad) orchestration.
This is unquestionably Andrew Shore's show
Harpsichord, percussion and low brass are contorted into a sequence of unexpected colours that beguile and tug at the listener's attention, emerging out of Brown's marsh like Will-O'-the-Wisps, luring us to drown in the murky waters of Rihm's score. The absence of high strings and flutes is striking, creating an aural fog through which we catch lyrical glimpses of cellos and brittle little eruptions of harpsichord.
Whether in Nico Muhly's Two Boys, Bonnie Greer and Errolyn Wallen's Yes or Judith Weir's Miss Fortune, we've seen an awful lot of resolutely anti-dramatic contemporary opera recently in London, and it is a relief and a thrill to hear a score such as Rihm's (incisively directed by Alex Ingram) that makes not only a virtue but a necessity of its operatic genre. The harmony is often abrasive, the textures confronting, but always in the service of action, taking up – and amplifying – Lenz's own ecstatic prose.
A poet and playwright, friend of Goethe and frequent admirer of his women, Jacob Lenz was a casualty of German Romanticism – an educated man who tore his own mind apart in the service of the philosophy, art, ethics and social mores of his age. Based on George Buchner's short story Lenz, the opera traces a brief episode in the poet's life. Sent to stay with Lutheran Pastor Friedrich Oberlin in the Vosges mountains, where he is tended by both Oberlin himself and fellow writer Christopher Kaufmann, the mad Lenz hallucinates visions of Goethe's beloved Friederike and attempts suicide.
The work of Rihm's youth (the composer was just 25 when he wrote the opera) Jakob Lenz establishes almost fully-formed the brooding introspection and melancholy that typifies Rihm's work. It requires a deft director to find shades and textures among so much blackness, and Sam Brown's production (well-served by Annemarie Woods' ambitious set) succeeds for the most part. Only the reeds framing the set are problematic. Lack of clarity may be thematically apt and wonderfully suggestive, but with no surtitles to help articulate Richard Stokes's new translation and much of the action veiled in shrubbery, the work's more inscrutable moments stand little chance.There's nothing inscrutable about Andrew Shore's Lenz, whose madness has the pathos of absolute internal logic and emotional rationale. Taking the character from worldly self-loathing ("I don't even want to kill myself anymore, it's too boring") to raw desperation (his barely-breathed gasp to Oberlin – "Beat me" – is almost unbearable), his acted singing carries us through the technical assault course of the role (never mind the physical assault course of the set) with conviction. This is unquestionably Shore's show.
Support comes however from Richard Robert's preening Kaufmann, fluting of tone, and also in the gentle gravitas of Jonathan Best's Oberlin. A brief solo soprano chorus-member Rebecca Van Den Berg (voicing Friederike) is also poised and effective.
This is a production that recognises and insists on the theatricality of Rihm's opera, a natural fit for the exploratory spirit of ENO's annual escape from the dictates of the Coliseum's proscenium. Brown's concept is bold, but occasionally sacrifices clarity for effect; the placing of the ensemble is problematic acoustically, and sight-lines are often deliberately murky. Not a show to stray into unprepared, for those open to Rihm's caustic language it's a staging worthy of this contemporary classic.
Jacob Lenz is at the Hampstead Theatre until 27 April
It requires a deft director to find shades and textures among so much blackness, and Sam Brown's production succeeds
Explore topics
Share this article