Elegy for Young Lovers, ENO, Young Vic |

reviews, news & interviews
Elegy for Young Lovers, ENO, Young Vic
Elegy for Young Lovers, ENO, Young Vic
Neither Henze nor Shaw can rescue this second-rate Shining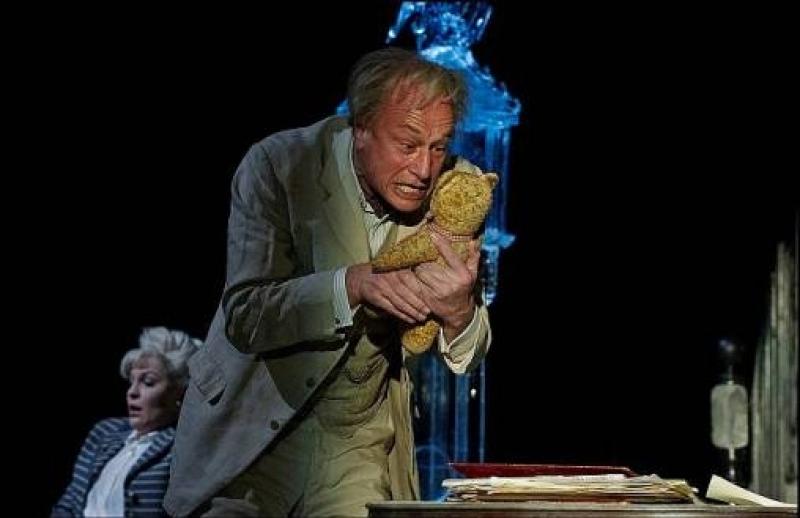 A terrifying nut job: Steven Page in 'Elegy for Young Lovers'
We all know what you get when you find yourself snowed in with your family up a mountain: thunderous carpets, corridors of blood, redrum and a head in the snow.
Hans Werner Henze's
Elegy for Young Lovers
isn't quite as murderously single-minded as Kubrick's
The Shining,
but it is dominated by a single terrorising nut job.
A gemütlich Austrian inn is the setting. The opening scene sees an incontinent flurry of activity as kith and kin await the descent for breakfast of the great poet Gregor Mittenhofer (Stephen Page). Mittenhofer is your strip-cartoon Romantic: an ungovernable poet-vulture, swooping in on his prey, tearing into his fragile fellow humans with little compunction and a lot of cunning. The slow destruction of the lives of those around him is a portrait of Mittenhofer's creative urge: a predatory, devouring act that engulfs those he feeds off.
Stephen Page is remarkable as the child-tyrant, busily seeking a continual change. Emotions are reserved for his teddy alone. Beyond this, the heart is there as a tool for manipulation, for the seeking of attention and for the creation of verse. No one is allowed to plough an individual furrow. The young lovers are given a narrative to follow, a fatal one that provides for the eponymous elegaic copy.
As a bit of egoistical, tyrannical fun, you can't ask for more. As a serious analysis of the creative process, romantic or otherwise, it's all a bit rum. Maybe this is how creativity works - who are we to gainsay the knowledge in this arena of the likes of Auden and Kallman (the librettists) or Henze? - but I doubt it. And I doubt any of the creators seriously think that we are to believe the hyperactive premise of the work. So why be hyperactive? What does this sort of exaggeration add to our understanding of life? Why not play it straight? Or, alternatively, why not play it truly comic? There was a whodunit caper desperately trying to get out of this inconsequential tragedy.
In spite of all this, bravura performances are to be found, not least from Jennifer Rhys-Davies's Hilda Mack, an ageing visionary source for Mittenhofer. She escapes from Mittenhofer's grasp and vocally breaks free, like a modern Queen of the Night, into the ash-cloud stratosphere with a miraculous passage of vocal dancing. Henze is on great form in handling the chamber orchestra. Colours, forms and pulses are bright and varied. Underpinning it all are guitar and harp deployed almost as a lively basso continuo. Most characterful are the schizophrenic passages for Mittenhofer, which career between sensuous, troubled and manic.
And fault cannot be found with conductor Stefan Blunier, who did a fantastic job of the slippery score. The orchestra - raised high above stage - provides one of the most truly satisfying dramatic moments of the opera as Mittenhofer scribbles his elegy furiously and the ensemble, bathed in red and blue lighting (provided by the excellent Peter Mumford), unleashes a
fortissimo
storm.
Fiona Shaw injects things with her inimitable theatrical energy
, which everyone tells me I should be grateful for but I never am. Her directorial style is too twitchy, too excitable, for my liking, though at least it had pace.
Ultimately, my mind all too easily, all too frequently, wandered from all the pretentious busyness and portent - the libretto is heavily to blame for the troubles - and I began to think again about crazy Jack Torrence, those corridors, that study, that silence, that coldness, that terror of isolation and creativity that The Shining nails. And the more I thought about this economical film - less than half the length of Elegy and ten times the enjoyment - and its killer punch, the less I cared for the wordy theatricality that was going on before me.
What all of this clever-clever (and simultaneously dumb-dumb) drama forgets is that the key to terror is the idea that less is more; that the mind left to its own devices leads to self-destruction; that less activity actually creates more drama; and that, conversely, an abundance of words, drama, choreographed twitching, video (Lynette Wallworth offers some tasteful digital reminiscences), ice sculptures, clocks, Edwardian dress, teddies etc in the end add up to little more than a good jumble sale.
Explore topics
Share this article