First Person: Antonia Bain on directing a short kitchen opera for film |

reviews, news & interviews
First Person: Antonia Bain on directing a short kitchen opera for film
First Person: Antonia Bain on directing a short kitchen opera for film
Scottish Opera's digital content producer on making 'The Narcissistic Fish'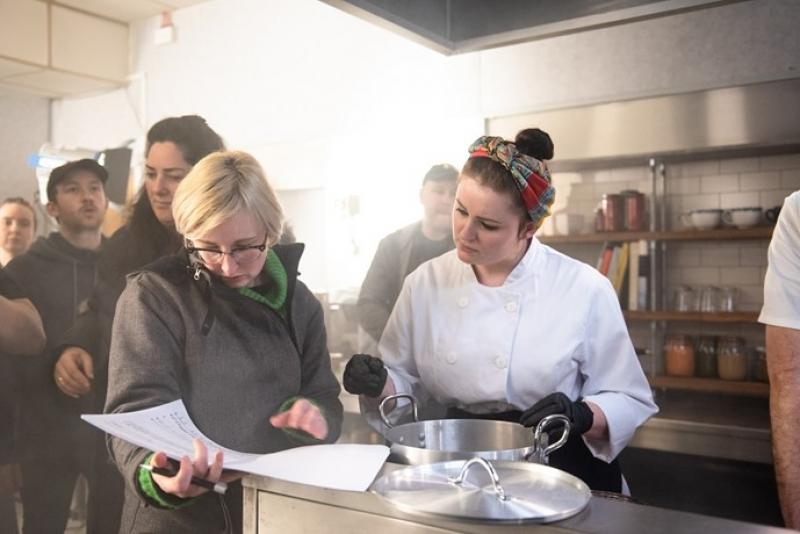 Antonia Bain and soprano Charlie Drummond during the (pre-lockdown) filming of 'The Narcissistic Fish'
Set in
Leith
and written in
Scots
, it tells the story of restaurant owner and chef, Angus, and his brother Kai who are arguing over the death of their father, while the talented Belle struggles to carry on underpaid and under-appreciated.
I was an opera novice when I started working at Scottish Opera as their first digital content producer in 2015. I had no idea what to expect when I saw my first opera but was completely hooked on the art form especially after seeing the company's production of Rusalka directed by Antony McDonald. My role at Scottish Opera is to create promotional films for all of our main stage and touring shows, as well as for our education and outreach programmes. It has taken me far and wide across the company, from interviewing singers, the incredible crafts people who make the staging possible to composers, directors and conductors.
I had always been interested in creating some sort of digital opera that was a piece in itself, rather than something to promote an existing show. So, when Samuel Bordoli, Scottish Opera's emerging artist composer in residence, had some interest in creating a piece designed for a digital format, I jumped at the opportunity to collaborate. We had long conversations from the beginning about what form this might take. Sam was keen to avoid a video installation, and I have always been interested in making narrative films, so we easily stumbled into the idea of making an opera that would be made to be a short film. Much of the research we undertook of operatic works on film were often based on pre-existing operas, or those that had been created for YouTube and didn't take themselves too seriously.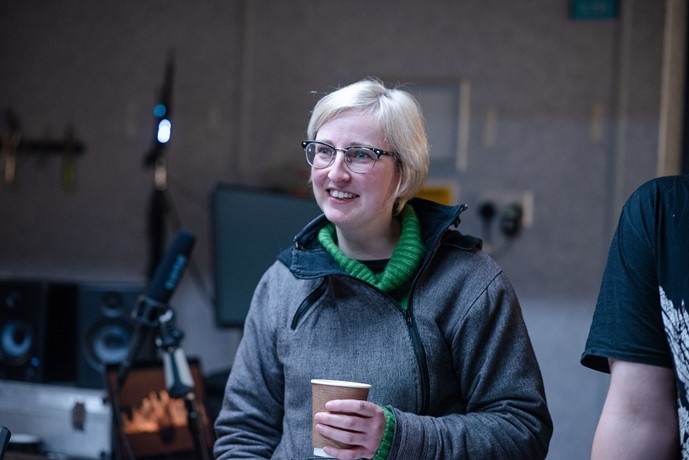 We wanted to make something brand new that was dramatic in the way that opera is, but set in an everyday environment that would take us out of the theatre. The restaurant kitchen location gave Sam scope for a percussive score and it offered up a place in which characters could be thrown into a tense situation. Very early on in the process, a good friend gave us the excellent advice of finding a writer to help create the piece, and thus began the search. After a discussion with novelist and poet Jenni Fagan, she pinned the story down very quickly and it was exciting to have something that was written in Scots, had a poetic rhythm, very strong characters and a contemporary theme.
We now had our libretto so Sam and I had to figure how to put it together. It was an intricate process. I know very little about music, and Sam knew very little about film-making, so we had to do a lot of planning. Sam made it clear from the start that once the music was created there was no way we would be able to deviate from that, which was something I'm not used to as a film-maker. I often create things from scratch and am able to add and chop what I want into a final film. This would be a very different beast altogether.
I storyboarded the entire film, and made some animatics so Sam could see what timings I was thinking for action scenes. He then created a skeleton vocal score, the idea being that the instrumentation would be added after the film had been edited, that way Sam could react to what he saw on screen. We were very lucky that we coincidentally had the right singers for the piece with our Emerging Artists, Mark Nathan, Charlie Drummond and Arthur Bruce (Nathan and Bruce pictured below). They were really enthusiastic despite the very new and strange process they would find themselves in.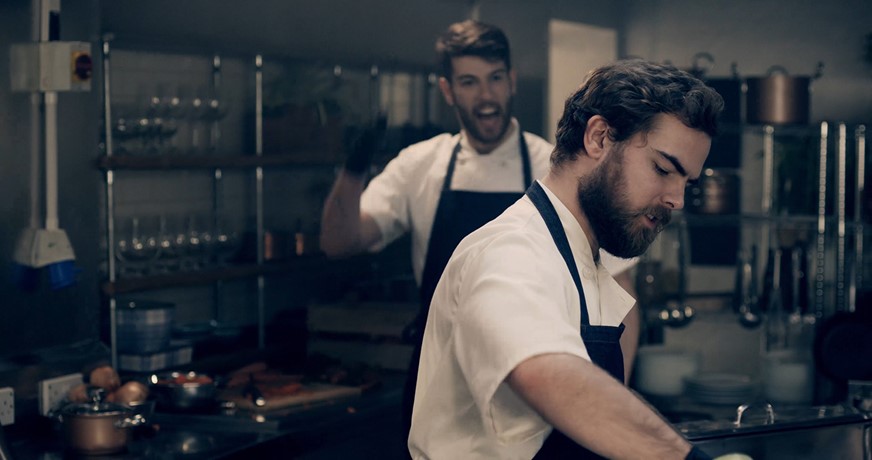 All they had to sing to was a click track which Sam had created, which was something they weren't used to. Fortunately, our repetiteur Susannah Wapshott was brilliant, and made the rehearsal process run very smoothly. We also had our Leith dialect coach Flora Munro who managed to help singers Charlie and Mark nail the accent. Arthur didn't need any coaching as he just so happens to be from Leith. I really enjoyed the rehearsal process as not only did I get to hear the vocals for the first time, I was able to talk through the story and the characters' backgrounds and intentions with the singers in great detail. I had directed actors before but not singers and it was a really fascinating experience.
We recorded the vocal score in a recording studio at Glasgow's Royal Conservatoire and we were now ready to go onto the film set. We managed to find a commercial kitchen at Parkhouse Business Park in Glasgow which gets used for a lot of filming, with the front of the building serving as the setting of a police station. The three-day shoot was very cold and very loud. It was November and there was no heating in the part of the building we were filming in. I remember Charlie (pictured below during filming) stuffing a hot water bottle under her costume for most of the shoot. The singers had to lip sync back to the recorded vocal score, but to make it look as convincing as possible they had to sing with the same emphasis as they had in the studio. They also had to be able to hear the recording being played back to them over the volume of their own singing so it was a double blast.
It was really interesting to see two very different teams come together; the film crew had very little experience of working with opera singers and our singers had little experience of being filmed before, but everyone worked brilliantly together. There was a lot of laughter and it was a relatively relaxed shoot for me. Once the edit was pinned down it was now up to Sam to create the final score. I had got very used to hearing the click track that accompanied the voices that it was truly incredible to hear for the first time what Sam had created to bring the emotional crux of the film to life.
It's been two years in the making and it has been an amazing experience. Scottish Opera was supportive of the project from the very start, even though the filming opera process could be very hard to decipher at times. I now fully appreciate all the hard work that goes into making opera, and all the dedicated people it takes to put on a fully staged show. This only had three singers and one location and that was plenty to be getting on with. The final score and finishing touches were made during lockdown and although we were disappointed to not have a cinema premiere, it has given us an opportunity to release this at a time where we can still deliver an opera albeit in a new format to our existing audiences and also hopefully garner some opera newbies along the way.
Watch The Narcissistic Fish on YouTube
Our Emerging Artists were really enthusiastic despite the very new and strange process they would find themselves in
Explore topics
Share this article