Ermonela Jaho, Stephen Maughan, Wigmore Hall review – emotional honesty in rare repertoire |

reviews, news & interviews
Ermonela Jaho, Stephen Maughan, Wigmore Hall review – emotional honesty in rare repertoire
Ermonela Jaho, Stephen Maughan, Wigmore Hall review – emotional honesty in rare repertoire
An innate sense of pacing and dramatic timing in the Albanian soprano's recital
Ermonela Jaho in her Wigmore Hall recital last night
Wigmore Hall audiences don't usually roar. But when a star soprano who has already made her mark at the world's major opera houses pays a visit, they do.
This was the Albanian-born and now
New York
-based soprano Ermonela Jaho's debut at the hall, an event which also marked the opening of the 50th anniversary year of Opera Rara, with whom Jaho has an extremely fruitful collaboration. The concert had been fitted into the Wigmore Hall's programme at relatively short notice and sold out quickly.
The moments that brought on the most vociferous baying from the packed house were opera extracts, scenes where desperate characters have been pushed to an emotional brink and beyond it. So we had the title character of Massenet's Sapho imploring her former lover to witness the pain he has caused by leaving her. And, from an almost identical plot-line, the powerful dramatic monologue and death scene in the Paris snow which bring to an end Mascagni's more or less completely forgotten opera Lodoletta. These are situations in which Jaho genuinely excels, bringing astonishing intensity to the expression of extreme grief.
That emotional honesty is a Jaho hallmark. It was a nice touch that her dress in the first half should be emblazoned with nothing less than a full panorama of her native city of Tirana, complete with the city's emblems of the minaret and the clocktower.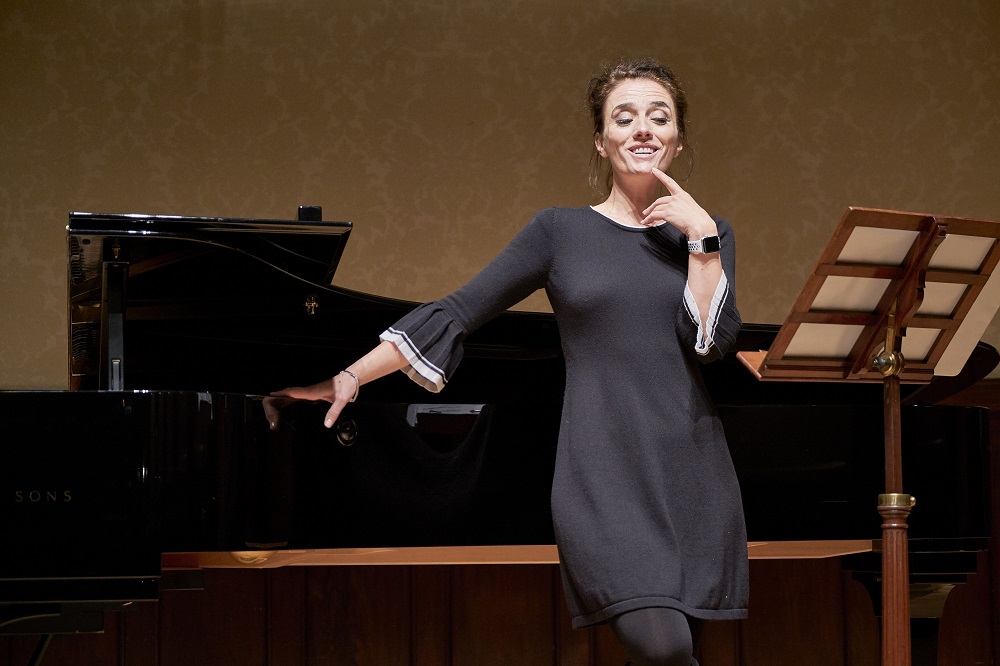 The process of transporting opera singers to the recital is not without risk. How will they adapt to the more intimate surroundings and acoustics of a 545-seater hall? There have been singers – I still cower at the memory of Irina Arkhipova – who make no allowances at all. Here was only good news: Jaho got it right. She was happy to revel in the lightness and the floating quality her voice, her ability to spin out long phrases, and so could we. There was an occasional vocal mis-hap or straying from true pitch, but she has other qualities that more than make up for that: I found myself completely drawn in by her innate sense of dramatic timing.
In the aria "Adieu, notre petite table," from Massenet's Manon, her holding-back in the line "De ces beaux jours déjà passés" before the pulse of the accompaniment enters was a masterclass in pacing. And the way her voice retreated to a shadow, or even an echo, at the end of the "Brindisi" from Verdi's Sei Romanze of 1845 was sheer delight. Her pianist was a member of the Opera Rara 'family', pianist and vocal coach Stephen Maughan (pictured below with Jaho). His understanding of the pacing and his responsiveness were impeccable, but I couldn't help wondering what a more flamboyant character (Antonio Pappano perhaps, or Roger Vignoles) might have made of this programme.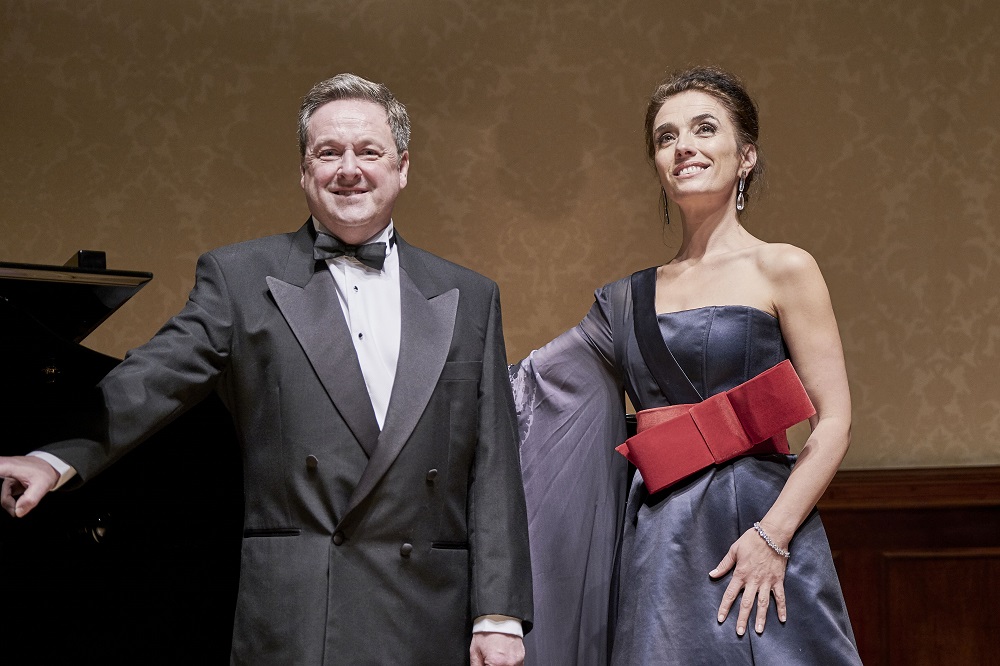 Jaho clearly works hard. Rather than just confining herself to well-known operatic roles, she has taken on the mission of Opera Rara in the past five years with a passion. Her work with them has so far resulted in some very well-received work. She was the star of their 2015 London recording of Ruggero Leoncavallo's four-act opera Zazà, in which Opera Rara made its first venture into the Italian verismo canon. She also took the main role in their recording of Puccini's Le Willis, the composer's first opera from 1884. A recital disc of some of the repertoire in last night's concert was made in Valencia last year, and will be released in the summer. Putting together the vocal craft of Jaho with the scholarship of Opera Rara's specialists Roger Parker (his official role with the organisation is the unmellifluous "Artistic Dramaturg") and of the young opera/19th-century music historian Ditlev Rindom is a winning combination.
The evening was billed as "An Evening with Rosina Storchio", and Rindom's thoughtful and detailed programme notes explained the background to the repertoire choices very well. Storchio (1876-1945) was a Venice-born lyric coloratura soprano, highly successful internationally, who premiered several roles by Puccini and Leoncavallo. She was the original Cio-Cio-san in Madama Butterfly at La Scala in 1904. So, fittingly, the concert ended with a luminously wide-eyed and smiling rendition of "Un bel dì" as the encore. It brought the opera fans to ecstasy and to their feet.