The Emperor of Atlantis, English Touring Opera |

reviews, news & interviews
The Emperor of Atlantis, English Touring Opera
The Emperor of Atlantis, English Touring Opera
A sensitive production brings depth as well as reverence to Ullmann's concentration camp opera
Saturday, 06 October 2012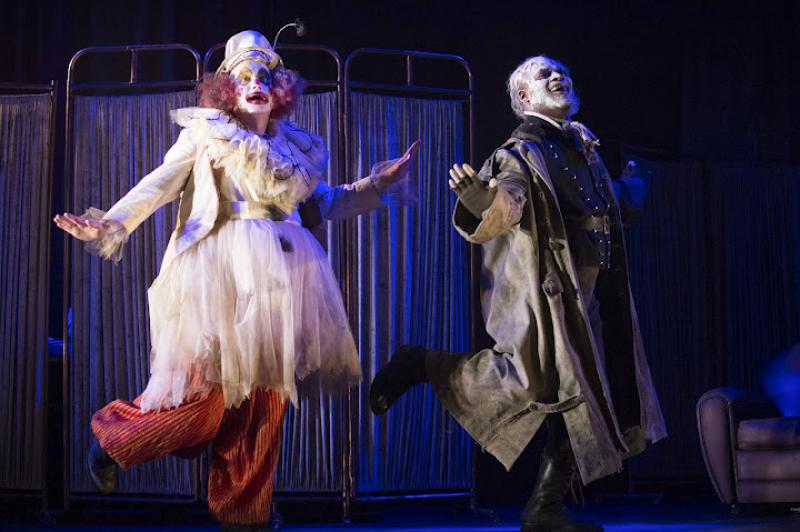 Dance of Death: Death and Harlequin break out their party piece
Victor Ullmann's 1943 opera The Emperor of Atlantis never made it beyond a dress rehearsal during the composer's tragically curtailed lifetime. Composed in the Terezín concentration camp, this operatic satire is a work of exquisite bravery – a musical credo and shout of defiance that backs humanity in the face of overwhelming odds. It's also an exuberant magpie score, where the composer's ear for jazz, cabaret, neo-classical pastiche and dance tunes shows its inventive skill.
After disappearing until the 1970s, the work is enjoying something of a revival in London at the moment. A fringe production at Dalston's Grimeborn festival earlier this year served as prelude to English Touring Opera's new staging, currently playing at the Royal Opera House's Linbury Theatre before travelling around the UK.
The two old cronies - Death and Harlequin - break into a vaudeville routine
In director James Conway's conception the opera's closing chorale – Bach-inspired, but with the insistent secular rhythms and echoes of life still pulsing in the orchestra – finds itself prefigured in a staging of Bach's cantata Christ lag in Todesbanden (Christ Lay in Death's Bonds). Integrating this vocal quartet (pictured below) into Ullmann's narrative, Conway has these grubby, terrified figures, clutching family and luggage, perform the cantata in front of an audience of Death and the Emperor himself. The tale of Christ's struggle over death is then dissolved and fragmented, reformed into the darker satire of the opera itself.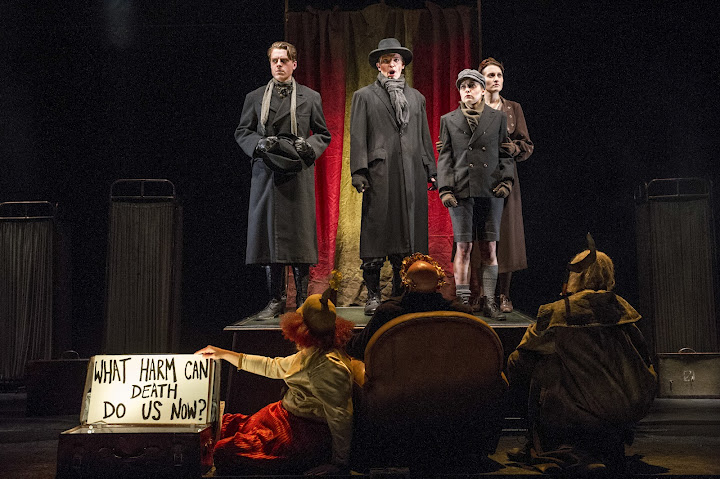 It's quite a gesture, and one that is made almost unbearably poignant by the re-orchestration of the Bach for Ullmann's bizarre orchestra – the group of instruments available to him in the camp. Hearing Bach through the unfamiliar tones of a clarinet, unnaturally raw and rough-edged, is as vivid a homage to this brutal episode of history as I've heard.
Neil Irish's artifully faded and aged designs place us in a surrealist Second World War fantasy. All is grotesque yet familiar. The knock-kneed young boy of the Bach becomes the war-mongering Drummer (Katie Bray) complete with thigh-bone drumsticks and androgynous uniform, while Death himself is revealed as an elderly soldier (Robert Winslade-Anderson), clutching his scythe to his muddy trench-coat. The staging invites us to view life as the cabaret turns and side-show tricks of a second-rate travelling circus, where Death is the only ringmaster.
In this circus we see Death (accompanied by his friend and sidekick Harlequin (Jeff Stewart) decide to go on strike. The Emperor's "universal war" thus cannot claim its victims, no matter how many times they are strangled or shot. Eventually Death and the Emperor come face to face, and the former promises to return to his duties provided that the Emperor be the first to sample "the new death".
English Touring Opera has always been good at identifying new young talent, and this cast is no exception. The standouts are the two women - Katie Bray's Drummer and Paula Sides' Maiden. Bray has a wonderfully punchy and character-driven mezzo that makes light work of this athletic role, comfortably inhabiting the more physical side of her stage persona (where some of her colleagues struggled). Sides has a glassy soprano that really opens up at the top. Her impassioned encounter with the young soldier (Rupert Charlesworth, pictured above left with Sides) where love and death collide makes for a thrilling dramatic centrepiece.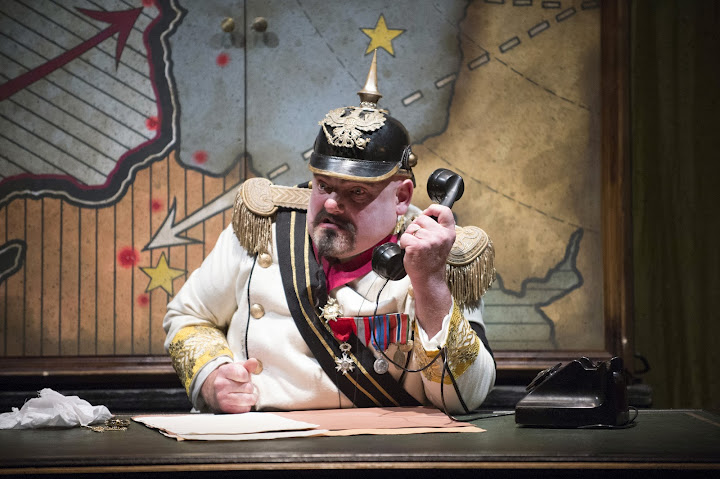 The double-act between Death and Harelquin offers most of the evening's laughs – dark ones, inevitably. The two old cronies break into a vaudeville routine, complete with soft-shoe shuffle and a nifty bit with the scythe, and later slip into in a dream-like waltz. Dance underscores everything here, and tangos, waltzes and sedate foxtrots burst out through the fabric of the drama at unexpected moments. Faithful to the original conception, Conway keeps a lot of this in, even if his male singers are not yet quite comfortable with the movement.
Despite moments of tension between stage and pit, both Winslade-Anderson and Steward do well to bring off this bizarre relationship. It's Richard Mosley-Evans' Emperor (pictured above) sadly who brings tensions to a head however, losing all the climactic lyricism of the final defiant aria in an underpowered gurgle of vocal straining.
It's the sole blot on what will otherwise grow into a pretty flawless production. By the time the opening quartet return to sing Ullmann's closing chorale, so desperately yearning after the resurrection and redemption Bach offers, this miniature evening of barely one and a quarter hours has offered all the emotion and intensity of a full-length opera. Thank goodness English Touring Opera understood this and didn't attempt to wed it in some awkward double-bill.
The tale of Christ's struggle over death is then dissolved and fragmented, reformed into the darker satire of the opera itself
rating
Explore topics
Share this article