Die Fledermaus, English National Opera |

reviews, news & interviews
Die Fledermaus, English National Opera
Die Fledermaus, English National Opera
Johann Strauss's essential Viennese operetta gets an aggressive makeover, and disaster results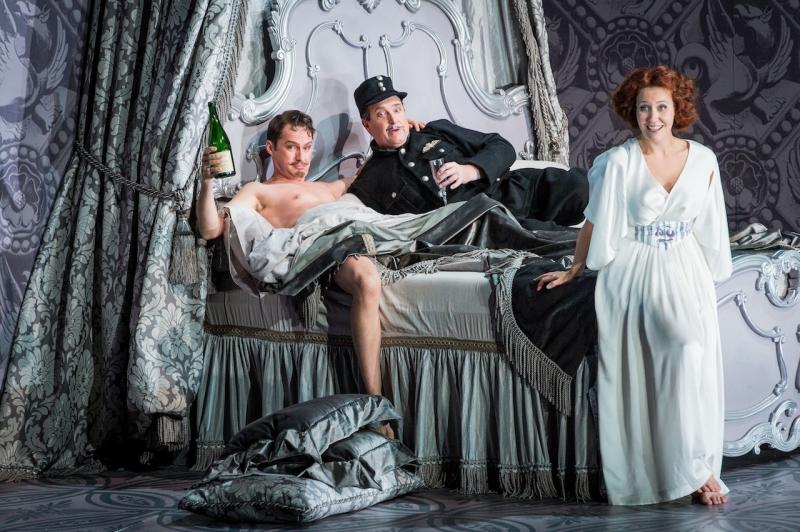 Cheers, my dears!: Edgaras Montvidas, Andrew Shore and Julia Sporsen try to make merry in Christopher Alden's production
Rich, racy, randy and irreverent: such were the R words gathered up by a Canadian critic to capture the essence of Christopher Alden's production of Johann Strauss's cork-popping operetta when it premiered in Toronto last year. Other R words, alas, came to my mind, like rubbish, reprehensible, risible, even rigor mortis.
Had this co-production between the Canadian Opera Company and English National Opera changed so much on its journey across the Atlantic? It seems unlikely, beyond the difference in language. Canada experienced the show in the libretto's original German; ENO, sticking to their remit, offer an English translation by Stephen Lawless and Daniel Dooner, plausible enough if not exactly a bower of delight. But that still leaves us with the crushing burden of Alden's concept and direction.
The biggest and saddest nail in Alden's coffin comes from the cast's characterisations
This is a man who puts the horrid word "societal" into a programme note not once but twice; and his eagerness to make this masterpiece of Viennese operetta seem relevant, edgy and streetwise leads him to introduce into the plot's marital farce lashings of Sigmund Freud, perversity, crazed violence – just the things you want to bear in mind as you sip Strauss's delicious champagne.
Dominating Allen Moyer's set is an enormous pocket watch, hanging, sometimes swinging, above as a cheerful reminder of mortality; a tool of hypnosis, too. In Alden's reading, Dr Falke, the puppeteer behind the opera's revenge plot, morphs into Sigmund Freud himself, notebook in hand as he analyse the characters' dreams and secret desires. That in itself isn't a particularly bad notion: many operetta plots aside from Fledermaus deal, usually daintily, with freedom battling repression and characters rebelling against social boundaries. But when it leads Prince Orlofsky to leap and shout like a psychopathic orang-utan, and populates his Act Two party with a choking gallimaufry of tottering cross-dressed males (a coach party, probably, from Weimar Germany), you get the sense of a point being driven home far too crudely and too far.
It doesn't help that there is so little of visual interest to snare and captivate the audience. Aside from the watch, there's the Eisensteins' isolated and pompous bed, ENO's trusty circular back wall, an isolated grand staircase airlifted in from MGM's 1936 cupcake The Great Ziegfeld – and that's it. The hollow spaces on the stage don't help the audibility of the dialogue: one reason perhaps why much of the production's "comedy" on press night generated the frosty silence once reserved for variety comedians failing to win over Glasgow. Filling the gaps with the gay gallimaufry and the overture's batgirls (costumed by Constance Hoffman in another crib from The Great Ziegfeld) wasn't the best solution.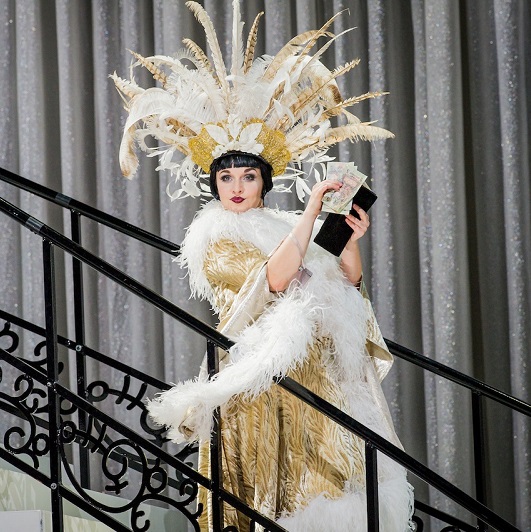 But the biggest and saddest nail in Alden's coffin comes from the cast's characterisations. It's not all their fault: if Alden insists on turning Orlofsky (a trouser role) into a neurotic nutcase or make the lawyer Blind weird beyond belief, there's not much that Jennifer Holloway and Simon Butteriss can do, apart from secretly groan. Even so, Jan Pohl's fascist jailor Frosch – he lacks only the swastika armband – is spectacularly unconvincing. There's a lack of confidence and sharp style about many other players too. Tom Randle and Julia Sporsén struggle to bring individuality to Eisenstein and his wife, while Rhian Lois's silvery trills as the maid Adele (pictured above left) need more lung power behind them to properly bewitch.
Tiresome though Alden's spin becomes, Richard Burkhard's Freudian Dr Falke is at least dispatched with rigour. Better yet are Andrew Shore as Frank, the prison governor, and Edgaras Montvidas as Rosalinde's warbling amour Alfred. As soon as they arrive they occupy the stage: they have presence, charisma, stylish wit, ingredients very thin on the ground elsewhere. Down in the orchestra pit, Eun Sun Kim, a rising (female) conductor from South Korea, injects the ENO orchestra with a modest degree of waltzing lilt, though never quite enough fizz. Understandable in the circumstances: she was looking at this wretched production too.
Lashings of Sigmund Freud, perversity, crazed violence – just the things you want to bear in mind as you sip Strauss's delicious champagne
rating
Explore topics
Share this article