Der Rosenkavalier, Irish National Opera review - world-class delight |

reviews, news & interviews
Der Rosenkavalier, Irish National Opera review - world-class delight
Der Rosenkavalier, Irish National Opera review - world-class delight
An enterprising company pulls off its biggest challenge yet
Paula Murrihy as Octavian and Celine Byrne as the Marschallin
Silver rose, golden voices. Richard Strauss calls for four of the best: two sopranos and a mezzo for the love-triangle that develops between a 17-year-old Count, his 32-year-old lover and the girl he falls for at first sight; a bass as one of opera's strongest if queasiest comic creations, Baron Ochs, Viennese Falstaff, debaucher of maidservants and country girls.
Irish
National Opera can now bask in the triumph of having cast three native singers of world-class calibre, and a German who sings as generously as he acts making his debut in a role he can now take all over the world.
Bruno Ravella's production, with its ever more ingenious and ravishing designs by Gary McCann, variously lit by Malcolm Rippeth, a staging shared with INO and equally lucky Santa Fe, originally aired at Garsington Opera. Those of us lucky to have seen it then knew we could rest easy on how well that would work. Now there are no Covid restrictions to stop full-on engagement between the Marschallin and her boy in Act One, and I wish my memory were good enough to know exactly what's been changed (pictured below: Samuel Dale Johnson's Faninal tells Celine Byrne's Marschallin that "young people [Paula Murrihy's Octavian and Claudia Boyle's Sophie] are like that").
With everything reading and resounding perfectly in Dublin's spacious, Libeskind-designed Bord Gáis Energy Theatre - made to be an opera house, as one audience member remarked to me after the first act - the first big emotional coup this time was the aria of the Italian tenor in the Marschallin's levee. To follow the boy Cupid-Mozart (Ethan O'Connor, adored by the audience) who pops up cutely but appositely to articulate where his arrows have most potently fallen, Colombian César Cortés appears in periwig as a dream-vision of the Marschallin. Since his is the best and most apt Italianate sound I've ever heard live in this essential cameo, the moment is supercharged.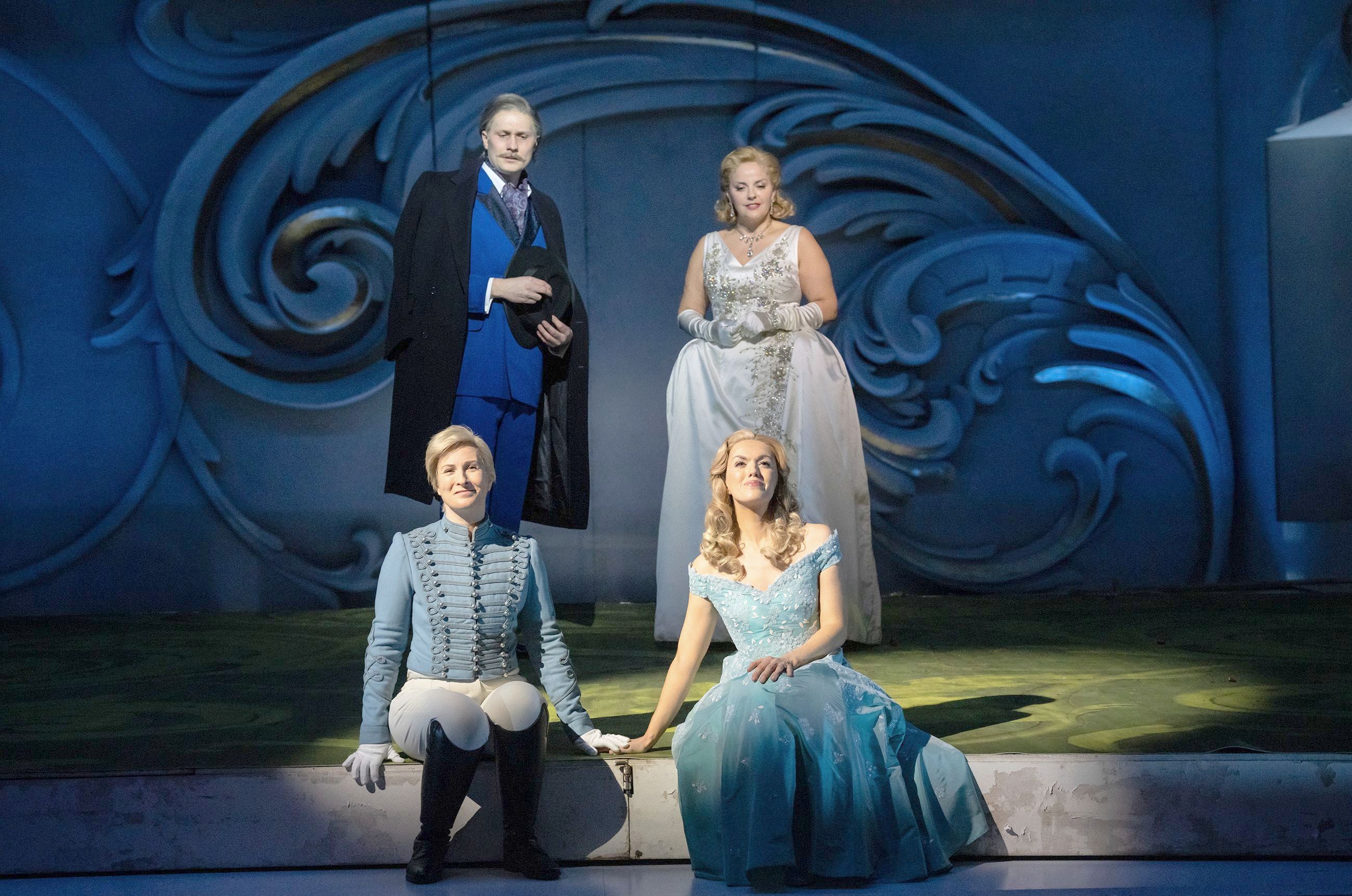 We understand only too well why Celine Byrne's Marschallin is then so angry about the return to prosaic upper-class reality as well as the sexist awfulness of her country cousin Ochs. This is also perhaps the most beautiful voice I've ever heard in the role, capable of delicate shadings and full-strength indignation and emotion; to complement her soliloquy on the girl she once was, forced like young Sophie will be into unwanted marriage with an older man, Ravella has her take the bottle of Persian attar of roses from the silver case, sprinkle several drops on a handkerchief and take in the odour, triggering the past when presumably she was subject to the same ritual, with no rosebearer to save her.
The sublime last 20 minutes of the first act, silvered over with reflections on time and how to face it, has the necessary frissons: Paula Murrihy, the full deal as the best of Octavians, experienced in the role elsewhere in Europe, sends her own lustrous tones soaring in desperation at the changed mood of his/her lover (final scene of Act 1 pictured below). All the routines of the livelier parts of the opera which follow – most of Act 2, the first half of Act 3 – are disciplined and brilliant, fleshed out with well-defined performances especially from Samuel Dale Johnson's richly baritonal Faninal, Rachel Croash's twittery Marianne Leitmetzerin and Carolyn Holt's trouser-suited Annina.
Ravella doesn't overload the information as poet-librettist Hofmannsthal tends to in the most elaborate opera libretto ever written, and probably this works all the better for a Dublin audience full of newcomers to the work, who seemed to love every moment. He also finds the parallels Strauss surely intended between the big set pieces. The great presentation scene is visually and aurally ravishing; if Claudia Boyle starts off a bit too knowing for impetuous ingenue Sophie, she has the high-lying money notes/lines in the moonshine meeting without which no young soprano can succeed in the role, and goes on to even greater glories.
Ochs's vie en rose in his celebrated waltz scene has multiple imagined maidservants, dream transformations of the Faninal household, as well as "Mariandel" – Octavian dressed up in Act 1, but the Baron isn't to learn this until he's been well and truly worsted. The curtain sent the audience into raptures, as it should (scene from Act 2 pictured below).
The gulling in the shabby inn-room features grotesquely pregnant hoydens and a grotesque baby popping up through trap doors, while the kids who pretend Ochs is their long lost papa are redhaired, like him and his bastard son Leopold (Vlad Volk, Ukrainian theatre student now settled in Ireland during the war – another nice touch). The chorus may not get to sing much, but they are fully and delightfully engaged in the success of the whole.
Andreas Bauer Kanabas (pictured below centre in his Act 3 humiliation) notches up an instant triumph singing his first Ochs. The wig and beard help him with the comedy, but he's a deft actor, and vocally a true bass with a ringing top register – a subtle one, too, when he sings in Act One of the "hay" in which the seducer likes to roll his country wenches (most basses belt it). It's always a pity that the Dresden cuts Strauss so resented are called into service, which they usually are, but unforgivable that part of Ochs's great monologue before the waltz-finale is also removed; this contains some of the most modern music in the score.
INO Artistic Director Fergus Sheil has done wonders in assembling a quality ad hoc orchestra featuring every instrument Strauss writes for, though a smaller than stipulated body of strings; they still sound Viennese when the score calls for it. Rehearsal time with them has been limited, so the togetherness will be more assured as the performances progress – far too few of them, three more up to next Saturday.
Sheil does like his slowish tempi, which sometimes impede the conversational speed needed for delivery in Act One.Yet he wins his laurels in the steady burn of the final love-triangle (the incredible shift from Viennese pantomime to something serious, which extends even to Ochs when the game is up, is paralleled by a great visual coup for the Marschallin's entrance as the back wall collapses). A gradual unfolding of the great Trio is all the more to be welcomed given three glorious voices to handle it, and I almost sobbed as the young lovers rise to their final harmony and the supernatural silver rose chords ring out for one last time.
If you doubt my enthusiasm, may I semi-name-drop and point out that Ireland's finest living composer, who's produced arguably the funniest and most original operas of recent years, was in the audience and told me afterwards how he was filled with pride to see and hear three Irish singers hit the heights at such a world-class level. You'd better get over to Dublin this week to catch a dream team.