Death in Venice, Opera North |

reviews, news & interviews
Death in Venice, Opera North
Death in Venice, Opera North
Gabrieli meets gamelan in Britten's final opera
Saturday, 26 October 2013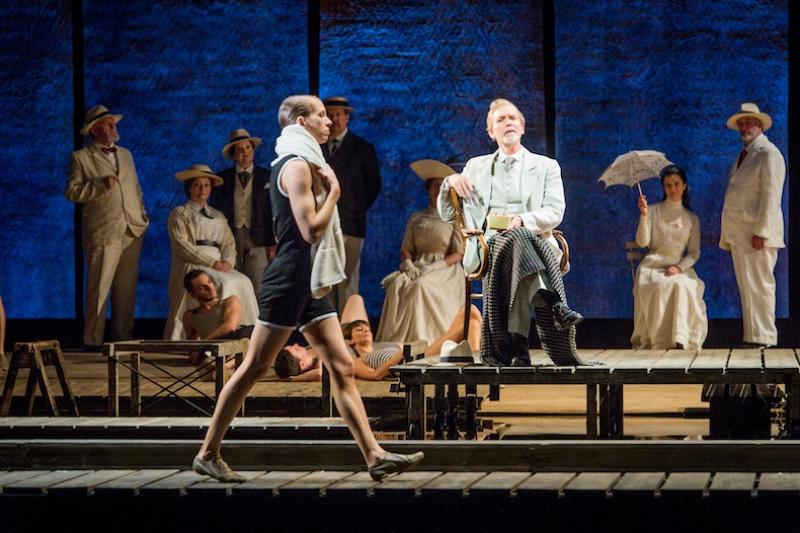 Emily Mézières as Tadzio and Alan Oke as Aschenbach
From the strange, stuttering opening to its elegiac, drawn-out coda, this is an exquisite, lovingly realised staging of Britten's last opera. It's so good that it amplifies any doubts that you might have about this peculiar, distinctly unlovable piece.
Perhaps we've been spoilt here in Leeds by the concurrent revivals of Peter Grimes and A Midsummer Night's Dream – both vibrant, colourful operas. Death in Venice is a tougher proposition – the score so spare, so parched that you can't help suspecting at times that Britten's inspiration was starting to flag. Thomas Mann's source novella was skilfully adapted by Britten and librettist Myfanwy Piper, but the first act in particular feels much too long for its slender musical material, Alan Oke's Aschenbach called upon to deliver rather too many streams of thin, piano-accompanied recitative. Britten could be a remarkable, characterful melodist. Here, it's as if he's expending every effort to suppress the gift.
Alan Oke is superb at conveying Aschenbach's physical decline
Which means that the sporadic flashes of colour in Act 1 have a huge impact. You'll squirm with delight at the chiming bells and archaic, hocketing brass which ring out when Aschenbach arrives in Venice, and there's a glorious, potent theme which accompanies his looking out at the sea from his hotel window, later developed to fascinating effect. The second act is more varied and compelling, its closing minutes an unearthly, sublime mixture of Balinese gamelan and late-period Mahler. You marvel at Britten's percussion writing, able to suggest a steamboat's engine or children's games with deft ease. The musical glancing back at the comparative innocence and exuberance of Britten's ballet The Prince of the Pagodas is disquieting, and entirely at odds with the oppressiveness, the dourness of what we hear in this opera.
Yoshi Oida's 2007 staging, here revived by Rob Kearley, still looks tremendous. Tom Schenk's spare set makes imaginative use of wooden decking and real water – though if you're sat in the stalls, you might not notice. Aschenbach's gondola trips are neatly implied by little more than a dancer wielding an oar, and the crowd scenes are well done, the immaculate period costumes nicely at odds with the score's uneasy modernity.
It's beautifully lit by Paule Constable. Better still is the choreography, originally by Daniela Kurz but here revived by Katharina Bader, the extended children's dance sequences visually compelling. Vocally, all is good. Alan Oke copes heroically with Britten's demands, and he's superb at conveying Aschenbach's physical decline.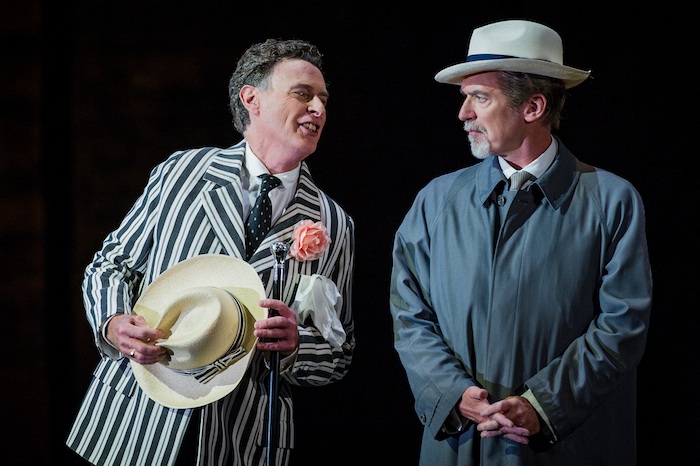 Surtitles are only used for the chorus work, but I found Oke's diction to be perfectly clear, and he does succeed in evoking our sympathy. A chameleon-like Peter Savidge skilfully inhabits the multiple roles – most strikingly a grotesque Elderly Fop (pictured above) and an oleaginous Barber, whose crude attempt to rejuvenate Aschenbach near the opera's close is toe-curlingly uncomfortable.
Dancer Emily Mézières plays the mute Tadzio, looking suitably androgynous and otherworldly. The score is dispatched with skill and sensitivity by the ever-attentive Richard Farnes. An unsettling, oddly gripping evening.